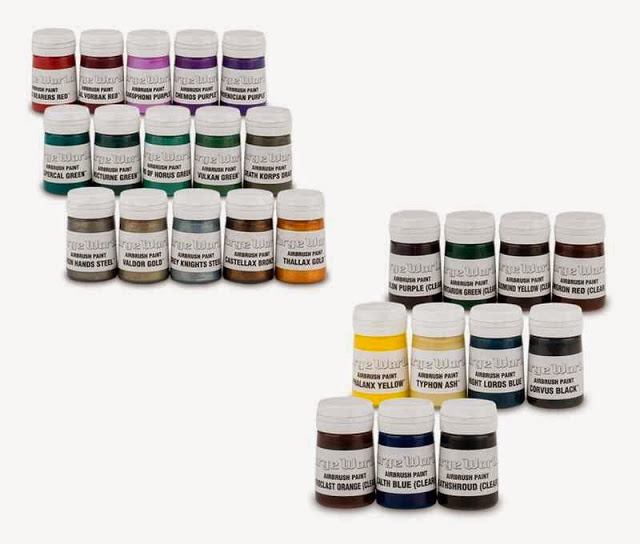 Forge World has released their new Airbrush line of paints from last weekend! Come see the new paints everyone will be sure to talking about this weekend!
At first these new paint'd don't really seem like much, 26 colors may seem a little underwhelming at first glance. But take a look at the colors themselves. Popping pinks, check. Deep rich reds, yup got those too. The line really fills the gaps where other airbrush paints leave off.
Plus they have they're own cleaner and of course a thinner!
Via Forge World
Forge World Airbrush Paints are specially formulated acrylic paints designed to give great results with an airbrush, whilst retaining the perfect consistency for applying with a paint brush. This range of 26 paints includes flat colours andmetallics, as well as clear colours which can be combined to create effects such as fades, blends, washes and for changing the shades and tones of other colours.

Forge World Airbrush Paints are ideally suited for using with our Horus Heresy model range, as well as with all other Forge World and Citadel models and scenery.

Forge World Solution is ideal for thinning paints and also for cleaning your airbrush, often the most important and overlooked part of maintaining this essential piece of hobby equipment. It is designed to work with Forge World's Airbrush Paint range.

Forge World Clear Medium is designed to be combined with Forge World's Airbrush Paints to improve their flow and provide a great aid to blending. It can also be used to create translucent effects and make washes and glazes when mixed with any of the paints from the Forge World and Citadel paint ranges.

These great airbrush paints have been created to work alongside the full range of Citadel paints to make your models look amazing!

Forge World Airbrush Paints are available to order today.
Personally I love that Forge World is doing this, and giving us such a rich pallet of colors to choose from to boot!
Just don't spill them cause they're a wee bit expensive…