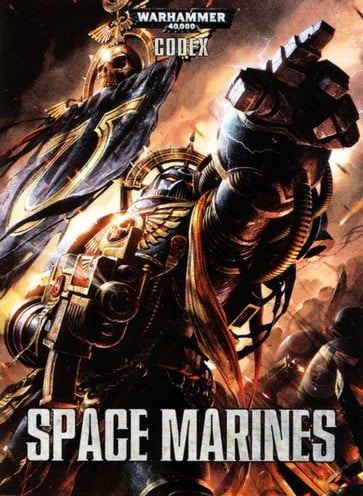 We've learned a lot about GW's codex philosophy works this year.  Here's what I worry may be in Codex Adeptus Astartes:
1) Three part codex release: Codex First Founding, Codex 2nd Founding, Codex Later Loser Foundings (aka Black Templars)
2) Land Raider Squadron: If you take 3 Land Raiders, they all have a 5+ to ignore any glances and penetrations, and all split fire as if stationary.
3) Whirlwind Squadron: If you take 3, they may combine fire into an 10″ blast.
4) Vindicator Squadron: If you take 3, they may combine fire into an ignore cover 7″ blast.
5) Chapter Masters "Voltron" formation, Take a set of Chapter Masters who all give each other special abilities while they live.
6) White Scars "Wrath of the Khans" formation, allowing all Objective Secured bikes and speeders with every movement and deployment special rule there is.
7) Raven Guard "Corvus Talon" formation, allowing all Objective Secured drop pods, assault marines, Storm Talons to land with perfect precision on turn 1.
8) Battle Company, Tactical Company, Devastator Company, Assault Company, Scout Company, Veteran Company formations that give free special rules, veteran sergeant wargear, and deployment options if you field the entire 100 battle brothers (and their transports – sold separately)
9) Ultramarines "Codex Astartes" formation – field any ten units (and transports), pick any 1 special rule you wish for your entire army at the start of each turn.
10) Predators & Techmarines – still crying in the corner, unloved.
~What's the most "outlandish" thing you think they MIGHT actually put in a new Space Marine codex?