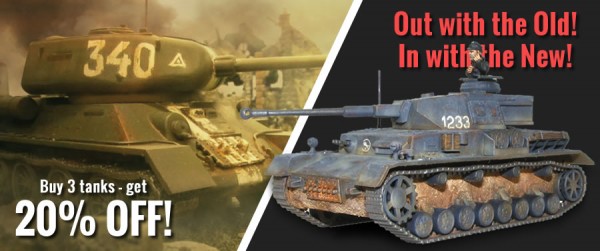 To celebrate their growing range of plastic Bolt Action tanks and the retirement of the resin models that they replace, Warlord is having a sale!
We're including all the fantastic plastic Bolt Action tank kits shown below – plus one of their resin predecessors – this will be your very last chance to get your hands on the resin Panzer IV Ausf. F2/G, as once stocks run out it won't be remade!
For a limited time, we're offering 20% off when you buy any 3 or more of the following vehicles;
View in Store (these are the brand new plastic StuGs just shipping)
And as mentioned – we have very limited stocks of the resin Panzer IV F2/G so if you're looking to add to an existing Warlord Pz IV Ausf F2/G to maintain consistency here's your chance…
Remember to get your orders in as soon as is possible – as this offer will be available for a very limited time only!
Note, that if you are desperately wanting some of the retired resin vehicles rather than the glorious new plastic incarnations we might still be able to help – contact [email protected] for the lowdown…
~Bolt Action is a fantastic game and if you have an interesting 28mm WW2, you will love it.  It's fun, easy to learn and very affordable!