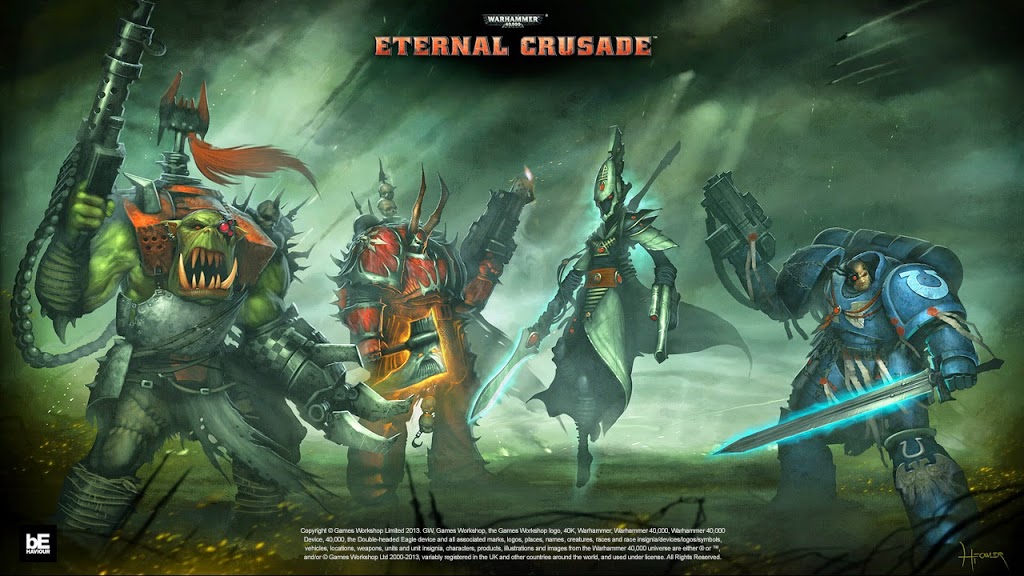 BoLS interviews Nathan Richardsson Exectutive Producer for Eternal Crusade – Check it out video game junkies!
Hey BoLS readers, I, AdamHarry recently had the opportunity to speak with Nathan Richardsson the Executive Producer for the forth-coming Eternal Crusade game (his direct quotes are in Bold). We chatted for almost an hour about Eternal Crusade – about where the game is, where it's going and how they plan on getting there. We talked about game mechanics and about the founders program. I asked about the vision and the core concepts of the game. We even talked about the in game economy and the game store. But the biggest things I learned from our time chatting can be summed up in three words:
Methodical. Massive. Fun.
The best way to describe the core game is pretty straight forward. It's a Massively Multi-player Online Third Person Shooter set in the Grim Dark Universe of Warhammer 40,000. It has some RPG elements to it with character customization and unlocking new skills/gear (character progression is horizontal – meaning you unlock more options, not necessarily better ones or higher stats) but at it's heart it is Third Person Shooter. With melee. Did I forget to mention that?
"We have a big focus on melee too – it's part of the Warhammer Universe. We've said that our goal is to be 50/50 in terms of melee vs range. But we also have sieges so vehicles play a big part as well."
But keep in mind the struggles with melee in a shooter game. Especially one that is going to be heavy on teamwork and squad tactics. Imagine charging off to fight in melee scrum vs a lone opponent, but then the rest of the squad shows up on a near by ridge line to pick you off. This is the inherent balancing act. How do you make melee interactive and deep with out making it debilitating or over powered? Testing. Lots of testing. Which brings me to my first point. This team is methodical.

Methodical
"We use everything from hard data that we get on the servers to text analysis of what people are talking about on the forums."
This team is data driven. But it's not all about gathering stats or percentages and running numbers. It's about finding evidence to support the direction the development needs to go. This team is about testing and they seem to truly understand what is on the line with getting the core game play right. 
"[Testing is important] so that we're actually getting the Core Shooter Experience and also the core mechanics of classes and everything right, because if we don't get that part right everything else, is just – it doesn't matter."
The example Nathan gave me was the close-combat system. It's a system that has gone through so many different iterations they've stopped counting. But that's because they want to get it "right" – but you can't know it's right without testing.
"…we also have to do a lot of play testing to get the Melee System right because there are not a lot of games out there that are trying to do this in a PvP environment [having both skill based shooting and melee attacks]… you have to have a certain pace to the melee…it can't take too long because you're a sitting duck [because of everyone else who can shoot you]."
And there will be LOTS of people who will be able to shoot you. Which brings me to the next point: This game will be massive.

Massive
Let me just start by saying this game is a work in progress and the details are subject to change. Because of all the testing the systems in place are in a constant state of flux. But, I was able to get a pretty clear vision of what Nathan wants the game to be eventually: MASSIVE. We're talking planetary level campaigns, multiple factions (4 starting, possibly more after launch), massive fortress complexes with hundreds (or more) of players fighting over different objectives simultaneously.
"The outcome of a battle has an impact on the larger theater of war"
…and it's going to be quite a large theater of war.
The idea sounds amazing. But there are technical limitations and they are working with their technology partners to address those things.
"You could have thousands of people in one location [fighting] but the technology isn't built to do that."
However, they are building systems in place to be able to virtually connect the game 'zones' in a more fluid manner. They don't want to use artificial restraints like invisible walls or lock-out timers – but the reality is they may have to… at first. It's all up in the air because it's still being designed, built, tested, broken and then re-designed, re-built and re-tested. You see where I'm going with this? The good news is they want to start smaller and scale up.
"Our next big delivery is actually early access. Which is coming up in some months. And there we actually just start with a small core game play – which we want to prove and test and make sure it's good because when you think about it from a game development perspective and also from a fun perspective –  it's that 'okay we're going to be a Massive [Multi-player] Shooter – but lets get Shooter right first.' "
The early access Nathan is referring to is the Founders Access program. In other development cycles it is what's known as the Closed Alpha. This is the ground floor of the game play; the foundation that everything else is built on. In a game that plans on becoming a planetary conflict they are going to need a plas-crete solid foundation. They want to start with 16v16 matches that will enable them to test everything from the basics of shooting and melee to vehicles to the larger sieges with defensive emplacements.
"We will continue to iterate and expand on what's in founders access. [The Testing] is all going to scale-up over time."
Eventually the Closed Alpha will evolve into the Closed Beta or the Founders Beta. At this point they will be able to figure out just how massive the battles will be. 32v32, 64v64, +100v+100 – they aren't 100% sure yet.  But they will be able to refine the size to find that magical mix of large scale battles with "playablility" and most importantly: FUN.

FUN
The last thing that really stood out to be was the dedication to this concept. 
"We're gonna find the 'FUN' in shooter and then find the 'FUN' in massive"
Nathan explained to me as we talked about some of the combat mechanics. The combat isn't going to be like a typical MMO. Target locking or TAB targeting and then pressing 1, 2, 3, 4 is not how this game is going to play out. You can actually watch the latest "Into the Warp" Livestream if you want to see the current state of combat. It looks more like Space Marine combat than Warhammer: Age of Reckoning. It seems like it's going to be fast and brutal – just like the Grim Dark. Keep in mind it's still a work-in-progress, but man, I'd love to get a crack at the game.
The visceral combat is the core game play – but there is so much more they want to do. They want to have a player driven story.
"[An] on going story-line where we actually move this crusade … and players actually affect the way the crusade goes on."
Currently, one idea is that players will be able to launch campaigns to attack outposts. Taking these outposts will be the key to unlock even bigger battles at the large fortresses. (There are other things in the works to circumvent the need to take all the outposts in an area before launching the assault on the massive fortresses…but that is all still being developed.) They even want to have guilds/chapters be able to "own" outposts so that they are responsible for defending them – it's still early in the development but the ideas are there.
The Tyranids are currently planned as an extra NPC/PvE agitator force. When I asked about more details regarding the PvE plans Nathan told me they are currently prototyping how the Tyranid "invasions" would work. They are also working on how they could be used in a PvE type of game play similar to an arena or Horde Mode where you and a few buddies could go to fight waves of 'Nids.
He also touched lightly on possibly having scripted events where a Titan could be powering up and one faction is trying to shut it down while another defends it.  And the longer it takes the more the Titan starts to interact with the fight. They are not short of ideas when it comes to game modes or things to do for content. They actually have the other problem of trying to decide what content would be the best fit for the game – and that seems like a good problem to have.
Nathan has worked on Eve Online, Dust 514 and Defiance (the game, not the TV show) and he has learned from each experience. Eve has the super huge thousand person battles but they are slow and cumbersome (I've found it more interesting to read about the aftermath than to participate personally). Dust has the smaller scale drop-in match making combat (but not the persistent world combat or the size of the battles he wants). And Defiance has the open world setting but it couldn't scale the massiveness that Nathan wants to go for with Eternal Crusade. With each game he's learned valuable lessons and with each iteration of Eternal Crusade the team is learning how to make it better. And after speaking with him it's hard not to be a little excited about his vision for this game.
The game is still a long ways off from release but Founders Access is coming in the fall. It will be a chance to actually have an impact on the direction of the game. If you are interested go check out their FAQ because it has a ton of information about the game. Full disclosure – I haven't purchased a Founders Access package so I don't have an opinion on it. I would like to "buy-in" right now, but that's for you the customer to decide for yourself – not for me to tell you.
I have been following this game since I first heard about it almost two years ago. Going into this interview I would be lying if I said I wasn't skeptical. It's not the first time an MMO set in the 40k universe has been in production. I've had my hopes dashed a before and yet… this time it seems different. This team is more open and honest about the development process. They aren't afraid to talk about how technical limitations are impacting their vision of the game and they are excited to show off what victories they have accomplished. They have a great vision of what the game can be. Between all the video updates, the live streams, and the newsletter I get, I feel like this is the most informed I've ever been about a Warhammer 40,000 related product, ever. I'm rooting for them to have a massive hit on their hands. I hope you will too!
AdamHarry OUT!