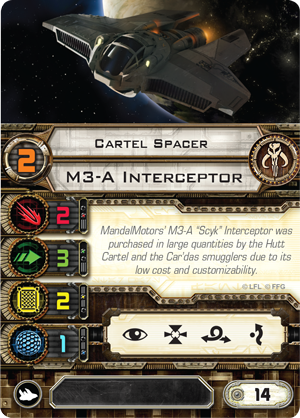 The Scyk Interceptor is a mean ship in the right pilot's hands. Let's take a look and see what this thing can do!
Hey BoLS readers – AdamHarry back again with some more X-Wing thoughts. Today I wanted to take a look at the Scum and Villainy faction. Specifically the new M3-A "Scyk" Interceptor. This ship is described as  "low cost (ie, cheap) and customizable" which is probably why it's a great fit for the faction. A lot of players have compared this ship the Imperial Tie Fighter and with good reason. It's a very similar ship stat wise – just trade 1 hull for a shield. Points wise it's very close as well (base pilots are only 2 points different). So an easy list to throw together would be a Scyk Swarm list, right? Not so fast… This ship has got some pretty sweet options. Let's take a look at the title card: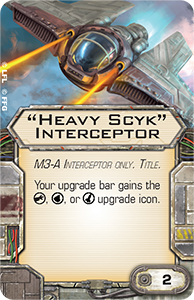 That's what I'm talking about – options! When I see this my eyes go straight to the 'Cannon' upgrade. Then my mind goes straight to the Heavy Laser Cannon! But that's a lot of points in a fairly squishy ship. On the plus side staying at range 3 would help with the defense which is going to help it stay alive. The down side is the firing arc is a limited because it's not a turret. But I did want to throw this build out there: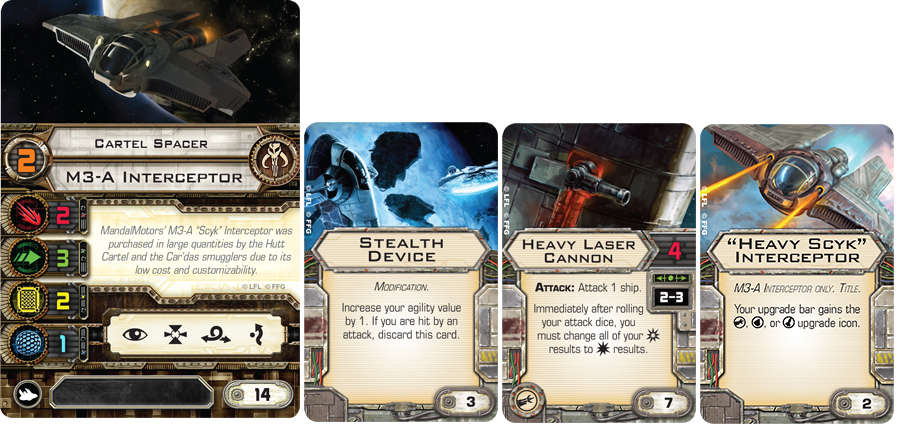 It's 26 points – but it's also rolling 5/4 defense dice when getting shot at range 3! Not too shabby. I like it, but as I said earlier that's a lot of points wrapped up in a Tie fighter. I think the "Mangler" Cannon might be a better fit. It's slightly cheaper and the crit hit is a nice bonus. I like something more like this: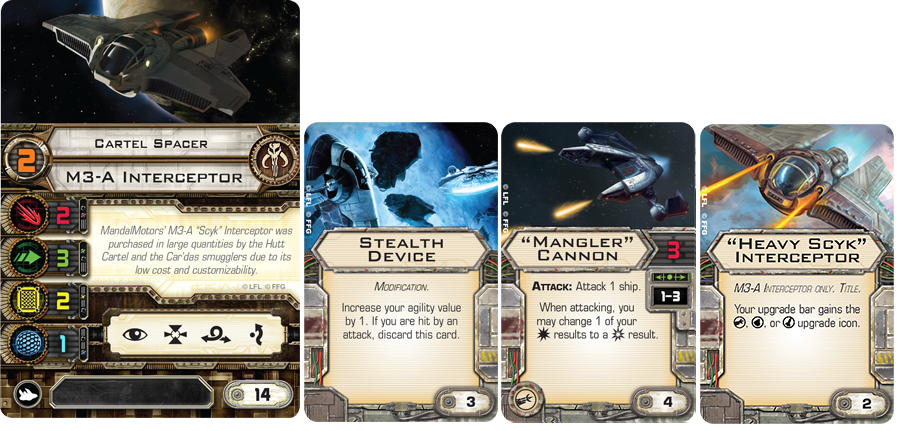 It's 3 points cheaper now and still packs a heck-of-a punch! I like it. You can't really run a full swarm of these but that's okay. I think one of our old friends might be a good pairing for this ship. As I've written about before, I happen to like the Y-Wing. Scum and Villainy gave the Y-Wing a nice boost and I think the Y-wing + Scyk Interceptor go together like Peanut Butter and Chocolate. Or if you're allergic to peanuts… Chocolate and more Chocolate!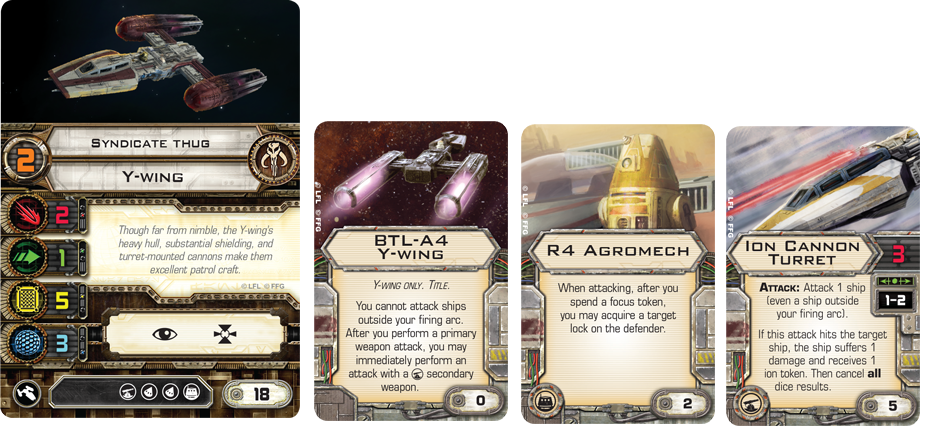 I started with the Syndicate Thug but decided with the points I saved to go with the Hired Gun Y-wings. The extra 2 pilot skill will help vs Predator and that's never a bad thing! So how about a list:
Scyk Nasty and the Hired Guns: 100 points
Cartel Spacer + "Heavy Scyk" Interceptor (Title Card)+ Stealth Device + "Mangler" Cannon: 23
Cartel Spacer + "Heavy Scyk" Interceptor (Title Card)+ Stealth Device + "Mangler" Cannon: 23
Hired Gun + BTL-A4 (Title Card) + R4 Agromech + Ion Cannon Turret: 27
Hired Gun + BTL-A4 (Title Card) + R4 Agromech + Ion Cannon Turret: 27
Simple, right? But it works well together. 4 ships that support each other very well. The Y-wings put out a lot of fire power by themselves. Couple that with the Scyk's shooting and now you have some very respectable damage. The 2 Y-wings can lock down a large ship, like say…the Outrider for instance. Or they can each lock down a smaller ship and allow the Scyks to get a better firing solution. It's a little more nuanced than just running all 4 Ion Thugs or all 4 Scyk Interceptors – but I think that adds to the fun!
What say you X-Wing Aces? I haven't even mentioned the "named" pilots for the "Scyk" Interceptor. What combos have you found to be effective? Would you rather run fewer, tougher ships or more cheap ships to swarm your enemies? Let me know in the comments below! AdamHarry OUT!