40K: Electro-Priests: Inside the Box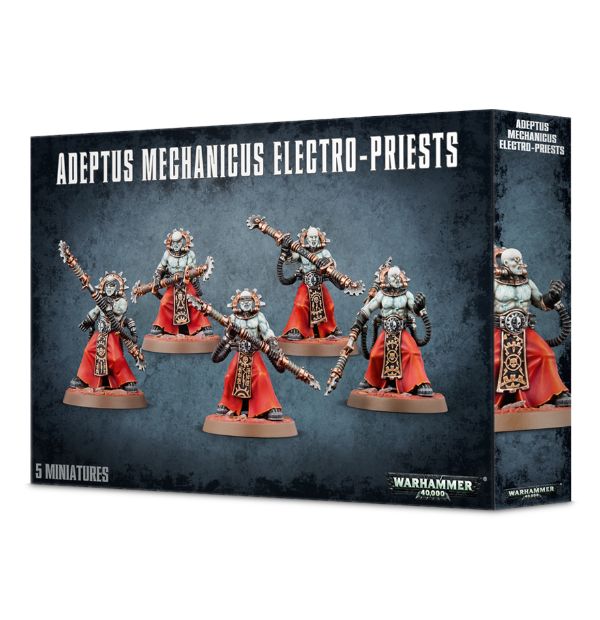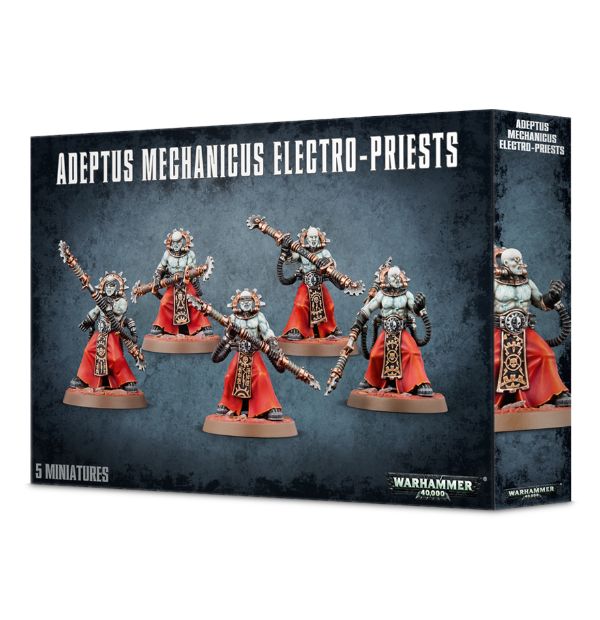 Come see the 'shocking' new Cult Mechanicus units up close and personal. What lay within is SHOCKING 🙂
Big and bad, the new Electro Priest and Tech Priest Dominus rounded our a great lineup of Mechanicus models from this year.  A lot of people consider these guys the coolest looking models Games Workshop has ever produced.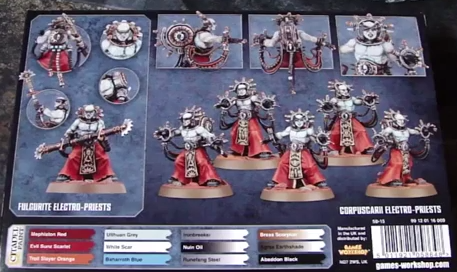 The Electro Priest box set contains all the parts you need to make either of the two unit types. Plus the Dominus model comes with two great looking heads to choose from as well.
As far as clam pack miniatures go, we haven't see one as big as the Dominus yet. Weighing in at a heft two sprues and one 50mm base, this figure is sure to be a fan favorite for years to come.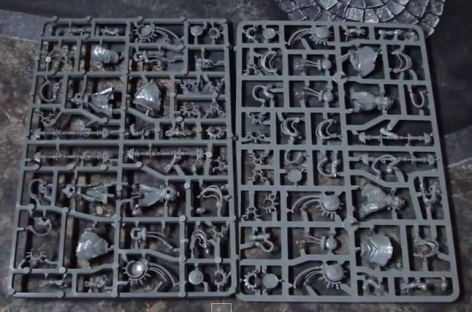 Here's the highlights via Games Workshop
The Corpuscarii Electro-Priest comes armed with a pair of electrostatic gauntlets, with five pairs and their respective power pack assemblies included in the box. Included are five different torsos, five heads and ten head crests (five of which are Corpuscarii, five Fulgurite).

The Fulgurite Electro-Priests come armed with electroleech staves – five of these are included, complete with their power pack assemblies. Ten different head crests and five different heads are in the box, each featuring the gruesome, eyeless faces of the Electro-Priest's ecstatic trance.

This eighty-two component, multi-part plastic kit contains everything needed to build five Corpuscarii or five Fulgurite Electro-Priests. These detailed miniatures are supplied with five Citadel 32mm Round Bases.

Subscribe to our newsletter!

Get Tabletop, RPG & Pop Culture news delivered directly to your inbox.
Pros:
One set bodies makes two different sets of figures.
Weapons can be used for a variety of conversions.
Dynamic poses look great for either version.
With an extra set of legs you can make a second set of figures with the arms included.
Cons:
Bodies are not true multi-part, as the bodies are attached to the legs.
Each kit comes with abbreviated rules in the instructions as well!
The new five model box set retails for $41 US and once again it doesn't seem like a bad deal honestly.