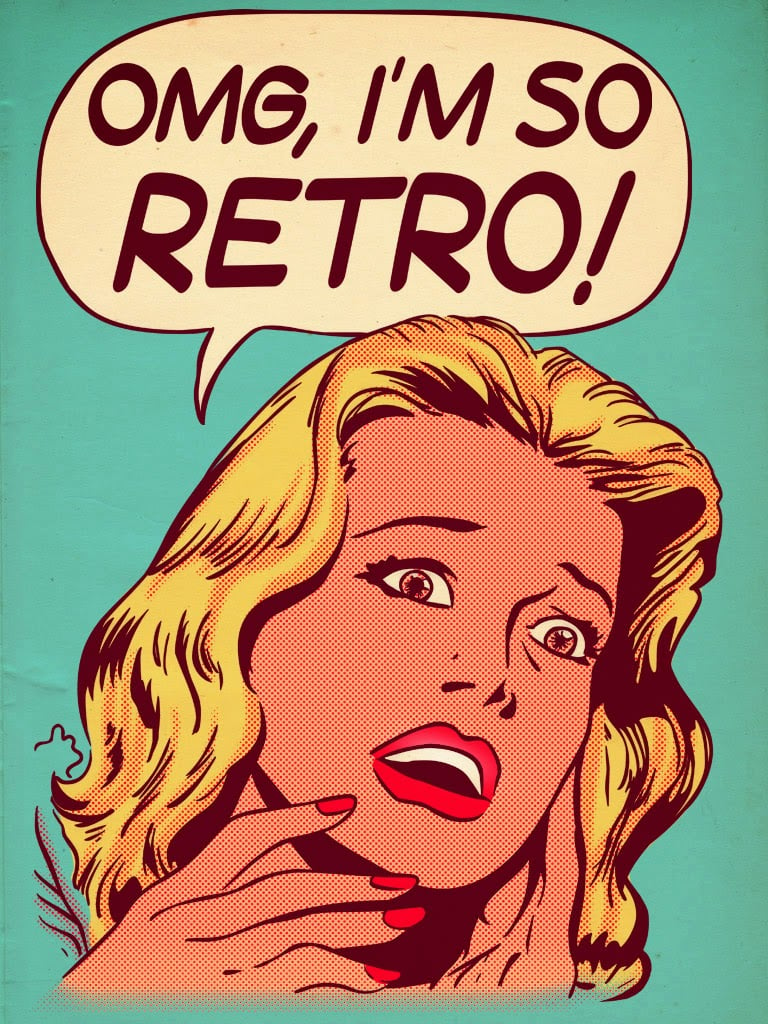 Today BoLS presents a new way to play warhammer 40,000 that may take you back to classic days – of FUN!  Welcome to Classichammer.
Hello again BoLS Readers! AdamHarry back with a crazy suggestion – but before I get to that I'd like to take a moment to preface this crazy suggestion (which may not be so crazy after all). My story begins with a simple question: When did the Harlequin Codex come out? Oh that's right – Waaaaaay back in… February? That was only 4 short months ago. Does it FEEL like it's been 4 months? For me, personally, not at all – it feels like the Harlequin Codex came out early last year or at least 9 months ago. Why is that? Well the answer is the rapid-release schedule from Games Workshop. That's not a surprise – we've talked about it. For a lot of gamers it's just getting to the point that the game is too large to be understood. But all is not lost – I have some news that may be surprising for a chunk of readers: You are in control of your game, not the company that makes it.
"That's great AdamHarry – thanks for that unbelievable insight #sarcasm. What do we do with it?" Great question! The answer is take control. For me, taking control means I'm going to pump the breaks on the game and see if I can find the fun in some self-control. I know this may not be for everyone, but if you're willing to give me some of your precious gaming time, I think we can all appreciate each other's point of view on this. There may be some casualties along the way. But eggs & omelettes and whatnot. I would like to introduce you to
Download ClassicHammer!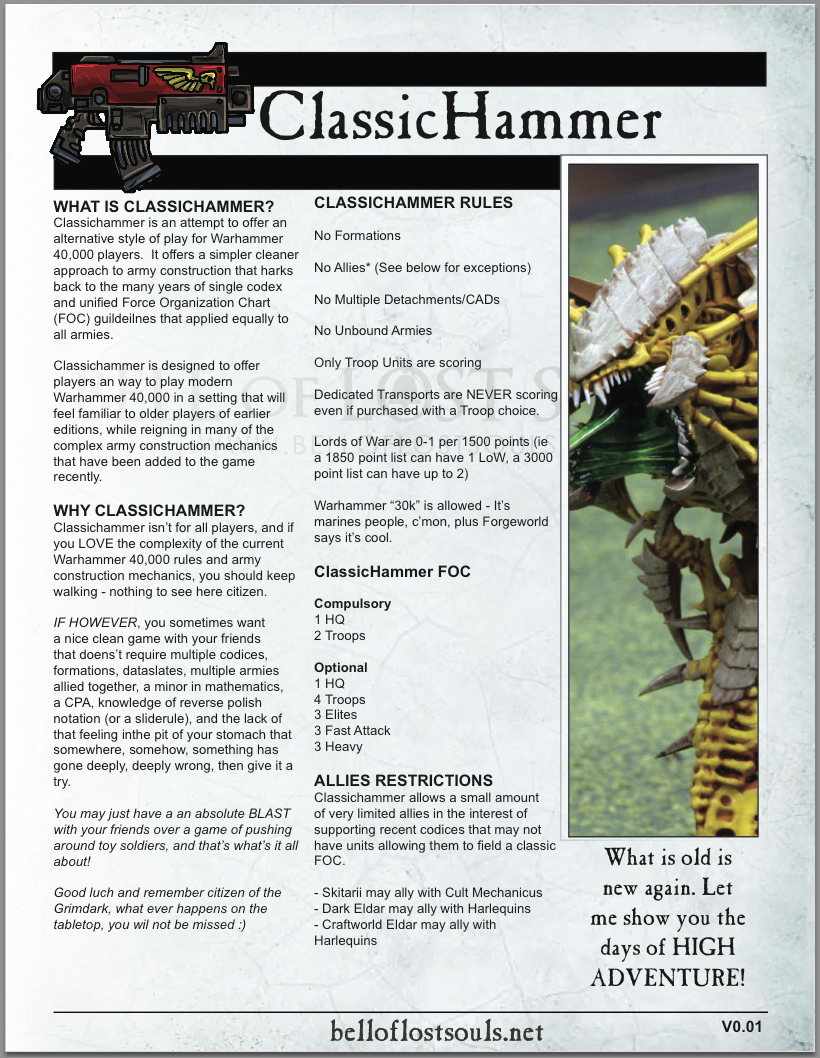 This is a new format. The idea is simple. Let's streamline the list building process. I don't like to rely on an accountant to double check the math on my list and I don't appreciate when my opponent runs my list to their lawyer to double check to see if the list is legal. I don't like that I need to bring luggage carousel with me full of reference books for my army (or a handy digital copy in a lightweight tablet). Hyperbole aside I do think list building, which is a major part of the game, has just gotten to complicated for it's own good. Why should an army that was 3000 points suddenly cost 2000 points because of a formation? To sell models, DUH! But that doesn't make it good for the game.
Classichammer, the rules:
The Rules:
No Formations
No Allies*
No Multiple Detachments/CADs
No Unbound Armies
Only Troop Units are scoring
Dedicated Transports are not scoring even if purchased with a Troop choice
Lords of War are 0-1 per 1500 points (ie a 1850 point list can have 1 LoW, a 3000 point list can have up to 2)
Warhammer "30k" is allowed – It's marines people, c'mon.
Army Construction uses the ClassicHammer Force Organization Chart:
Compulsory
Optional 1 HQ

4 Troops
3 Elites
3 Fast Attack
3 Heavy
If your army or book does not fit with the ClassicHammer Force Organization Chart try again next edition.
Classichammer Allowed Allies
– Skitarii may ally with Cult Mechanicus
– Dark Eldar may ally with Harlequins
– Craftworld Eldar may ally with Harlequins
That's it.
Does this fix the game? No – you can still build some stupidly powerful armies (30 Scat-Bike Eldar or a Chaos Demon summoning horde still work). But if you are going to try and break the format, then just don't bother because it's been done and you're missing the point. This isn't designed to be a tournament system. It's just designed to put up some artificial restraints on the list building aspects of the game so that you and your opponent can understand each other's list without a 3 page cheat sheet.
However, this format is not my my crazy suggestion. The crazy suggestion is give it a try. Find a willing victim opponent and play a game with these restraints. If you have enjoyable game, GREAT! If both of you do then even better. If you hate it – that's okay, too. At least you tried it out and can form your own opinion based off an experience vs hearsay or theoryhammer.  But I have a funny feeling you may fine that Classichammer is MORE FUN.
So, anyone for a game of ClassicHammer?
PS, in the classic tradition of BoLS, we've made this handy PDF You can download, printout and tack up on your club room wall, or pass out to all your mates.  Give it a try.