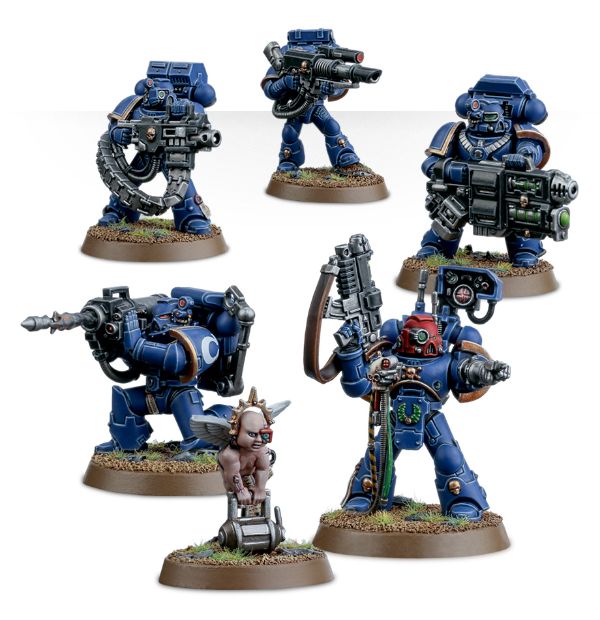 Adeptus Astartes have returned – and they have your wallet in their sights! Devastators, Limited Edition Codexes & More!
This multi-part plastic kit contains everything you need to build five Space Marine Devastators, one of which can be optionally assembled as a Space Marine Devastator Sergeant, with three Sergeant heads included. The poses these models can be assembled in are classic Devastator poses, with targeter helmets and castellated greaves designed to counter the immense recoil thrown out by their heavy weapons.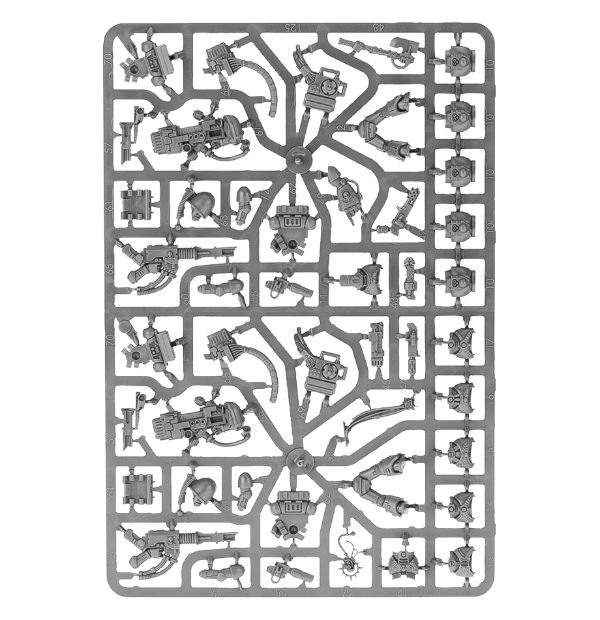 Speaking of heavy weapons, the Devastator squad features an *incredible* array of the Imperium's finest. Included in this squad:
Two Space Marine Grav-Cannon and Back Pack Assemblies;
Two Space Marine Missile Launcher and Back Pack Assemblies;
Two Space Marine Multi Melta and Back Pack Assemblies;
Two Space Marine Lascannon and Back Pack Assemblies;
Two Space Marine Plasma Cannon and Assemblies;
Two Space Marine Heavy Bolter and Back Pack Assemblies;
One each of Combi Plasma, Combi Melta, Combi Grav, Combi Flamer, Bolter and Storm Bolter;
One each of Power Fist, Power Sword, Power Axe, Lightning Claw, Chainsword and Thunder Hammer;
One each of Plasma pistol, Bolt pistol, Grav pistol.
Five Purity Seals, two Servo Skulls, a pile of spent shells, a skull base piece, ten Space Marine targeting helmets, six sets of legs, six Sergeant hands and eight Space Marine shoulder pads round out this immense collection of components.
Also supplied are five 32mm Citadel Round Bases…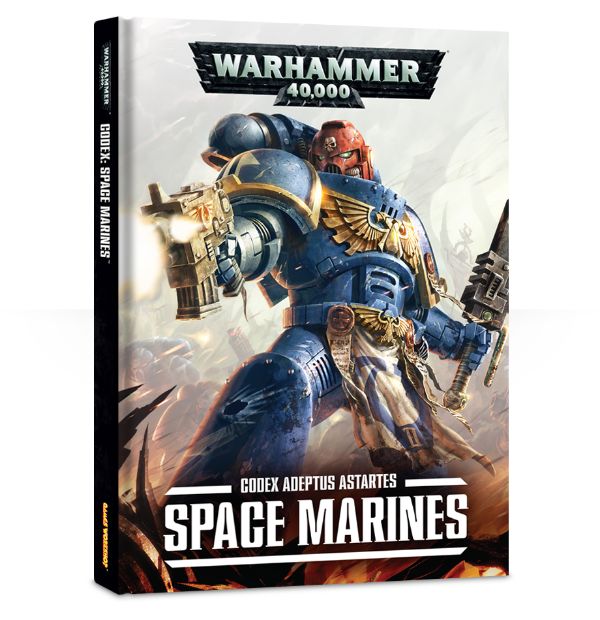 This two-hundred page, full-colour hardback book contains:
The epic story of the Space Marines, their innumerable conflicts and the revered Codex Astartes that guides them
Color schemes and iconography used by the Space Marines' various chapters, with expertly-painted examples
A comprehensive army list that allows you to turn your Space Marines collection into a formidable force ready to deploy in games of Warhammer 40,000
Tactical Objectives, the Gladius Strike Force detachment, twelve formations plus Warlord Traits, Chapter Relics and Chapter tactics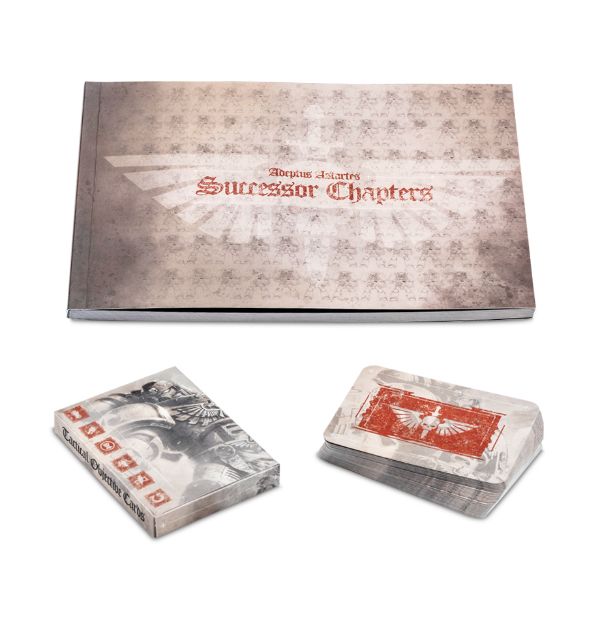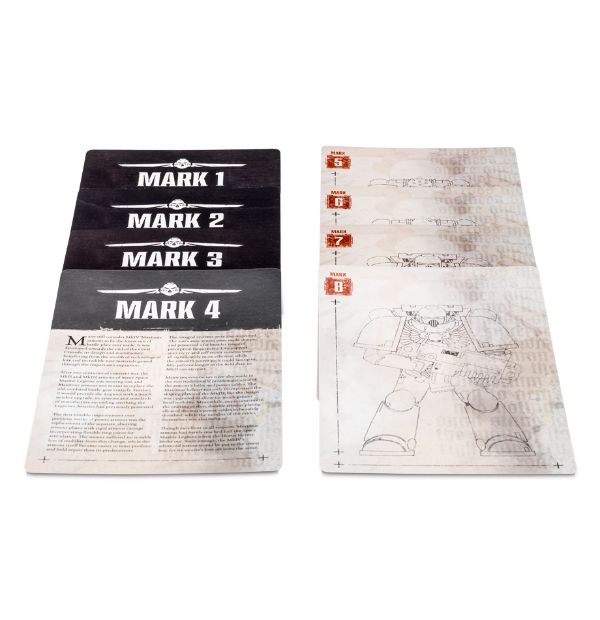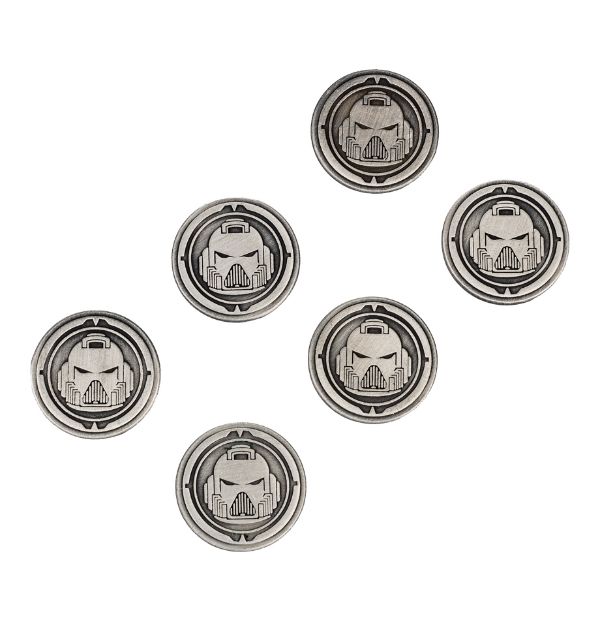 This lavishly-produced edition of Codex: Space Marines, limited to 400 copies, features:
The full-colour, 160-page Codex: Space Marines with exclusive Adeptus Astartes artwork, featuring rich backgrounds, history, iconography and formations for the various Space Marines chapters;
A set of thirty-six Tactical Objective cards;
Six metal Tactical Objective markers;
Eight armour cards with information about each mark of armour;
104 page softback booklet with a collection of Successor Chapter line drawings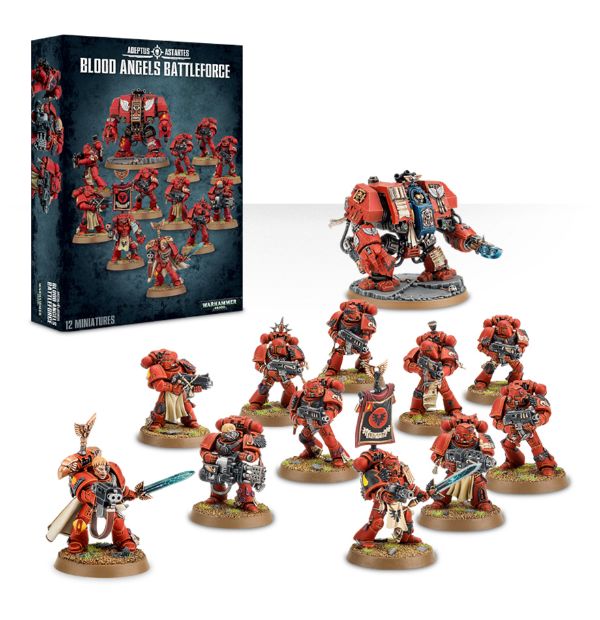 This Battleforce is a fantastic way to begin a Blood Angels army, or a great way to bolster your existing force as they strive to cover their terrible secret. In it, you get everything needed to build one Blood Angels Captain, a Blood Angels Tactical Squad and a Furioso Dreadnought.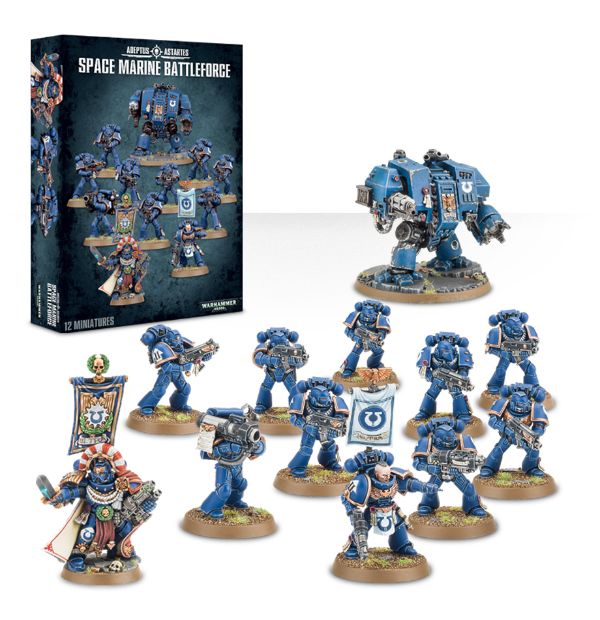 This battleforce is a great starting point for a Space Marine army, or a fantastic way of bolstering an existing collection. It contains everything you need to make a Space Marine Captain, with his power sword and combi bolter/grav-gun, a Space Marine Tactical Squad – a ten-man collection bristling with bolters, grav-guns, meltaguns, missile launchers, power fists, chainswords… there's a lot of weaponry, all interchangeable with any Space Marine kit. As well as this, you get everything necessary to build one Space Marine Dreadnought – the towering mechanical war machines of the Emperor. Eleven Citadel 32mm Round Bases and one Citadel 60mm Round Base finish off this fantastic battleforce – you'll be sure to uphold the pride of the Imperium!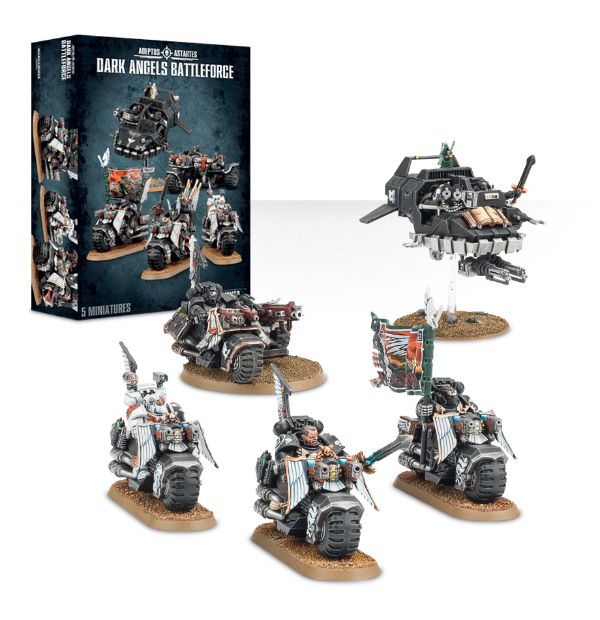 The Dark Angels Battleforce is a great starting point for a Dark Angels army as well as a fantastic way to bolster an existing force. This multi-part plastic kit contains everything needed to build a Ravenwing Command Squad, three fearsomely-beweaponed bikes covered in iconography and plasma talons; a Space Marine Attack Bike with heavy bolter and multi-melta, and a Land Speeder – this one comes with an assault cannon, a heavy flamer, a Typhoon missile launcher, a multi-melta and a heavy bolter. Also included is a Ravenwing Upgrade Frame, meaning this kit contains literally hundreds of components.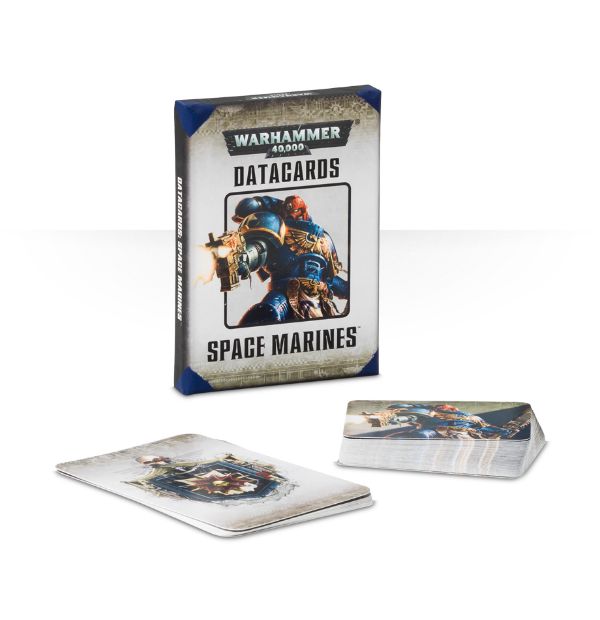 This set of forty-six gorgeously-realised cards comprises seven large-format cards depicting the Chapter Tactics special rules from Codex: Space Marines, three cards detailing the effects of the Combat Doctrines special rule, and a set of thirty-six Tactical Objective cards including the six unique Tactical Objectives from Codex: Space Marines.
And of course the Web Store Bundles…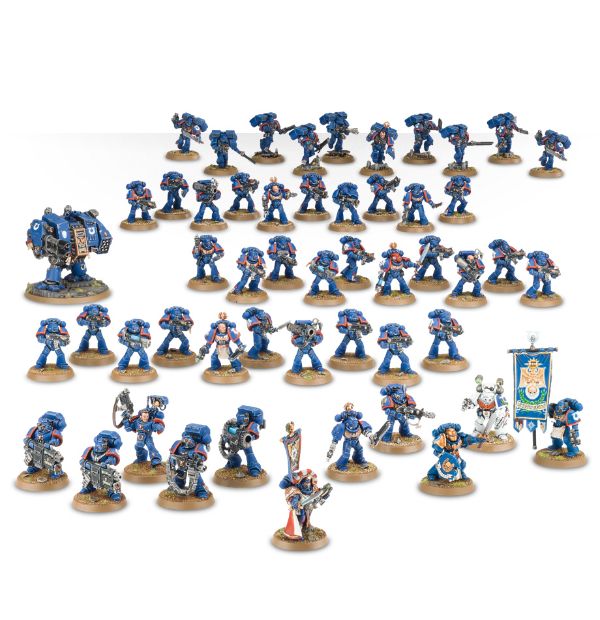 This bundle contains everything needed to field the Battle Demi-Company from Codex: Space Marines, featuring a Space Marine Battleforce, a Space Marine Command Squad, two Tactical Squads, two Assault Squads and a Devastator Squad. Forty-two miniatures, one dominant formation.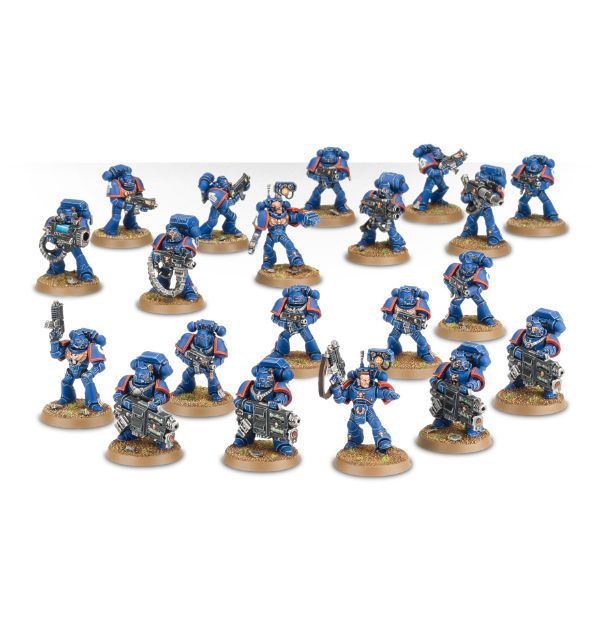 This bundle contains everything you need to field two Devastator Squads, the rhythm section of the storm from Codex: Space Marines, and a Tactical Squad – twenty miniatures, a frankly absurd selection of weapons, absolute dominance.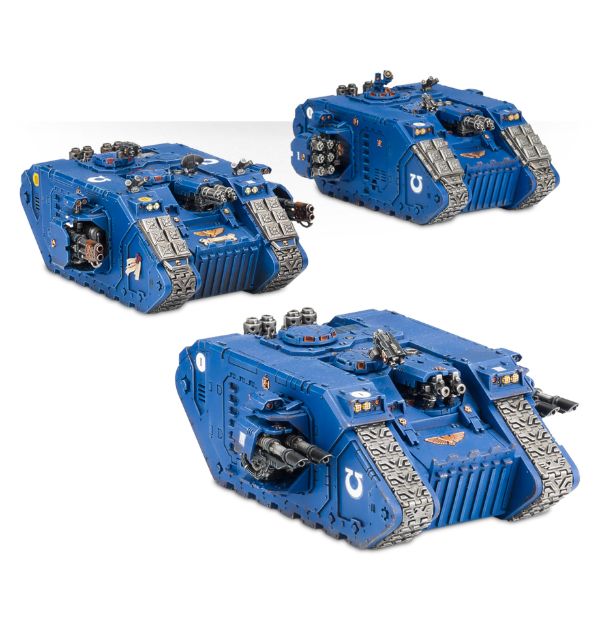 This bundle gives you everything necessary to field the Land Raider Spearhead found in Codex: Space Marines – a Land Raider, a Land Raider Crusader and a Land Raider Redeemer. Go forth and crush.
~The exclusive web-only Limited Edition Space Marine Codexes are going fast!