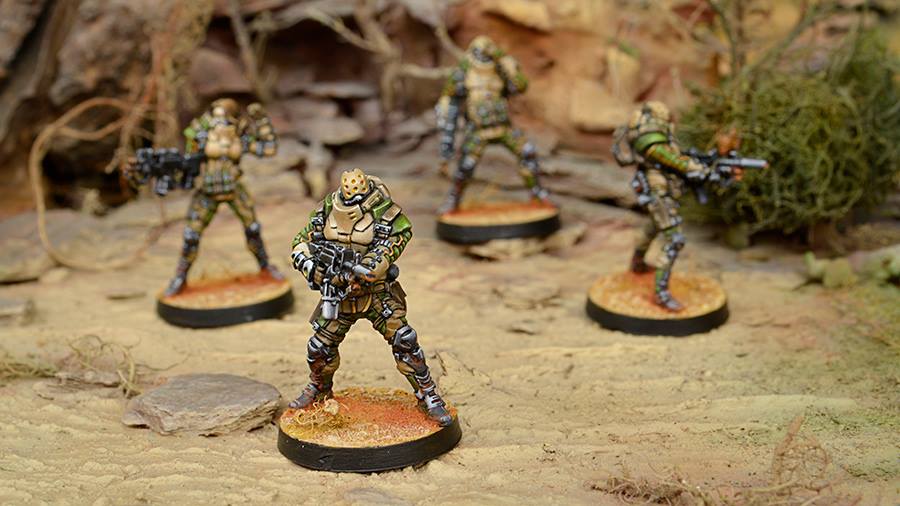 Corvus Belli is at it again with some new Infinity Models. Check them out here!
Hi BoLS Readers! AdamHarry back with a quick update on Infinity! If you haven't seen the new releases for this month here they are in all their glory. Corvus Belli does it again with some amazing models. For more info and pics check out the Infinity Website.
Scylla & Drakios are both part of the Aleph faction and as such have deep roots from Greek mythology. As I mentioned last time Scylla was a beauty that becomes a beast and Drakios is named after a commander from the Trojan war.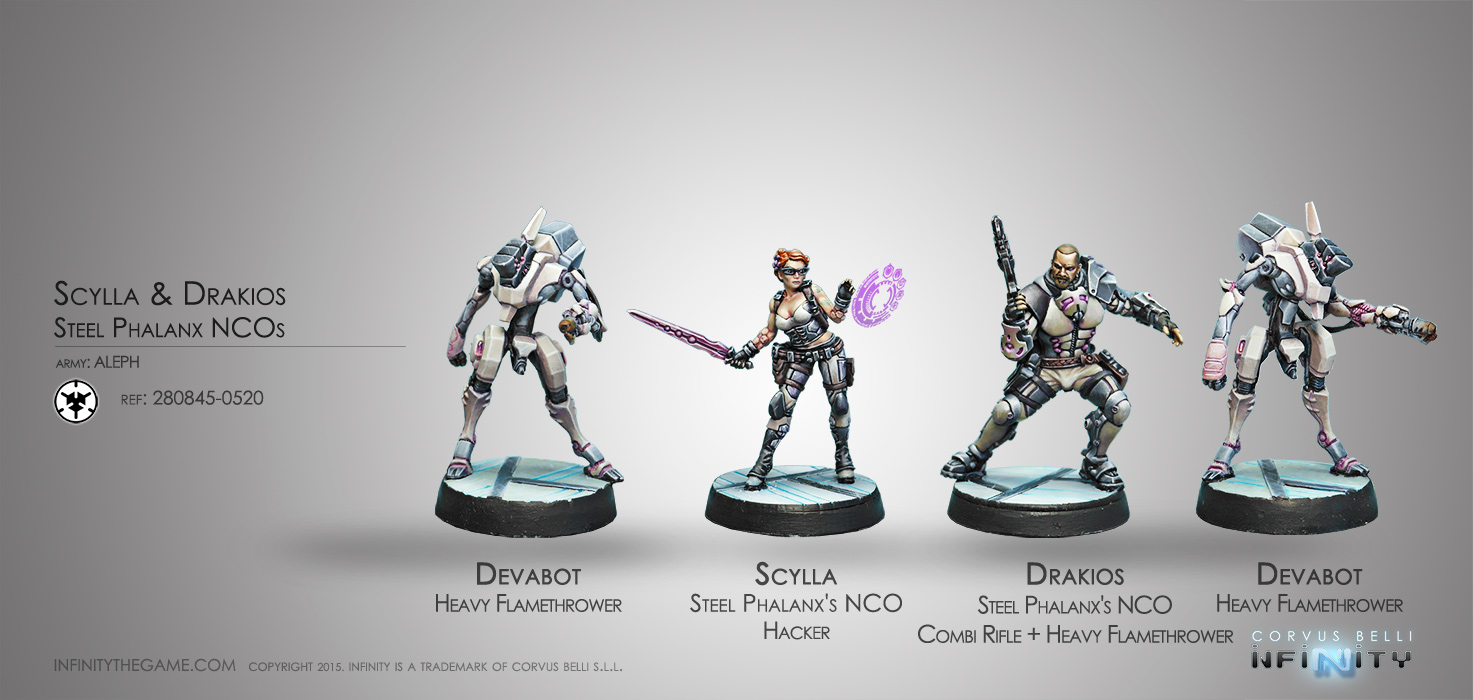 Notes from Thamyris, the Aoidos for the Information Service of the S.S.S.: "There is no Homeridae able to speak louder, nor eat as much, than Drakios. Loud boasting and an insatiable appetite for food and women is the hallmark of the most flamboyant Homeridae of all. Without fail, you'll always know where to find Drakios: in combat, he will be where the action is, but exactly where all can see it; and in the tavern, he will be on a table bragging to all in attendance, or behind the skirt of the first girl who gets within his sights, even though it's with his colleague Scylla that we all know that nothing will ever happen."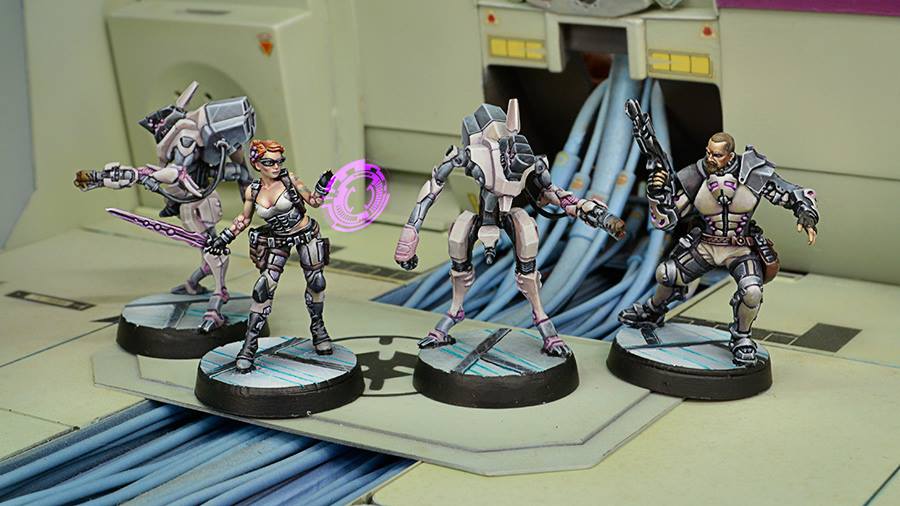 Notes from Thamyris, the Aoidos for the Information Service of the S.S.S.: "Scylla is a beauty and she knows well how to use it to manipulate you. Watch out or she will play you at her whim and you will end up no more than a puppet in her hands. If you ask about her name she will tell you that it is after some Princess of antiquity. Never mind that; she bears the name of that beauty who was turned into a sea monster. Or do you think it's a coincidence that her Devabot is called Charybdis? If one doesn't get you, you will fall into the clutches of the other. In any case, you are done."
Members of the Combined Army, these space invaders are no joke. Packing Boarding shotguns and wielding DA CCW – when these guys show up you had better be ready for a fight!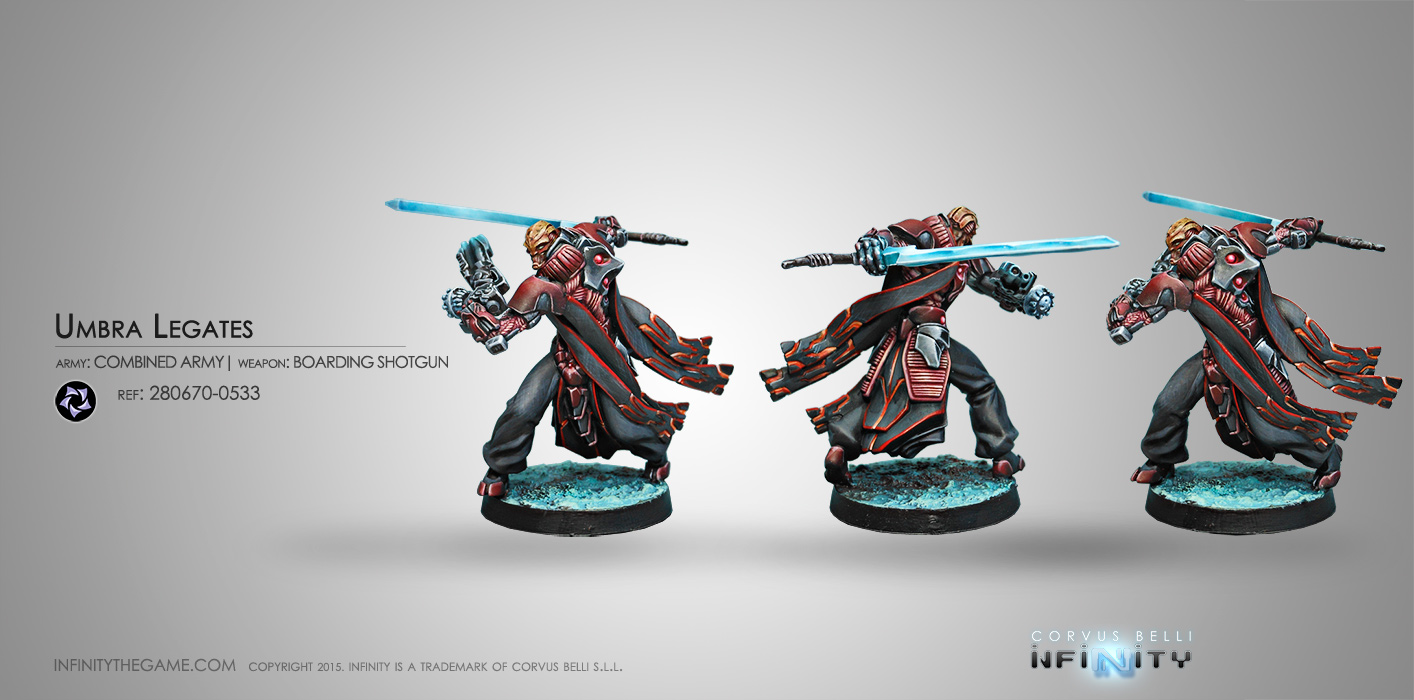 The Umbra. One of the most dangerous and murderous races in the entire universal warriorhood. Mysterious martial artists from an unidentified planet, the Umbra have been the scourge of the cosmos for ages.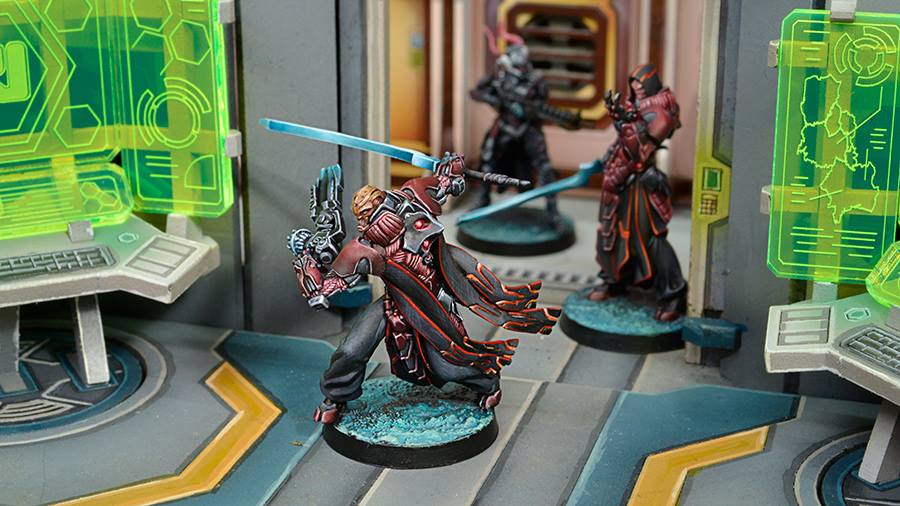 Subjugated, dominated or seduced by the EI, they have become its field assistants, a conduit through which the Evolved Intelligence makes its wishes known. They serve as the EI's heralds, enforcers, mediators, lieutenants, judges, executioners and right-hand men.
The Intruders are sent to action when the workers from Corregidor smell trouble. Member of the Nomad faction this new release is bringing the heat with a HMG.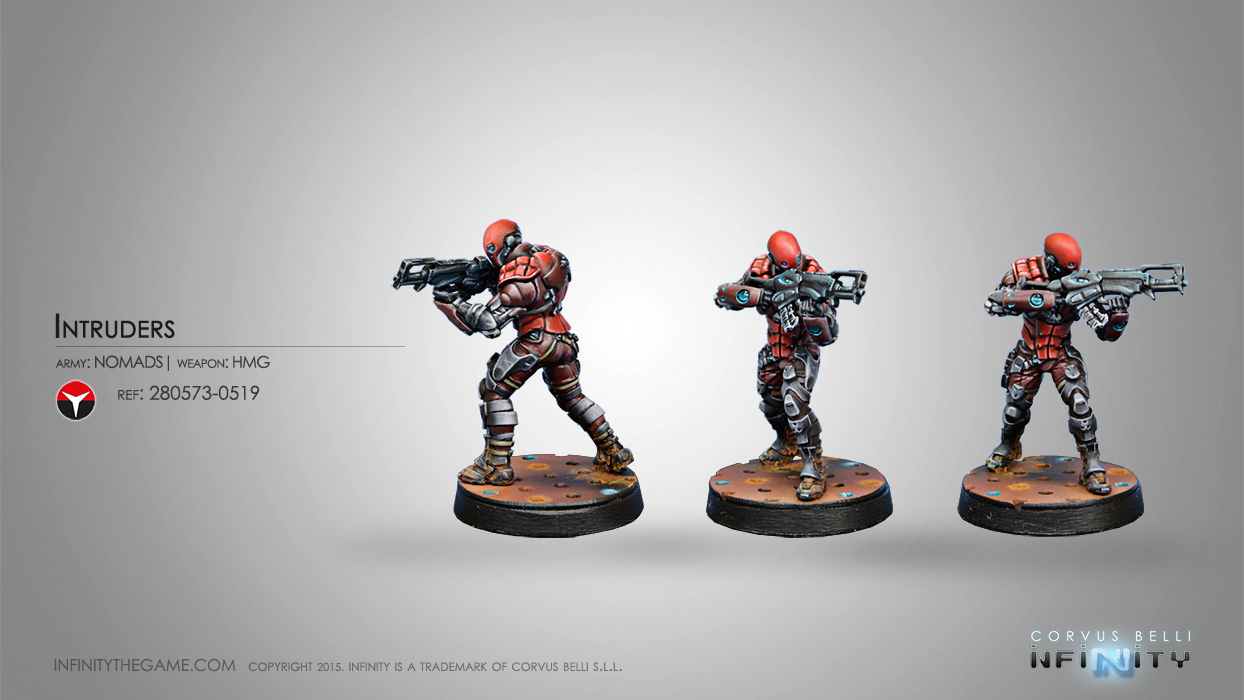 Intruders Commando members are famous as assault troops, the best among all Corregidor regiments. They function as expeditionary corps, always the first to go to unknown places, establishing contact with the position and collecting information. Intruders are specialists in military intelligence, covert operations, urban combat, war in tunnels, and sabotage. They also work as military advisors and field instructors.
The Naffatûn form a unit of Ghulam Infantry equipped with incendiary arms. This unit is part of the Haqqislam faction and they mean business. They are usually deployed instead of other infantry units to clear routes and areas, what, in their slang they call "clearing the undergrowth" (using "slash and burn" techniques).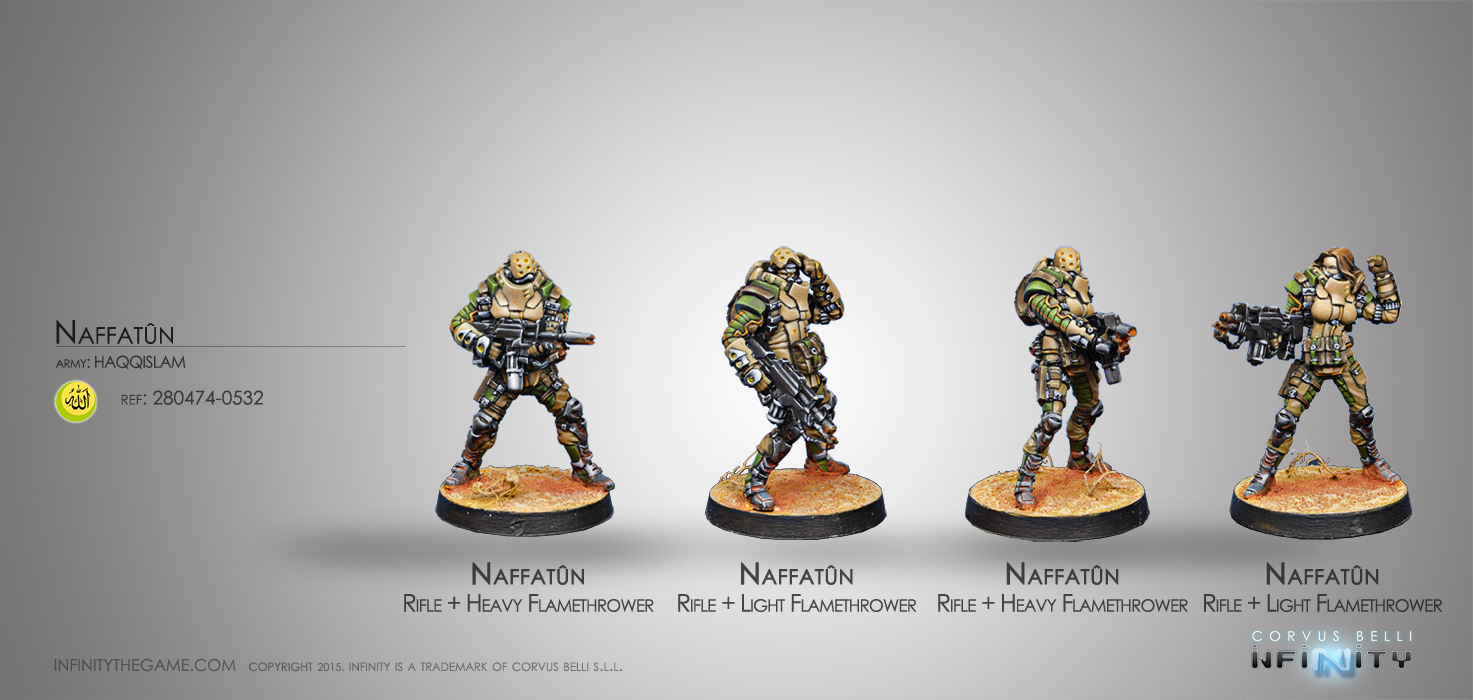 The Naffatûn go into battle alone which is understandable given that that they are loaded with flammable equipment. They carry extra loads of Naft (highly concentrated napalm) in their backpacks and their flamethrowers are equipped with pressurized tanks of gelatinized gasoline. Were they to receive a direct hit, even though it was a stray bullet, they would be transformed into a flaming hell. Who would want to be at their side then?
These are squads of veteran scouts from the toughest combat front at Paradise. They are the latest release for the PAN-O faction. Equipped with TO Camo and using a MULTI Sniper Rifle, these infiltrators are ready to get to work!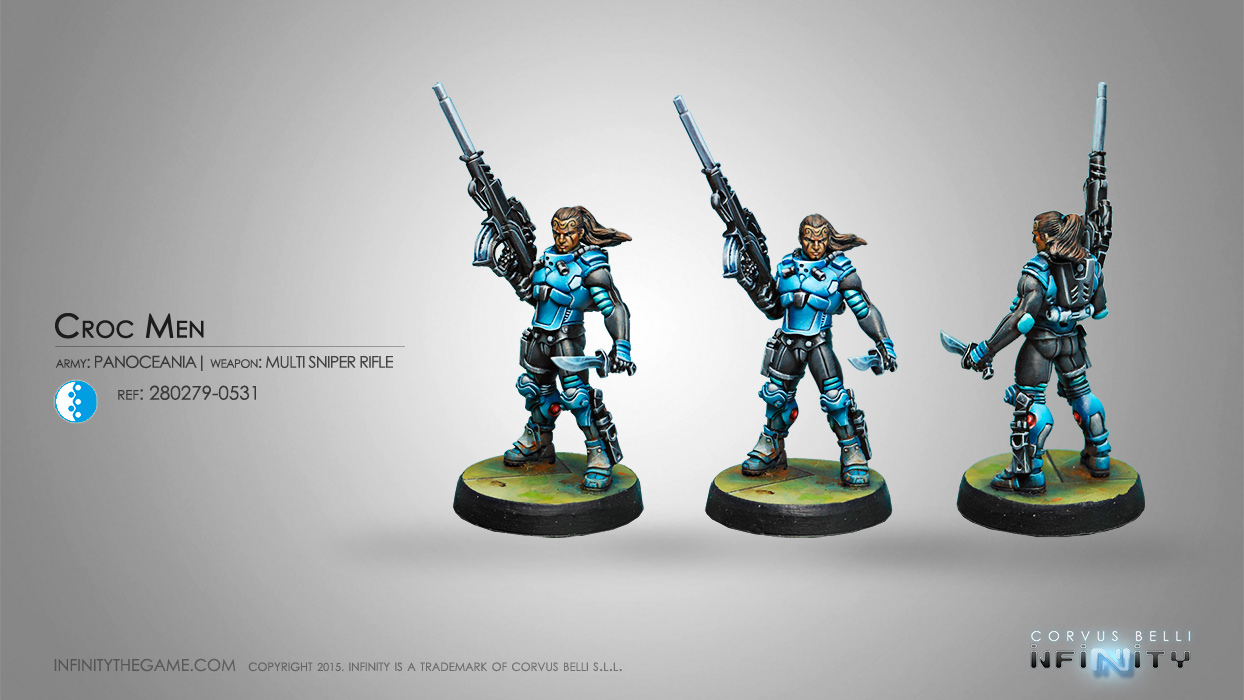 Although  today they are not totally formed with Maori, the regiments still  preserve their old cultural trade marks of tattoos or skin grafting. The  Croc Men are specialized in clandestine attack,  reconnaissance, and search and destroy missions inside enemy territory.  They appear by surprise, attacking with ferocity and disappear just as  easily in the dark before the enemy can react.
And as always if you're looking to get started playing Infinity they have a ton of useful resources. Check out their quick start page here!
I'm personally excited about the Intruder for my Infinity collection! A Camo HMG is just what the doctor ordered. AdamHarry, OUT!