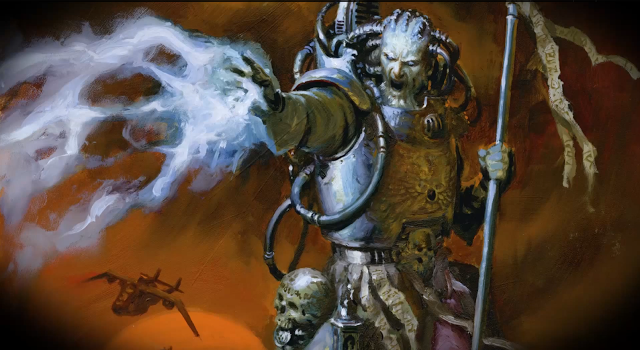 Hi everyone !!! It's your friendly neighborhood Black Blow Fly here to help you get the most out of your psychic phases !!!
Here are some tips to help you when casting your psychic powers. As an example my current army list I'm running has two level 2 psykers:
Rune Priest – Divination (psychic hood & ward)
Librarian – Telepathy (psychic hood)
This is a total of four warp charges. Doesn't sound like a lot but even against armies with a lot more such as Daemons, Grey Knights and cheesy Tyranids which can all have 10 or more warp charges I can often successfully cast my psychic powers. It's important to note that statistically for a blessing your opponent must roll six dice for each 4+ you roll… So often if you can manage to cast three or more 4+ on a blessing your opponent needs 18 warp charges on average to deny it. Sure sometimes the opponent gets lucky – it happens but it's not commonly occurring. I think of this as optimizing my psychic phase… While I've only got 4 warp charges plus the d6 at the beginning of my psychic phase if I roll well I can succeed.
Casting
It's important to rank your psychic powers knowing which are most important to cast. A trick is to cast a malediction requiring one successful warp charge first to draw off some of your opponent's warp pool so they have less to deny with when you attempt to cast a blessing such as the much hated Invisibility. So for example I attempt to cast Psychic Shriek first which only requires one warp charge then I roll for Invisibility having drawn off some of their warp pool.
I will typically roll 6 dice to cast a level 2 psychic power, again such as Invisibility… It's a game changer and well worth the risk. If you roll 6 times you should on average succeed three times thus requiring your opponent needing 18 dice on average to successfully deny it – most armies won't have 18 dice, especially if you can draw some off on a lesser spell first. Rolling 5 or less dice greatly diminishes the odds in your favor. In my opinion it's better to be bold and risk a perils for the best odds.
Denying
Each of my psykers have level 2 mastery plus the Rune Priest has Ward which is equivalent to Admantium Will. My Chapter Master has the Shield Eternal which also confers Admantium Will for backup. My two psykers are both joined to the same unit as the Chapter Master which means I'm denying on a 4+ versus 6+ against any malediction cast against the unit. Most often I'm able to successfully deny these maledictions which can also be quite a game changer versus powerful psychic maledictions such as Paroxysm or Shriek. I also have the psychic hoods so my psykers can deny for other friendly units up to 12″ away. I like having two hoods for backup in case I lose of my psykers.
Combinations
The psychic powers you get are random. That's said you'll want to find combinations for the synergy. By using two spells in tandem the overall effect can be much more powerful. For example during a game versus Salamanders with an Imperial Knight I had Foreboding and Prescience amongst some other psychic powers. I was able to successfully cast both anticipating a charge from the enemy Knight targeting my super friends unit including the two attached psykers. Foreboding lets you fire Overwatch on your full ballistic skill plus counter attack and Prescience lets you re roll missed hits. Turns out I was able to strip two hull points and concuss the enemy Knight. I then destroyed the Knight in one turn of melee.
Prescience and Misfortune are a great combo versus enemy flyers. I play a biker army and had a recent game versus an army with three Stormravens loaded with assault cannons, hurricane bolters, missiles and multi-meltas. Misfortune is a malediction that cause all attacks to be rending. This combined with twin linked bolters is a great way to force flyers to jink and even destroy them.
Terrify combined with Psychic Shriek is another great combination. Look for the synergies.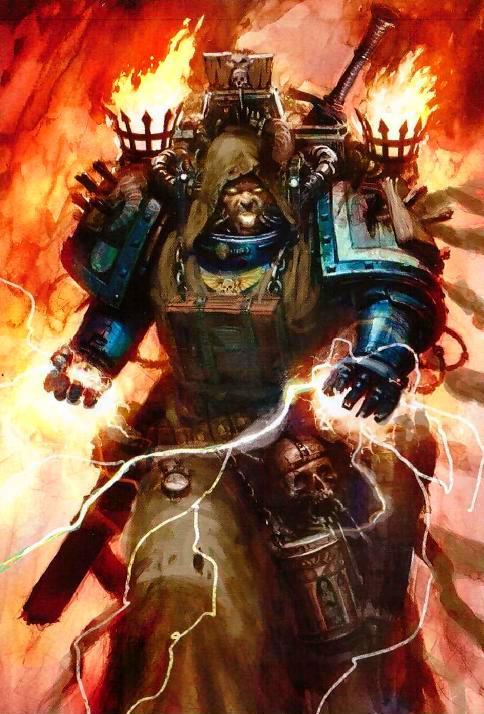 The Psychic Phase
The psychic phase is new to 7th edition and is a direct carry over from old Warhammer Fantasy Battle. Seeing it is so new and how GW writes their rules the psychic phase can be very powerful – it can literally win games by buffing your army and debuffing your opponent's army. A new formation – Librarius Conclave – from the new Space Marine codex has thrown in a huge monkey wrench providing Space Marines with arguably the best psychic unit in the game. Space Marines also now have access to all the best psychic lores as well now.
Here is a list of what I consider to be the best of the psychic lores in no particular order (other than alphabetical):
Daemonology (Santic) *
Divination
Telepathy
* There's a caveat to choosing Daemonology (Santic) since you automatically peril anytime you cast any doubles if the psyker is not a Grey Knight… However the Librarius Conclave can successfully cast on a 2+ if there are three Librarians in the formation all within 12″ of each other. So you can cast two dice for a spell requiring one warp charge and three dice for a spell requiring two warp charges thereby greatly mitigating the chance to peril for this lore.
I typically cast six dice for a spell requiring two warp charges so you can see how much this formation helps you to conserve your warp charge so you can cast more psychic powers each turn plus greatly lessen the risk of suffering a peril.
Daemonology (Santic)
I'll delve into Daemonology (Santic) at a latter point in time – for now I'll just say it's very powerful with Hammerhand, Gate of Infinity, Sanctuary and Vortex of Doom. I'm not covering Malefic since I don't currently play any armies that can make use of this particular lore. Personally I'm glad to know the Eldar and Space Marines no longer have access to it.
Divination
The best spells are as follows – Foreboding, Misfortune (2), Perfect Timing, Precognition and Prescience (2).
Foreboding allows the psyker and unit to which he is attached shoot at full ballistic skill on Overwatch plus they gain Counter Attack. This is really good for my White Scars biker command squad since they have four grav guns… Which is a huge deterrent to any enemy unit that wants to assault them. As a side note remember grav guns are Concussive so if you should inflict any wounds those enemy models are dropped to an initiative of 1. Basically it makes the Death Star even more unkillable.
Misfortune requires two warp charges and is a malediction. It's really good for my White Scars as all those twin linked bolters are now rending versus the maledicted enemy unit. This is really good versus enemy fliers and FMC as my White Scars have no anti air. If nothing else it will force them to jink for a turn rendering their shooting next to worthless – which is really good versus Flyrants.
Perfect Timing allows the psyker and unit to which he is attached to ignore cover when shooting. This is another really good one combined with the White Scars command squad's grav guns – it kills thing dead !
Precognition allows the psyker to basically re roll everything and is really good for using him to tank wounds with a 3+ jink save or a 2+ armor save if you kit your Rune Priest with runic armor. Position the psyker such that the Chapter Master can Look Out Sir any wounds that aren't inflicting instant death to the precogged psyker. This is yet another psychic power that makes the Death Stsr even more unkillable.
Everybody knows what Prescience does – the psyker and unit to which he is attached re roll to hit while both shooting and assaulting.
Force
I'll mention this one now since it seems most players seem to forget about it. You cast Force once then the psyker and unit to which he is attached are all affected – so you don't have to cast it individually for each psyker with a force weapon anymore. This obviously came from the Grey Knights 5th edition codex and is awesome… It works really well with the Librarius Conclave ! My preferred force weapon is the force axe for +1S and AP2. Force inflicts instant death thereby denying Feel No Pain. It's very powerful and only requires one warp charge… Really good versus any multi wound enemy model including monstrous creatures and gargantuan creatures as well – gargantuan creatures d3 wounds instead of instant death which can finish off Wraithknights.
Telepathy
Some people claim Telepathy ruined the game but I see it as a balancing factor versus ranged D weapons. Sure Invisibility is yet another thing that makes the Death Star nigh unkillable and with the Libarius Conclave it's going to be very hard to deny now. We all know just how good it is too. There are some other really good spells here as well such as Dominate, Psychic Shriek and Terrify. Terrify has excellent synergy with both Dominate and Psychic Shriek since all three work on enemy leadership and bypass Fearless. Dominate is great versus armies with low leadership such as Orks and Tyranids… It can literally shut down an enemy unit since if maledicted they must pass separate leadership tests to do anything. A nasty trick versus Tyranids is to dominate a Flyrant for the chance to prevent it from swooping. Psychic Shriek is great for removing a pesky objective secured enemy unit camped on an objective marker… One of the great things about witchfire in general is you can assault a different enemy unit – like I said in the opening the psychic phase is really off the hooks now so take full advantage of it.
While these tactics are geared towards armies I play but the basic strategy and tactical acumen can be applied to most other armies as well.
So what is your take on the psychic phase ?