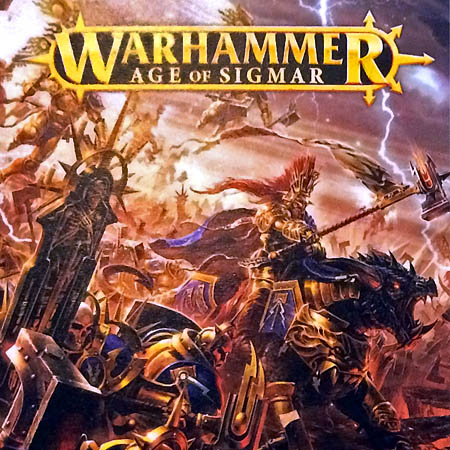 GW is really pushing Age of Sigmar like the company depends on it.  Take a look at the latest from Nottingham:

We have mentioned before that Age of Sigmar is a BIG GAMBLE for GW, and apparently they are going ALL IN. Just take a look at some of these actions and think about how much of a seismic shift this is for Games Workshop, a company that was never accused of being revolutionary or cutting edge in the marketing department:

They are of course in the $125 boxed set, but don't let that stop you.

It turned out that the rumors were both right and wrong.  All the WFB Army Books DID go away, never to be seen again. GW DID reduce the number of faction in the game to a much smaller number – 4. However, a tremendous amount of company effort (and money) went into the 16 Warscroll Compendiums  ensuring that every old WFB miniature produced by GW still works with the new system.  And Nottingham is giving them all away for free.

At $125 the 47 top of industry miniatures, alongside the rules, background books, 21st century whippy-sticks (OUCH!) and more is a serious attempt to bring in new customers.  It is sitting right in there with the other starter sets offered by the competition.  It is the first time in a looooooooong time I can remember GW not premium pricing an item like this.

4) Age of Sigmar FREE App is Coming
Extending the game into the all digital age, GW is releasing an AoS app that promises full Warscrolls, army building abilities, and the rules – along with regular updates to keep you up to date with the latest items in the game. Once again – it's free.

5) They're SERIOUS – the Marine Statue at HQ got the Axe…
Just feast your eyes on that… I still can't believe it. That old Marine paid for most of that building back there and everyone who works in it.
6) They are Speaking FRANKLY to Customers
Get a load of this from this weekend's Forgeworld OpenDay:
via DakkaDakka's ShaneTB 7-5-2015
"GW had a guy camped out at the Forge World open day whos entire job was to answer questions and talk to people about Age of Sigmar. His entire job is to go to shows and talk to people about the new game. For the first time I think ever they're taking Age of Sigmar to Gencon, Comic Con, all the major wargames conventions in Europe etc. They're throwing a considerable amount of money at putting this in front of new audiences who have never played fantasy before. He was also brutally honest and didn't dodge any questions and answered everything he could. I'll start with the negative stuff first.

This is it. There categorically will not be a '9th' edition of fantasy. Age of Sigmar is the only thing fantasy related GW will do for the considerable future.

He acknowledges that the 'funny' rules are rather silly and don't make for a great intro to the system for new people. His response was that the armies in the box set don't have the silly rules. They're there as kind of a celebration and final send off of the old warhammer armies, and he said you might notice the new armies don't have the stupid noises or imaginary friends. This is deliberate, its designed that you'll only generally play the old stuff with your mates since it's a bit embarassing to play in a public place.

The new races will look different to the old ones. Ooruks will not look the same as the orcs we currently have. As such, when they get round to releasing Ooruks, the old models will cease production. He did say that you can still use your old models as ooruks, but you won't be able to buy normal orc boys again.

There will never be points values.

On to the slightly positive stuff then.

They are going to fully support all modes of play, and will be releasing rules to balance armies against each other. There will be narrative campaigns where your forces are picked for you for specific missions, and there will be a system for tournament players to balance lists that isn't based on model count. He did not know the specifics of this, but said it is definitely coming.

The rules will always be free. He said that they are very very aware that fantasy had a massive buy in for someone to get started, as such the game was designed with the ability to play it with one box of models. There will be army books, but every rule in them will be available, for free, online. The books will just have extra background info and scenarios.

GW really are trying harder than they ever have before to make this work. If you're at one of the shows go and talk to them. They want to talk to you about this, but especially they want your feedback on it. As he said, this is totally uncharted territory for them and they are totally open to rules revisions as they go."
You can say whatever you want about GW, but with Age of Sigmar, they are certainly trying their heart out. Have you given it an honest try on the tabletop?