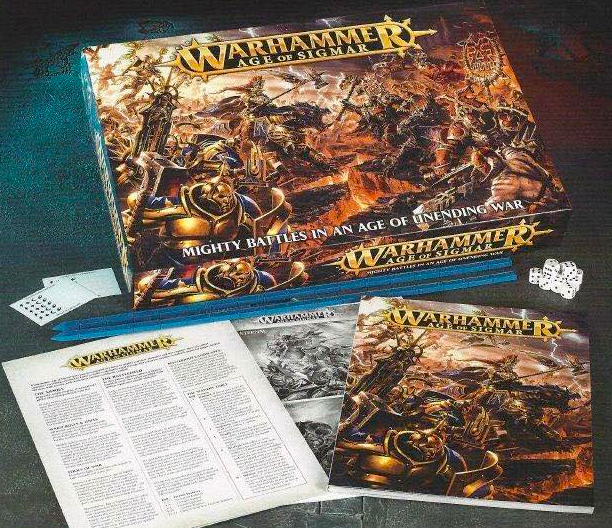 The  Age of Sigmar rules are all over the place.  We've seen them and have some things to say.
The rules are out and about all over the place.  They will appear in the White Dwarf this weekend, and should be placed up for FREE DOWNLOAD on the 4th of July.  We have read what is doing the rounds and have some first impressions:
NOTE: This post strictly is covering the RULES, and known Warscrolls as we don't yet know what else is in the box's printed materials.
1) 4 pages in total.  This is perhaps the most streamlined ruleset we've ever seen a major manufacturer roll out.  Yes the font is small and there are three column pages, but 4-pages is a VERY, VERY long way from WFB 8th Edition's 150 page rules section.
2) There are no point costs (that have been seen so far).  This is the biggest jump in the new game.  Both the rules and the Warscrolls seen so far have no point costs.  Instead players are instructed to bring together a force similarly sized armies – based on modelcount. That is the only factor the core rules specify to determinie if one side is overpowered compared to the other.  Now it is certainly possible that at some point in the future a document or later Warscroll cards could list point costs – but there is no evidence of that at this time (But they could still be there, just out of view)
3) Super streamlined unit stats.  Gone are the decades of the familiar WFB M WS BS S T W I A Ld statline. In it's place comes a super simplified 4 stat Age of Sigmar Statline: MOVE WOUNDS SAVE BRAVERY.
4) More detailed Weapon stats: Some of those missing unit stats have moved over to the weapons. Take for example the Weapon characteristics seen so far on one Warscroll: Weapon type (Missile/Melee), Range, Attacks, To-hit, To-Wound, Rend, Damage. There is a great amount of weapon variety the designers can cook into that many weapon variables.
5) Warscrolls.  This is a BIG ONE for Games Workshop.  Each unit in the game has a warscroll card including all it's stats, special rules, and any other details.  These cards will ship in each box of minis for the Age of Sigmar system.  This places the game firmly in the Warmachine – Malifaux – many others category.  It will open up the game to the possibilities and the pitfalls of these unit-card based systems.  The first big advantage is you have no need for armybooks at all.  Updating your game can be done with new core rules and a new set of unit cards.  I would expect to see GW release a set of cards for all the existing units in the game in short order. Note that we have seen no images of the BACK of any Warscroll cards, so who knows what could be lurking there.
6) "Sudden Death" victory conditions.  In perhaps one of the most interesting twists for a GW game, the core rules deal with mismatched sides by introducing "Sudden Death" victory conditions. If one side has 1/3 more models than the other, then the smaller side may choose one of a set of objectives that can win them the game immediately.  These include things like killing an enemy character, designated unit, or even surviving to a set number of turns.  It's almost a halfway-house to the classic Warmachine Caster-kill mechanic.
7) Look for New Terrain.  Considering the rules are 4 pages in length – board setup and special terrain rules take up half a page.  Each 2×2 foot area of the board can have 0-3 pieces of terrain, each of which has a "mysterious terrain effect".  The rules also mention needing to determine which of the 7 Mortal Realms the battle taking place in, as that can affect certain special rules. GW has pulled the majority of their existing WFB terrain line, and there is word of an entirely new line of terrain kits coming.  The attention they receive in the rules would certainly support that.
8) Linked Games.  The core rules contain the concept of an army gaining slight benefits in it's next game if it accomplishes certain types of victories in it it's current game.  This type of "campaign-lite" rules are interesting to see in such a small ruleset and point to the direction the game is aimed.  Multi-round short-medium length games among friends.  It is difficult to reconcile such rules, and lack of points as being workable in any type of "organized, competitive play" setting, without additional balancing material provided by GW (which could be coming). But I have a feeling that GW isn't losing an bit of sleep over that.
9) Magic is completely simplified.  The core rules list 2 default spells that all casters know, and a basic system allowing spell casting, and dispelling.  If you were looking for a point of sharpest divergence from WFB 8th's rules – you could make a case that Magic is it.
10) What is Age of Sigmar exactly?  We are still in extremely early days, but the game seems to be a complete reboot of an ancient venerable, and slowly withering gamesystem into something that is fresh, new, and modern – and squarely aimed at young casual players.  It looks to be very scalable.  You can easily see with these rules how players could start with the 20+ minis per side that come in the game, and play easily all the way up to probably 100-150 per side.  The dice mechanics are so clean that its' just a matter of rolling more dice – and we GW players are certainly no strangers to rolling insane amounts of dice at a time (thank you Chessex).
The parts of the game that seem missing could easily be coming later.  Heck, if you look at that top picture you will see that there are 2 other books included and we have NO IDEA what's in them. What is genuinely unknown is if Age of Sigmar is "The New Warhammer" and is meant to be a sturdy backbone upon which future expansions can be added (missions, new units, organized play, campaign books, etc…) – or is this product is simply the appetizer for a "full rulebook" coming out later.  The jury is out on that one and only time will tell.
In the Meantime – It Is Certainly Intriguing
I'm having a hard time thinking of the last time a gamesystem as old as Warhammer, from a manufacturer as large as GW tried to change so radically.  The only thing that comes to mind (and isn't a tabletop wargame) is the D&D 3.5 – 4th changeover.  We are truly looking at something unprecedented in the wargaming industry.  We do live in interesting times.
The floor is yours folks.