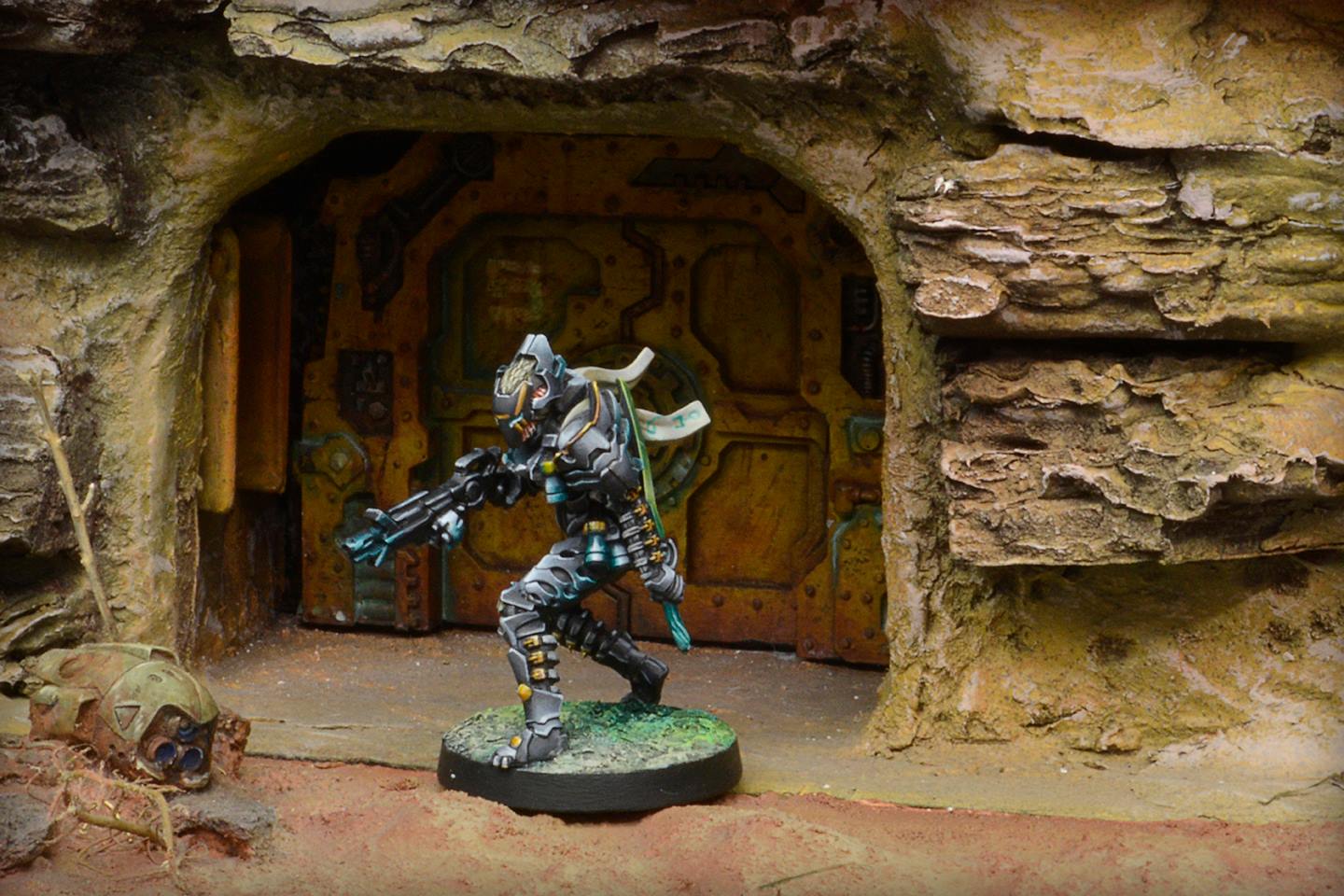 Corvus Belli released a handful of new units this week for Infinity and they look GOOD – check out these new miniatures!
Hey BoLS Readers – AdamHarry here with an Infinity Update! Corvus Belli released a slew of new miniatures and rules for Infinity. Lets take a look at some of the new hotness in the universe of Infinity! As always you can click the link for full unit descriptions and rules!
images via infinitythegame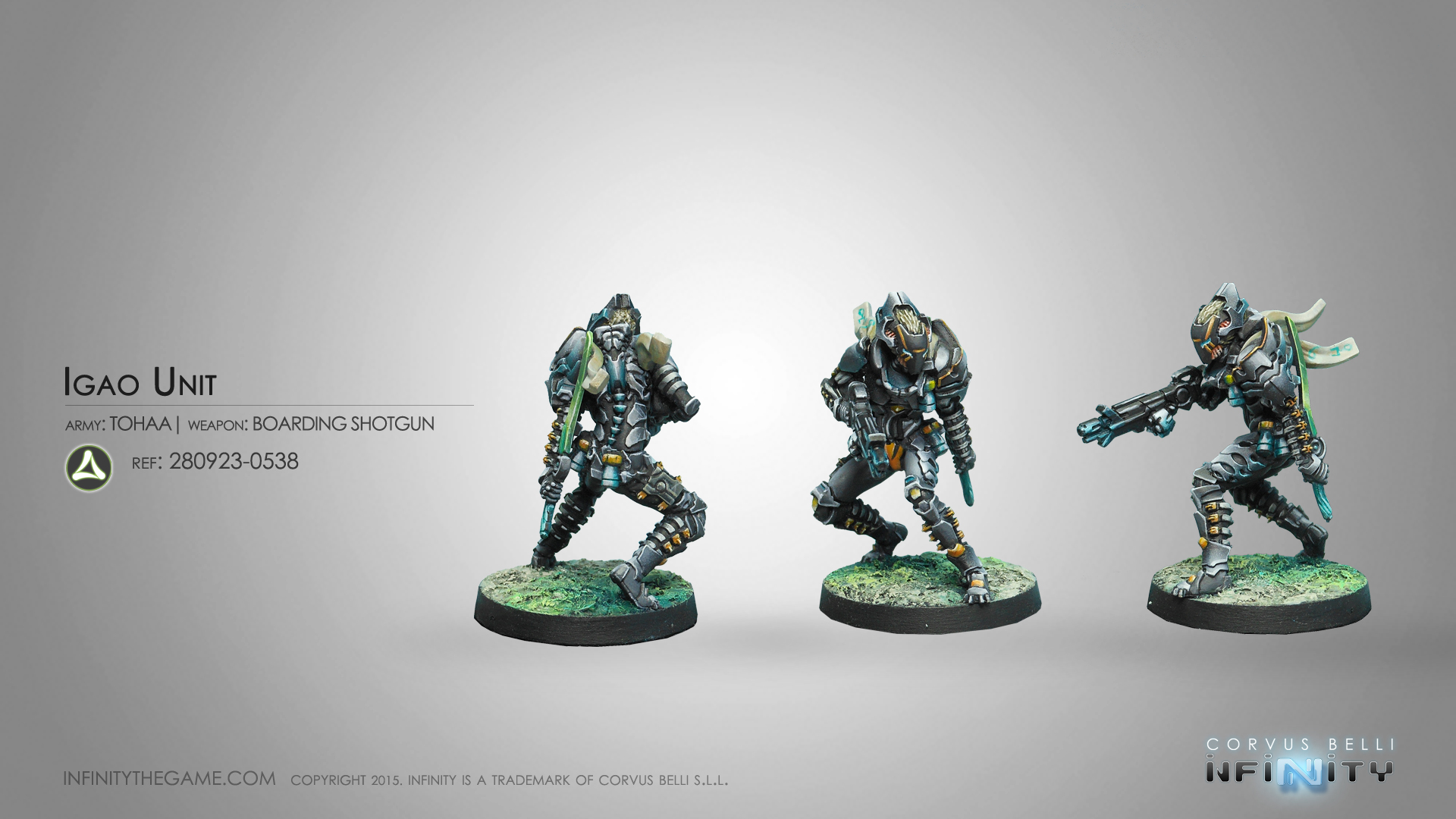 The first unit up is a new one for the Tohaa. Packing a Boarding Shotgun and CH: Camoflage, Infilitration and some Close Combat Kung-Fu action the Igao is designed to be an up-close assassin. They look pretty cool – that helps too!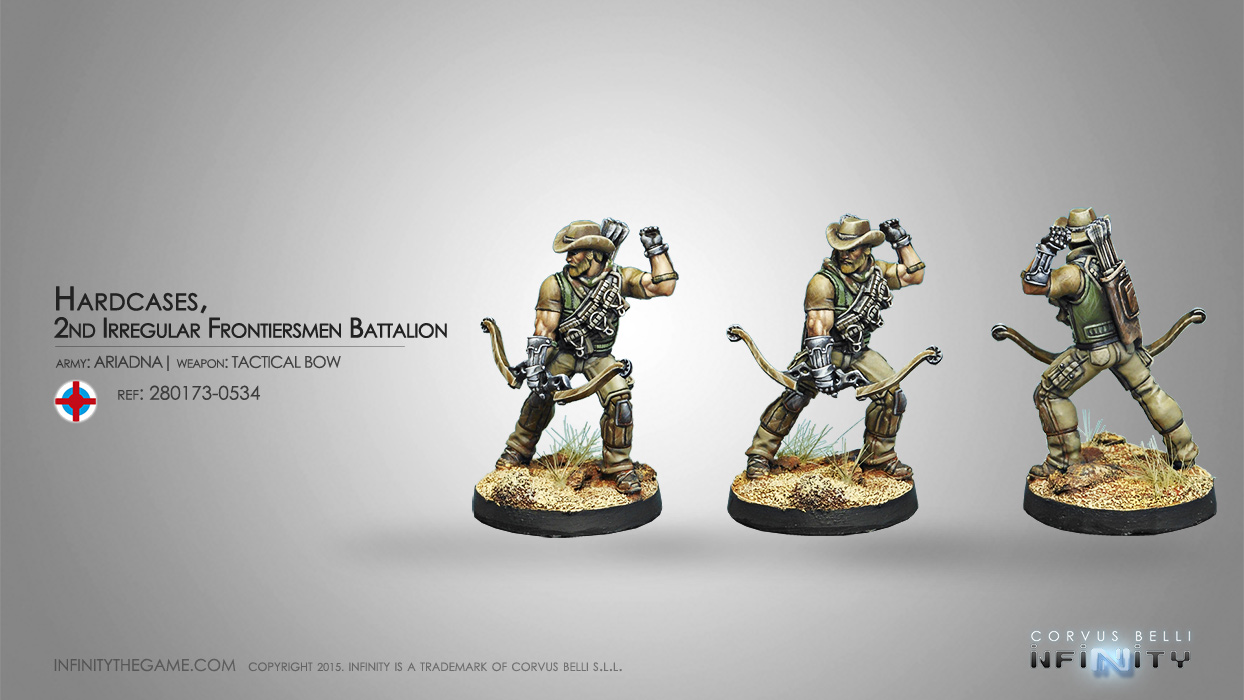 Ariadna got a new 'scout' unit in the form of the Hardcases. They come from the southern border of the USAriadnan – a wild land light on population and heavy on nature. The Hardcases are vets who have left the military for a quieter life but have gotten sucked back into the fight due to their code of honor. Unable to stand by as bandits, outlaws and the occasional Antipode raider have reared their ugly heads – the Hardcases now lend their tactical bow skills as scouts answering the call of duty once again.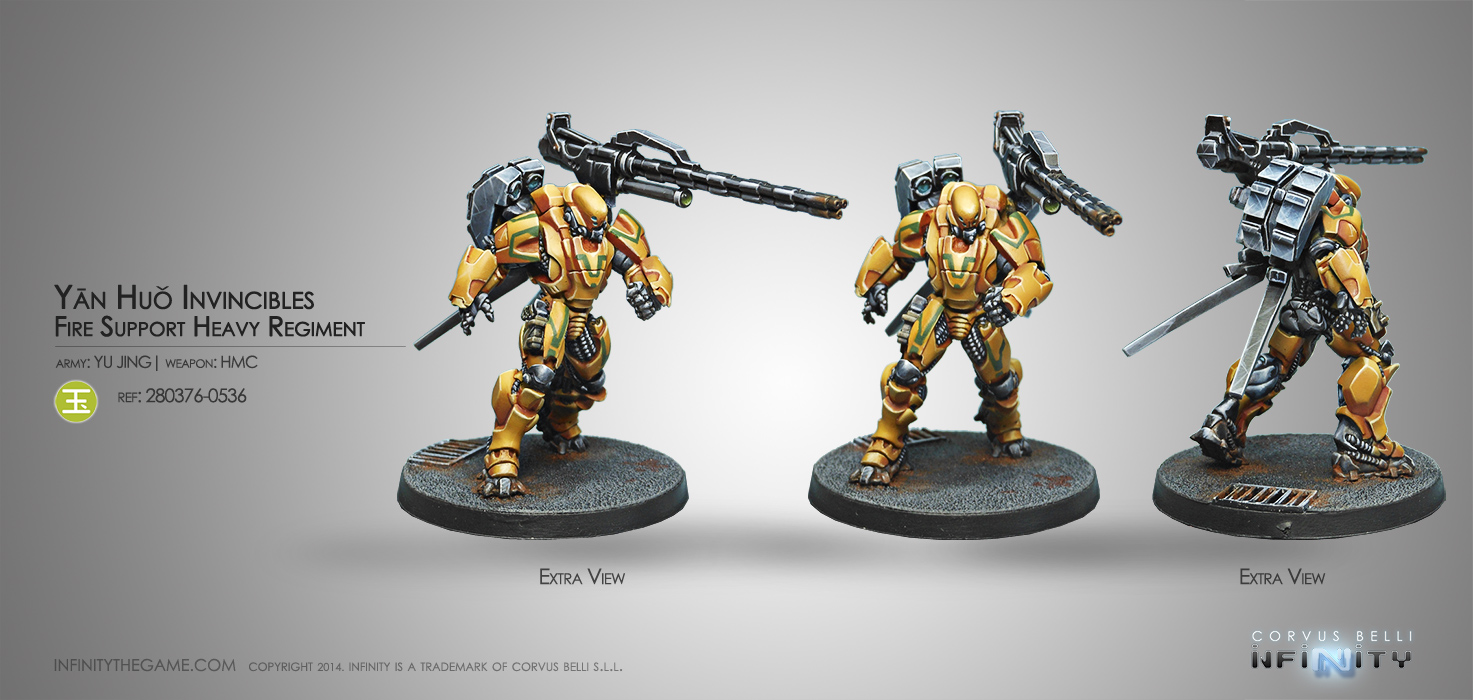 When the Yu Jing army needs to make an impression, they call in the fireworks from the Yan Huo Invincibles. This Fire Support regiment is renowned for their combat doctrine which primarily includes two orders: Fire and Reload. They operate under the rule that there is no such thing as overkill. Their armor is not designed for safety, oh no – it's designed with the intent of being a literal weapons platform. They pack the heat of heavy fire power and are not afraid to pull that trigger!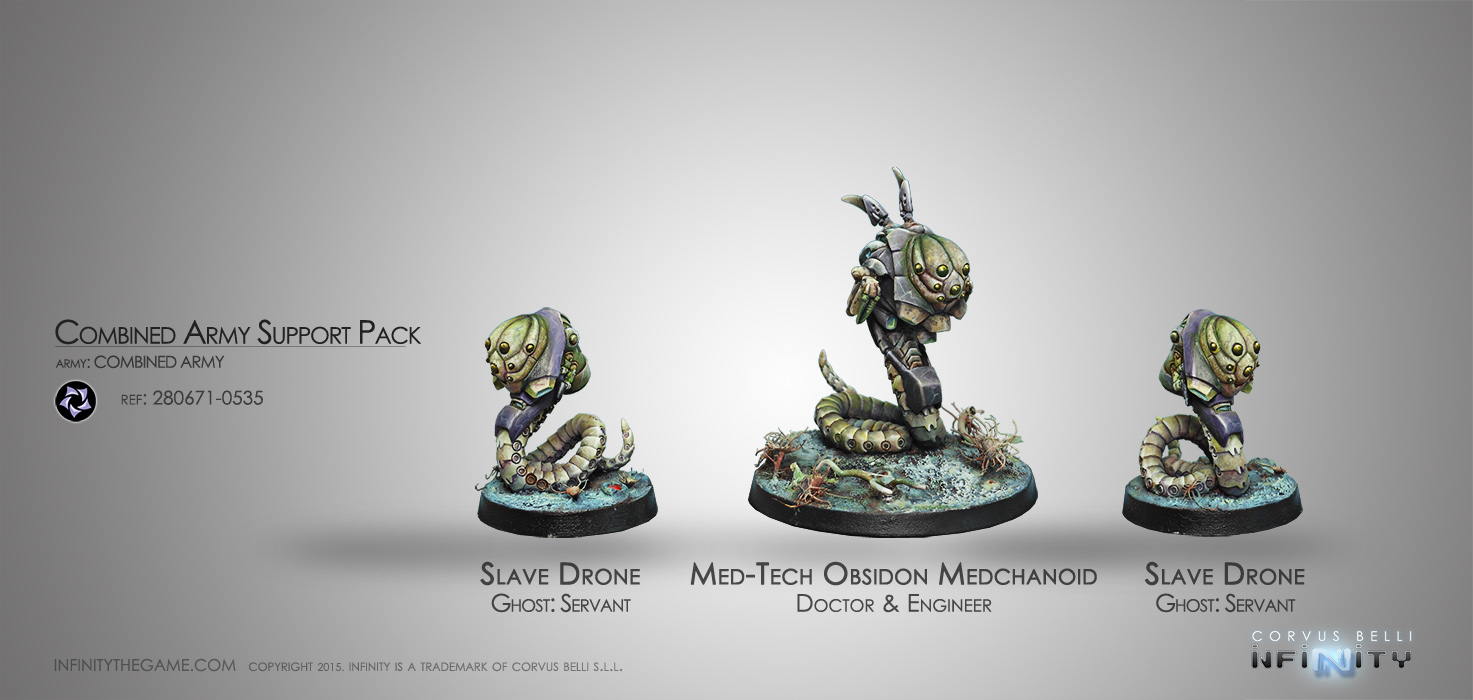 Specifically designed as a box for new Combined Army Players the Support Pack looks to take advantage of the ITS missions. They may not have the fire power of some of the other units but they are bringing the utility in droves. The box set contains a Doctor-Engineer and also their G:Servant Remotes. While that doesn't sound very appealing in terms of firepower the ITS missions do have more of a focus on objectives which is why an engineer with remotes is super useful. On top of that Doctors are the only way to get downed models back in the fight – having a unit with both those abilities at the same time means you've got utility for days!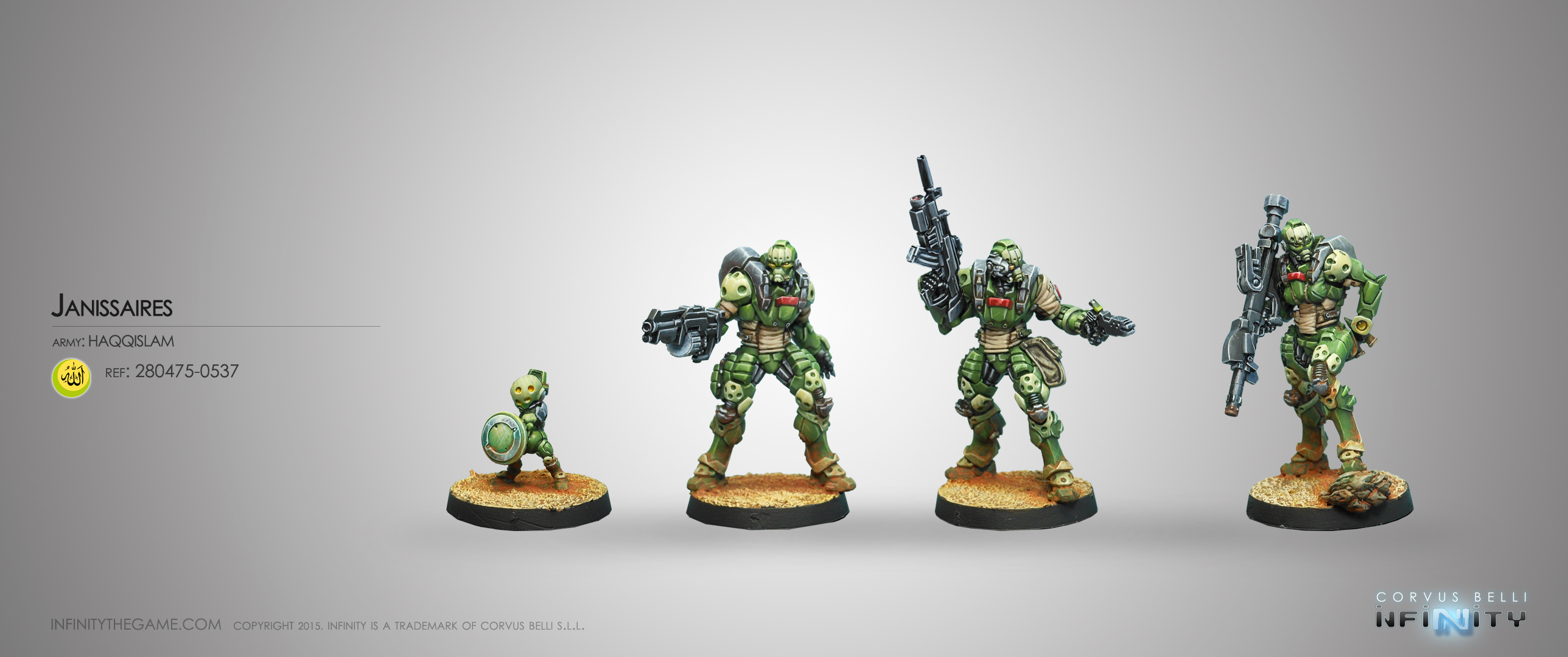 Haqqislam's new heavy line infantry are the Janissaries. These troopers are trained tough and taugh to fight to the last man. They are made up of members recruited at a young age, they are both tough fighters as well as devout of the faith. The Janissaries also don't have a Cube installed meaning their personalities cannot be recorded – once they die, they are dead. This is reflected in their Religious Troop special skill. Boasting a solid stat line and AP rifles they are a force to be reckoned with.
Overall these new releases represent a pretty wide array of units from the solo scout to the doc/engineer all the way to the biggest gun packing heavy. I can appreciate the diversity of this release but most of all I really like the looks of all these models. If you're looking for a Hobby challenge I suggest picking up one or all of these units – they will test your hobby skills for sure!
What do you think? Which is your favorite unit of these releases? For me it's a toss up between the Yan Hao's incredible firepower and the CB Support's weird alien snake/thing design. Let us know in the comments below. AdamHarry, OUT!