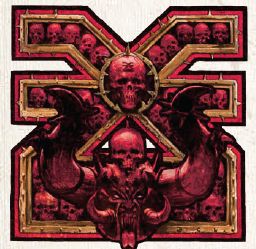 Hey guys, for this installment of Tactica: Khorne Daemonkin we focus on the Blood Tithe and some ways to maximize its effectiveness!
This week I will Be handing the Mic over the my good friend Charlie at Elite40k who was kind enough to share his thoughts on the Blood Tithe and some ways to maximise its effectiveness!
BUILDING TO MAXIMISE BLOOD TITHE
A competitive Khorne Daemonkin army list should aim to maximise the potential of the Blood Tithe table. There are two fundamentally different approaches to getting the most out of Blood Tithe:
Maximizing buffing
Maximizing summoning
The lower four Blood Tithe rewards confer one or more buffs to all friendly units with the Blood for the Blood God special rule—that's every unit from Codex Khorne Daemonkin, but not units from any Chaos Space Marines or Chaos Daemons Detachments you may also be including in your army. If you want to maximise the buffing potential of Blood Tithe, then you should build your army around units that will benefit from Adamantium Will, Furious Charge, Rage, Feel No Pain, and extra Attacks.
The higher four Blood Tithe rewards summon extra units to add to your army—two simply create new units, while the other two replace an existing character with a Daemon Prince or Bloodthirster respectively. If you want to maximise the summoning potential of Blood Tithe, then you should build your army to generate lots of Blood Tithe points every turn, and include lots of expendable non-Daemon characters to replace with summoned Monsters.

Maximising Buffing
If you want to take the first approach, and maximise the buffing potential of Blood Tithe, then you should aim to do two things:
Focus on units that benefit from Blood Tithe buffs
Aim to generate three or four Blood Tithe points per turn
Adamantium Will benefits all units, but is only useful if you're fighting opposition with offensive psychic powers. Remember that Daemons are particularly vulnerable to the Telepathy Primaris power Psychic Shriek due to their low Ld characteristic. You won't have many Warp Charge to use for Deny The Witch rolls due to your own lack of psykers, so the Adamantium Will bonus is very good in these situations.
Furious Charge and Rage combine to provide +1S and +1A on the charge, which is quite a nice offensive buff, but it obviously only really benefits assault units. However, all Daemons of Khorne already have Furious Charge, and all models with the Mark of Khorne already have Rage, so you are really only getting half a buff out of this Blood Tithe reward. This makes it a much less attractive option on which to spend your Blood Tithe points.
Feel No Pain is a great rule for increasing the resilience of non-vehicle units. None of your units inherently have this rule, so getting it from the Blood Tithe table is a very nice buff.
Gaining +1 Attack is a great offensive buff for all assault units, since it stacks with Rage and works in ongoing melees.
When it comes to generating Blood Tithe points, you should find it quite easy to generate two or three points per game turn in most battles. You will be spending your points every turn, since you have no need to save them up for summoning, and you will want to maintain your buffs throughout the game. You don't really need to include deliberately sacrificial units in your army just for the sake of generating Blood Tithe points.
Putting all this together, if we want to build around maximising the buffing potential of Blood Tithe, then we should build an assault army and avoid over-investing in vehicles. Mass Bloodletter / Hound armies love having free Feel No Pain! However, if you want lots of Forgefiends, Maulerfiends, Helldrakes, or a Lord of Skulls, then you going to get a lot less out of Blood Tithe buffs.

Maximising Summoning
If you want to take the second approach, and maximise the summoning potential of Blood Tithe, then you should aim to do two things:
Include lots of units with expendable non-Daemon characters
Aim to generate five or more Blood Tithe points per turn
The first point is extremely important, and often overlooked by players who fixate on generating mass Blood Tithe points—if you generate lots of points, but have no non-Daemon characters to replace with Princes or Thirsters, then you've wasted your time! The cheapest expendable character is a Cultist Champion in a 58 pts Cultist squad.
Generating five or more Blood Tithe points every game turn can be tough, especially if you're fighting against a low unit-count enemy army. There are a few things you can do to improve your point generation:
Include lots of expendable units in your own army
Use the Blood Host Detachment
Take the Blade of Endless Bloodshed Relic on a fast character (e.g. Blood Throne)
Taking lots of Cultist squads serves two purposes: providing lots of expendable units to generate Blood Tithe points, and providing lots of 'hosts' for summoned Princes and Thirsters. However, it's not just as simple as spamming Cultists to the exclusion of all else—every time a Cultist squad dies to generate Blood Tithe, it also costs you a host character. This means that you will need to include other methods for Blood Tithe generation, so you can keep some Cultist Champions alive for possession. Solo Chaos Spawn are a good option for a semi-useful expendable unit, as are small units of Terminators and Bikers with Meltas.
The Blood Host Detachment—comprising a Slaughtercult Formation at a minimum—generates a free Blood Tithe point for you every turn. However, the Slaughtercult Formation does include a 150 pts 'tax' of a Possessed squad, and only allows two units of Cultists and Spawn respectively. Including one Blood Host / Slaughtercult could work in a competitive list, but multiple Combined Arms Detachments with lots of Cultists and Spawn are probably the better option most of the time.
If you are playing to maximise the summoning potential of Blood Tithe, then you will need to remain tactically flexible in managing your Blood Tithe points. As much as you would love have seven or eight points available to summon a Prince or Thirster every turn, you need to learn when it's better to just burn five or six points to get lesser Daemons instead—if you're expecting to kill (or lose) a lot in the coming turn then you may as well spend what you have now, rather than wasting excess points.
A Hybrid Approach
Of course, you could instead take a more flexible approach to your list design, and include a wider variety of units in your army rather than just spamming Bloodletters & Hounds or Cultists & Spawn. In this case, if you still want to get the most out of your Blood Tithe with a hybrid list, then you'll need to become an expert at managing the generation and spending of your Blood Tithe points throughout the ebb and flow of battle, and always remaining tactically flexible.
Final Considerations
The last—and definitely not least—thing to consider when building your army list, whether it be focussed on buffing or summoning, is that you still need to cover all the threats you could encounter: horde infantry, elite infantry, psychic deathstars, mass light/medium armour, heavy armour, Flyers, Monsters, Flying Monsters, Gargantuans, and Super-Heavies. Most Daemonkin armies are going to have very little trouble dealing with infantry and light/medium armour, but make sure you include Melta to deal with harder targets too! Hades Helldrakes and Wrath of Khorne Bloodthirsters can provide anti-air. The Bloodthirster of Insensate Rage is your best option for killing Gargantuans and Supers. Building a balanced list that can also maximise Blood Tithe in one way or the other is quite the challenge, but if you succeed, you will reap your reward on the battlefield.

Input from Blog for The Blood God
Thank you Charlie for sharing your thoughts on The Blood Tithe and how to use it to maximise the effectiveness of a Khorne Daemonkin army! If you guys have not seen Charies blog check it out on the link above 🙂
So what are my thoughts? I think Charlie covered everything quite well but I will throw my 2 cents in for good measure 🙂 I will start by breaking down each result on the blood tithe table with a brief analysis:
1. Adamanitium Will – complete waste of time unless you are up against an extremely psyker heavy opponent, unfortunately with the Blood Tithe spending 1 point removes ALL points you have accumulated so unless you only have 1 point you are better off spending the points on something stronger.
2. Rage and Furious Charge – like charlie pointed out every unit in the codex has 1 of these two rules so you really only get half of a result here and it also depends heavily on your forces ability to make a charge that turn, unless you have multiple units ready to charge I would give this one a miss and save the points
3. Feel No  Pain – this is in my opinion the most useful result, getting that extra 5+ after you take your armour or invul makes units a lot harder to remove with small arms fire, it dramatically increases the survivability of your footslogging infantry. FnP bloodletters are a brutal troops choice for 10pts a model!
4. +1 Attack, this can be insanely powerful if you run a large number of models, running a Dominate The Maelstrom style list like the one from Part 3 in this series can result in up to 110 additional attacks in theory, granted it will never get that high but still it is not un reasonable to get 40+ bonus attacks out of this result, also worth mentioning that our best troops choice (bloodletters) only has a single attack on its profile, so this literally DOUBLES the damage output from any bloodletters already engaged in combat! That's crazy good!
5. Summon Bloodletters or Hounds – fantastic in objective based games, particularly Maelstrom of War. I will usually go for the flesh hounds unless i have a lot of power armor to deal with, 5 flesh hounds are faster, more durable and have a higher damage output against anything non power armour than 8 Bloodletters. That being said always bring spare bloodletters just incase you need some extra power armour killers!
6. Bloodcrushers or skull cannon. This one can be a massive game changer in smaller games, i like to focus on enemy Anti Armour in the first couple turns then summon a Skull cannon and laugh as bolter rounds bounce off of its armour! The S8 large blast can also fire the turn it arrives making it the fastest of all rewards to take effect, this is particularly useful towards the end of the game where other units may not have time to make it into combat.
7 and 8. Summoning the FMCs – I have grouped these together because my opinion is the same for both… that opinion is simply that they are not worth it. Everybody has had or at least heard the debate on if they can charge the second turn they are on the table or not, to me not only are you likely to start a debate but you are likely to be missing more powerful options anyway, like i mentioned about the 4th result could give your army a total of 40+ attacks THAT TURN that trumps a bloodthirsters 7 attacks in 2-3 turns any day! Yeah adding a 250 point bloodthirster is a fun gimmick but compeditively you are much better using the 4th result twice than saving up for the 8th.
The thing i love about the Blood Tithe is it gives you ultimate flexibilty mid game that no other army even comes close to! This is particularly useful in Maelstrom of War where your objective literally changes every turn. The ability to adapt on the fly is what makes this codex so much fun to play!
I think the best way to use the blood tithe is to maximise  the buffing, if you have an army with a large body count you can get some serious miles out of army wide +1 attack or FnP, or better yet use the Slaughtercult to get both results!
Focus on gatering victory points as priority 1, do not worry too much about destroying your opponents force, use FnP to keep your force alive while they claim objectived and only summon units if there is an objective out of your reach and you need to bring in some deep strike reinforcements or if you are close to being completely wiped out and need backup to stay in the game.
Following that tactic you will often find at the end of the game neither army was completely destroyed so it comes down to who collected the most VPs… chances are your opponent was busy wasting time trying to kill the never ending tide of daemons that is Khorne Daemonkin and as a result victory will be yours!
Thanks again for tuning in! Make sure you keep your eyes peeled for the next instalment of Tactica: Khorne Daemonkin! and while you are at it head over to Blog for the Blood God, give me a like, and join in on the other great content! Everything from Battle Reports to Hobby Tutorials, Rules discussions and tactics to Animated movies and 40k based comedy (wanna see marines firing bolters to the beat of Fear Factory? lol)
Thank you all for your time! Dae'vros The Gorehound – Signing out