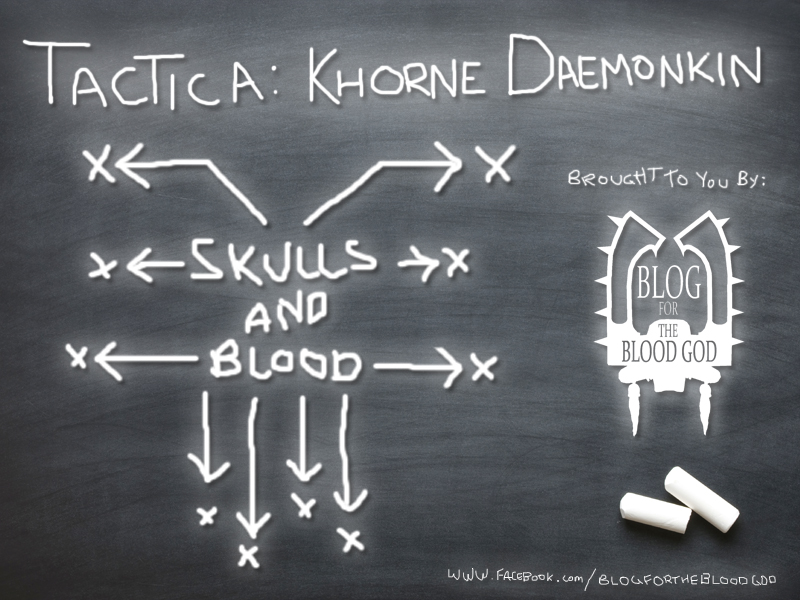 Hey guys! Today's Tactica : Khorne Daemonkin answers one of the most common questions I get asked, how to decide which units to include in your list.
While this is not a "tactic" so to speak i still think it is an extremely important part of the game and definitely something worth some thought…
So you are sitting down, looking at your codex and trying to decide which unit is better a, or b. This will impact what you buy, build, paint and ultimately play your games with… so, how do you decide which unit is "better"
The simple answer is that there is no simple answer! I often have players contact me with advice such as "what is better a soul grinder or a Maulerfiend?" In these sorts of situations there are so many factors that need to be considered! It is never as simple as Soul Grinder > Maulerfiend! Here are some things to consider that may help you make a decision of which units to add to an existing force
1. Play Style!
First and foremost thing to consider is what is your play style? Do you like a fast elite army? Do you like the idea of entrenched infantry? Do you want armoured warmachines or blood drenched daemons! Always start by thinking about which unit suits your play style as EVERY unit has its own strengths and weaknesses on the battlefield
2. List Composition
too often do people compare units in a vacuum, ignoring the rest of yourarmy and only focusing on the units in question! Look at what you currently have, look at the weakness in your current force, and take which ever unit you feel supports those weaknesses! For example if you struggle with flyers and Monsterous creatures you may decide on the Soul Grinder for its skyfire and 13 front armour, however if you are struggling to close the gap with gunlines you may wish to add a Maulerfiend. When you look at units as an addition to what you have the chouce becomes much easier
3. Regular Opponents
Always consider what armies you play against most and more importantly which armies you struggle against. If you simply follow internet opinions of which units are the strongest you may wind up taking units that are really strong against units that you have no issue defeating anyway and hence waste the points and dollars! For example if you play against and struggle with mostly marine players who run footslogging tacticals/devistators/assault marines etc you may wish to add the Soul Grinder with Plegm to give it an Ap3 large blast, however if you keep getting blasted by riptides that kill you before you make it into combat you may want to includeba Maulerfiend.
4. Tactics!
No unit should be added to a list without considering how it will work with the current tactics and strategies you employ!for example do you need a unit to camp on back field objectives? do you need a fire magnet to distact the enemy? Simply looking at a units profile is NOT the way to decide what is the best unit! Look at what it can offer your force in the way of tactical flexibilty!
5. Looks…
as much as mum always says "its not the looks that count, its whats on the inside" she is wrong! Pick models that you think oook awesome and you will never regret the purchase 🙂
Once you considered these 5 points the answer to "which unit is better" should be pretty obvious, if it is still not obvious then it is likely both units are a good choice 🙂
I hope this helps you out when trying to decide which units to add, if you get stuck head over to Blog for the Blood God and shoot me a PM as i am always happy to chat!