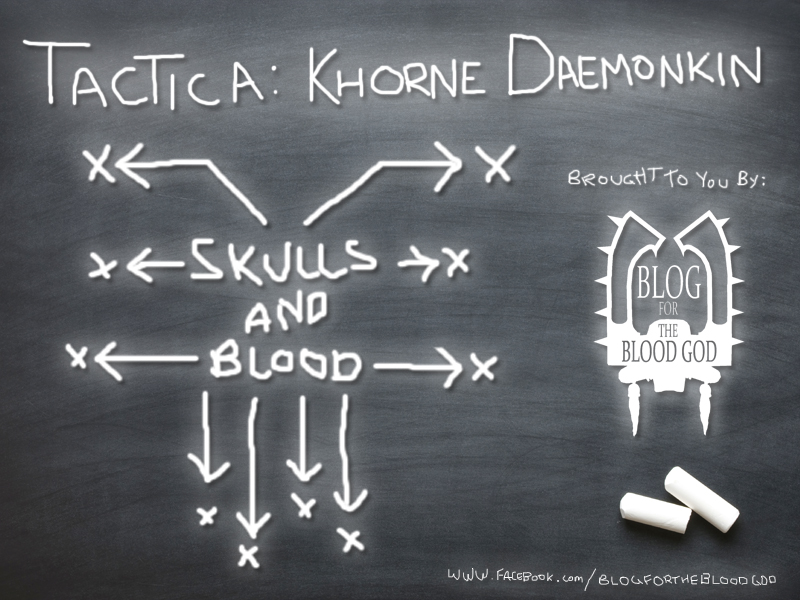 Today we learn how to get Khârn the Betrayer in a Khorne Daemonkin Army without missing out on Blood Tithe opportunities!
Hey guys! For this instalment of Tactica : Khorne Daemonkin I will discuss something that has infuriated Khorne Daemonkin players since the codex was released and a simple way to get around it!  Let's get to Khârn!
So you want to put Khârn in your Daemonkin army but do not want to sacrifice potential Blood tithe points? SIMPLE! take Khârn and 2 units of berzerkers as an allied CAD from Codex: Chaos Space Marines …Then take a second detachment from Codex: Khorne Daemonkin, make sure in your Khorne Daemonkin detachment you have at least 2 independent characters (to join the allied berzerkers) and 1 infantry unit (for Khârn to join)
 The "Blood for The Blood God" rule states "a unit with at least 1 model with the Blood for The Blood God rule …." therefor, since Khârn has joined and is subsequently part of a unit with the Blood for The Blood God rule his kills would in fact generate Blood Tithe Points, same could be said for the allied berzerkers as the attached Lord has the Blood for The Blood God rule so the units kills would also generate blood tithe points.
Since Khârn does not have the Blood for The Blood God rule himself his results in a challenge will not generate blood tithe so remember to issue and accept with the berzerker champion (who is trying to show Khârn he is not the only chainaxe weilding bad arse!)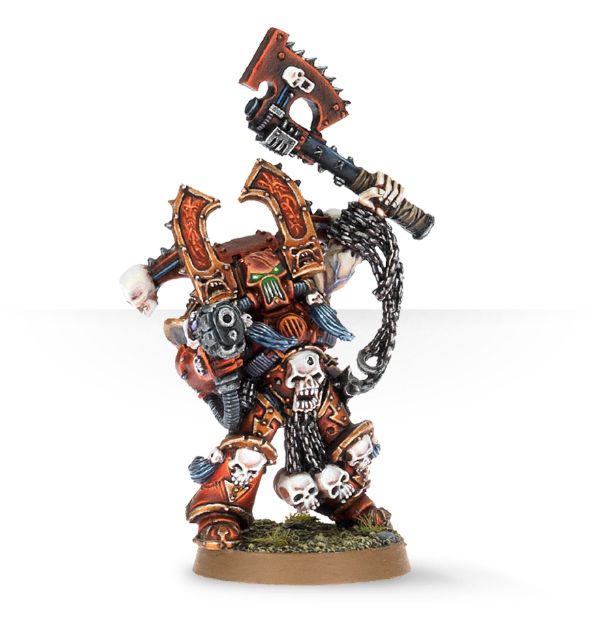 Using this Independent Character dynamic you could make a fully functioning Khorne Daemonkin army, including Khârn, that generates Blood Tithe with absolutely no setbacks! Here is a very rough example of how a list could look:
Khorne Daemonkin
Combined Arms Detachment
110 – Chaos Lord, axe of Khorne, melta bombs (1)
110 – Chaos Lord, axe of Khorne, melta bombs (2)
162 – 8 Berzerkers (3)
80 – 8 Bloodletters
230 – Land Raider (1)
230 – Land Raider (2)
230 – Land Raider (3)
Chaos space marines
Combined Arms Detachment (primary)
160 – Khârn the Betrayer (3) (warlord)
167 – 8 Berzerkers, melta bombs (1)
167 – 8 Berzerkers, melta bombs (2)
1846 points
The numbers in (brackets) represent who joins which unit and which transport. While this list may to be the strongest in a compeditive setting it is a fun way to run a list that uses Khârn and berzerkers while fully utilising the blood tithe!
There are dozens of applications of this technique such as adding a 55pt herald to allied Obliterators or chosen, putting kharn or Abbadon in a unit of 20 bloodletters or one of my personal favourites is a C:CSM Lord with the axe of blind fury on a Juggernaut joining a C:KD unit of Bloodcrushers or Flesh Hounds !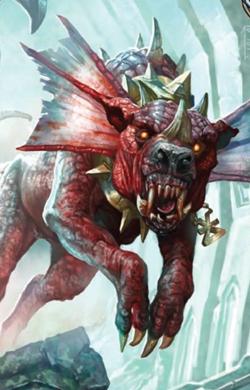 You could even combine Daemonkin Heralds with other marked units such as plague marines as they are not subject to Daemonic instability nor are the limited by Mark restrictions!
Which brings me to my next point, Heralds! Since Khorne Daemonkin heralds are not subject to Daemonic instability you can join them with any unit from codex Chaos Space Marines! Give them one of the Loci and you can create some brutal combos!
Let me know what brutal combos you can come up with!
Thanks again for tuning in! Make sure you keep your eyes peeled for the next instalment of Tactica: Khorne Daemonkin! and while you are at it head over to Blog for the Blood God, give me a like, and join in on the other great content! Everything from Battle Reports to Hobby Tutorials, Rules discussions and tactics to Animated movies and 40k based comedy(wanna see a 15 thousand point per side apocalypse battle report?)
Thank you all for your time!
Dae'vros The Gorehound
Signing out!