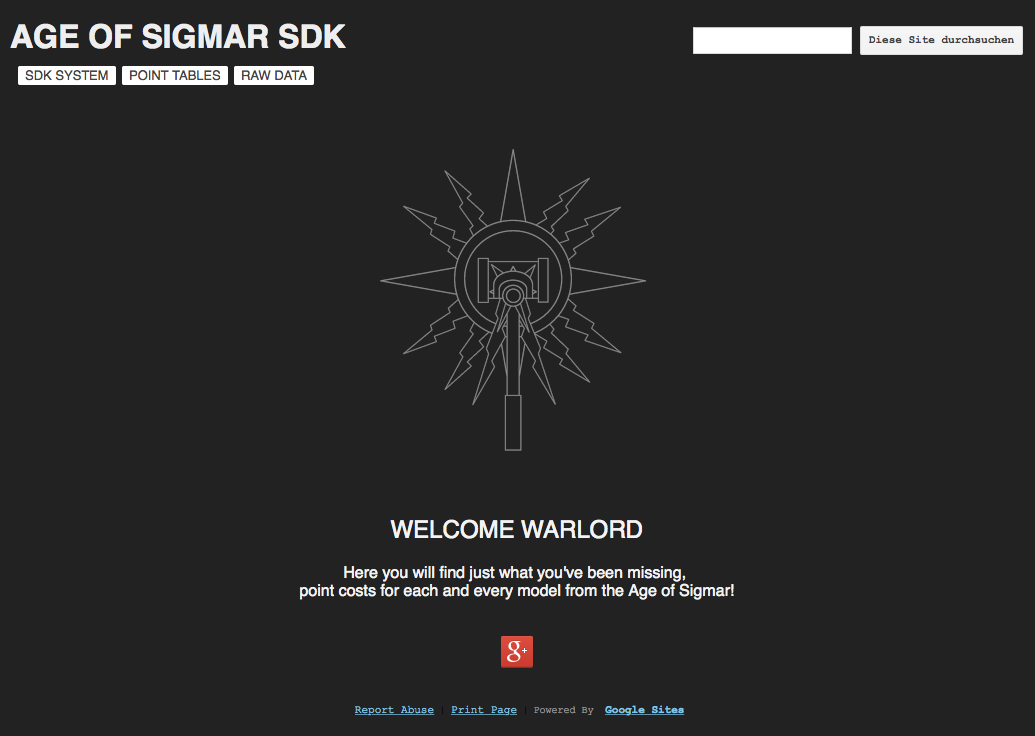 One group of veteran WFB players has an online tool for balancing Age of Sigmar they think may just work.  Come see!
Take it away Josef J.
 "Hi guys,

Our whfb gaming group sat together for a whole week, thinking, discussing and even quarreling about how to save our beloved Warhammer Fantasy. Although we like the downscaling of AOS alot, we just couldnt find a way to generate roughly balanced armies.

So we came up with an SDK System which simply throws togehter all utilizable information of a warscroll. This got very complex, so we digged in and generated precalculated point tables for each and every single model and all of its wargear combinations.

Its of course free for all the players and can be found here:

bookmark it!

Is it completely balanced? Of course not! It is simply what you can make of the given warscroll values and you know what? It works! Not better but also not worse than the point cost system of the previous warhammer fantasy editions. Thats enough for us old veteran guys however. :)"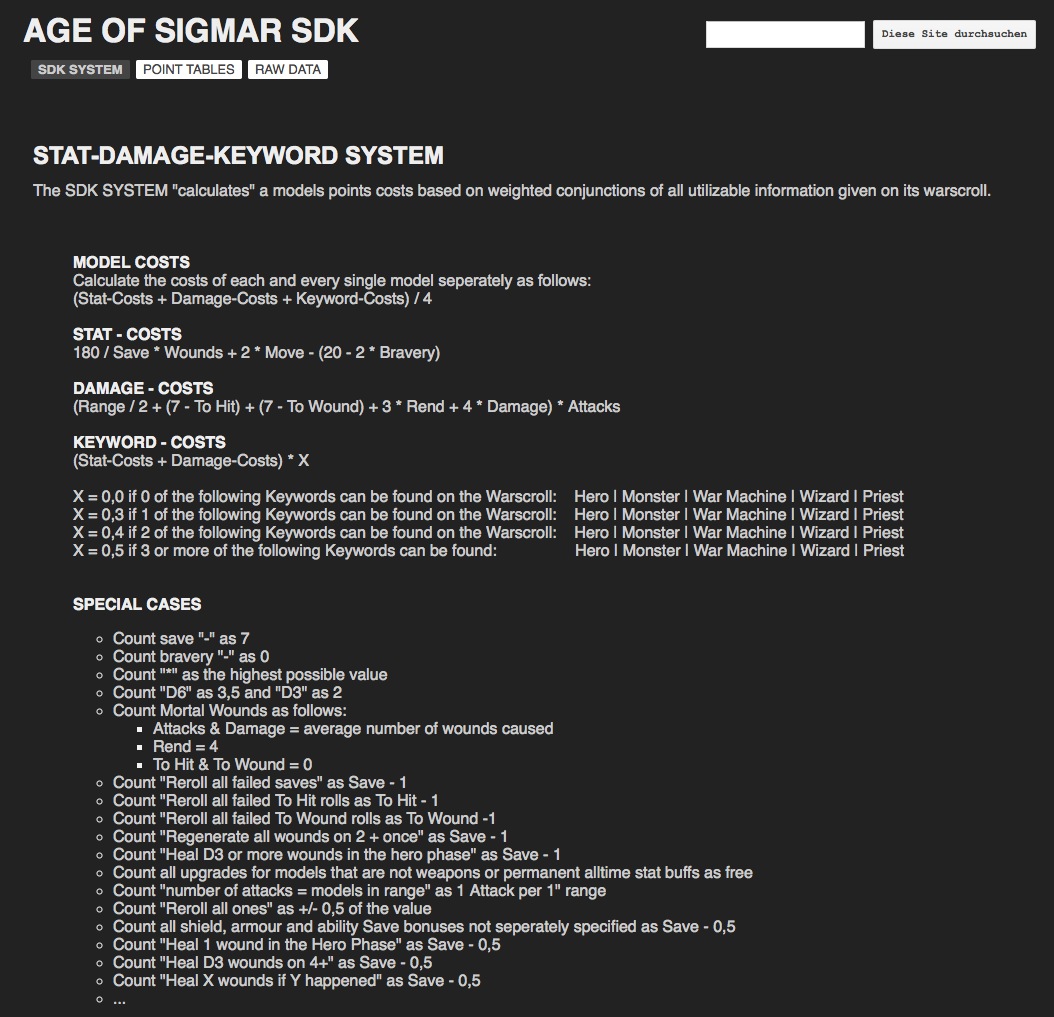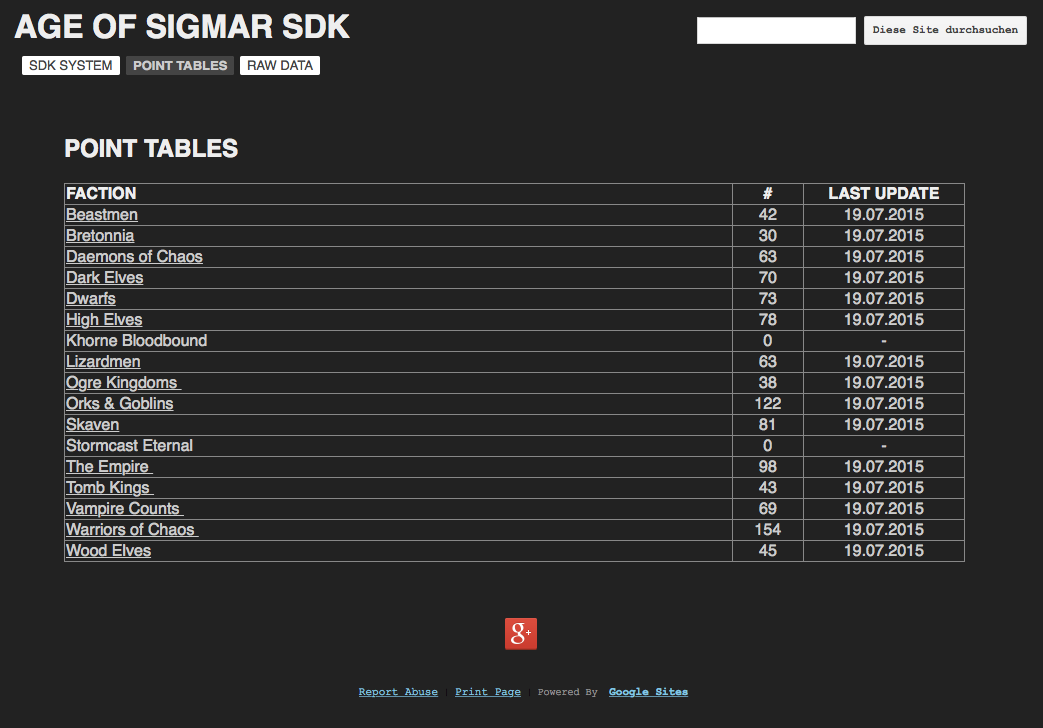 Ok, now a few  points:
1) I love that this isn't a pdf that can get passed around and start to get confusing with different versions out there.  It is an online tool, so you know you are always using the current version. This can serve as the backbone of a tool that can be updated continually, similar to the outstanding
X-Wing Squadron Builder
tool.
2) What I'm especially impressed with is the "raw data" tab that exposes the underlying formulas and shows exactly why each unit is priced the way it is.  This way folks can have conversations about whether the ratios are skewed, but everyone will know that the rules are applied equally to each unit in the game. It's not comp – it's math. Plus, the tool can easily evolve and be tuned with community feedback.
3) Under this points based model, building an army will feel much more like it did in the previous editions – if you're into that kind of thing.
4) Finally, I just love what passionate gamers can achieve.  We are not even 1 month past the Age of Sigmar release and there are already multiple quality balancing tools out there.  As it always has been – what GW won't give us the community will provide for ourselves.
BRAVO guys!
Give it a try and see what you think?