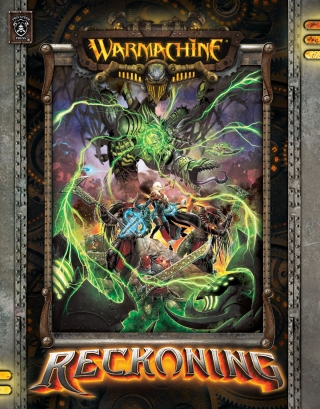 Now that I've had a little more time with Reckoning I think I'm ready to take a more in-depth look at the new offerings for my favorite faction.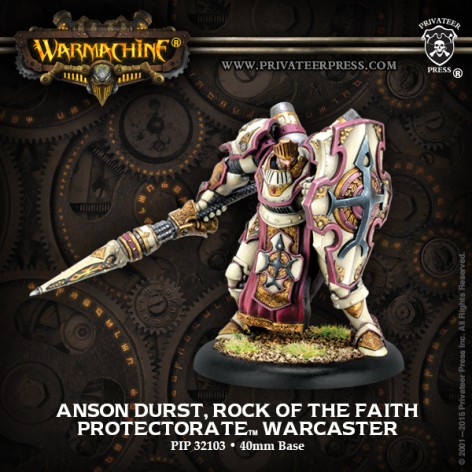 The more I think about Anson Durst the more I like this guy. He takes the innate resilience that Protectorate can bring to bear and push it up to the next level with cool feats and spells. He even has a nice little threat extender spell that gives Pathfinder. He's also a juggernaut in his own right and can be made extremely difficult to kill. I don't see much point in his theme list although this could change if Paladin units end up being awesome. I have the same opinion as many others – that this guy belongs with Bastions so you can make an army that's insanely resilient. I'll go into this in more detail when he comes out.
The Purifier looks fun, but is he worth his high cost? 5 points is not a small amount to shell out for such a flimsy little guy. He has some neat abilities with Flametrail and Combustion but it will take a lot of work for him to make his points back before something kills him. Overtake gives a little help in catching things on fire, but I still find this guy the least exciting new piece for Protectorate. I'd rather take a Repenter and have a point left over I think.
Hand of Judgement on the other hand seems pretty amazing. As the most expensive heavy warjack after the Avatar, you can bet this guy has some neat tricks. Despite being Feora's pet, he can have a place in any list. Do you like Zealots? Vanquishers? He will make their blasts that much more devastating. He also has the best combination of base spd and damage output in the Protectorate with Spd 5, Reach, and base P+S 18. Blazing Wrath can give him the opportunity to charge for free sparing him a focus for an extra attack. In a Feora2 list with her bond that's a potential of 5 MAT 9 P+S 22 attacks against a target up to 12" away once you factor in all the buffs. If you can get a vassal in range you can make a sixth attack if your target is still alive. Then there's that gun of his: a spray which can get up to a P+S 18 against targets within 5." This makes him very dangerous even against the heaviest of infantry as they'll have to take an 18 hopefully followed by a 14 in the continuous effects phase if they survive. And with Feora all his ranged attacks are boosted.
Pyrrhus is a lot of fun but competes for a ton of other three point spots. You could spend his points on a Bastion Seneschal, Tristan Durant, Nicia – I could go on and on. Of course none of them can make three Weapon Master attacks in a single activation. Or charge through rough terrain. There's also the fact that Temple Flameguard are a pretty popular unit choice and if you bring them they will make this guy shine. Being immune to non-magical attacks is no small thing. And unlike a certain other 3 point solo, Pyrrhus doesn't have to forfeit anything to activate this ability. He can charge and make all his attacks then have a fellow Flameguard or two run up behind him. Of course if they die Pyrrhus can be hurt again, but he'll still be tough to kill with DEF and ARM 15 with Unyielding. Taken with a caster with Defender's Ward, this guy can stall an enemy army's Advance single-handedly. I think people are going to love this guy.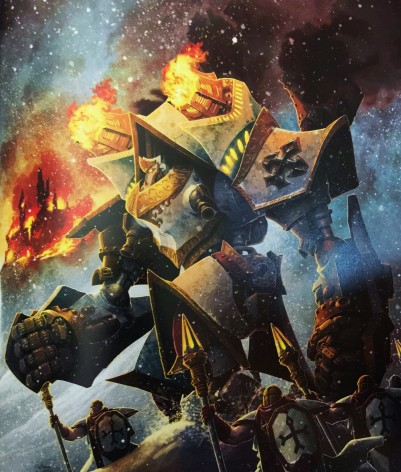 That just leaves the new Colossal. I think he's a definite improvement on the Judicator. The Feretory and Radiance abilities, as helpful as they are, take a back seat to the fact that this guy is such a fantastic walking gunship. The bigger the gun, the more the Protectorate likes it since we can bring along those vassals to get another shot out of it. That's just what the Conflagrators are. And no Inaccurate weapons on this guy so most times you should be able to put those templates where you want them. I think you may see the Protectorate running Colossals in pairs for a change. Two of these guys makes for a very respectable gunline and grants some real table control with those two remains in play AoEs. They might not be cheap at 19 points a pop but even taking two, you'll have plenty of points for vassals and choir and even more guns.
~I think protectorate players can put on their party hats and celebrate. Almost everything is a winner for us in this book.