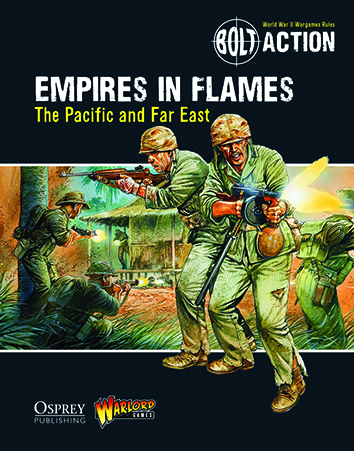 Warlord Games celebrates their latest Pacific Theatre rules with a look at some fantastic minis! Get in here WW2 fans!
First all you Pacific Theatre fans:
"Far from the battlefields of Europe and North Africa, Allied forces fought a very different war against another foe, from the jungles of Burma to the islands of the Pacific and the shores of Australia.
This new Theatre Book for Bolt Action allows players to command the spearhead of the lightning Japanese conquests in the East or to fight tooth and nail as Chindits, US Marines and other Allied troops to halt the advance and drive them back. Scenarios, special rules and new units give players everything they need to recreate the ferocious battles and campaigns of the Far East, from Guadalcanal to Okinawa, Singapore, the Philippines, Iwo Jima and beyond."
Take it away Warlord:
With the upcoming release of the latest Bolt Action Theatre Book, Empires In Flames (now available for Pre-Order) we thought it would be timely to delve deep in to the archives of our Web and highlight some of the great action we've seen in this theatre of the war.
In this series of articles you can follow Andrew (Ches) Chesney, Bill Bentley, Darren Evans, and Richard Dando as they collect their respective forces and take them into action for the opening Battles on the beaches and in the jungles of the Pacific:

Andrew, Bill , Darren, and Richard round off their experiences with how they collected their armies in this collectors guide:
~Who's playing Bolt Action out there, and what armies do you collect?