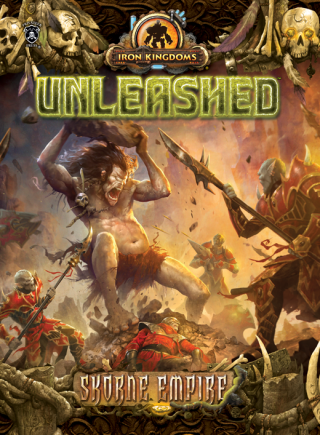 Come check out the latest Privateer Press goodies to hit the Shelves.  Skorne fans are in for extra love!
Venture far outside the boundaries of the Iron Kingdoms with this essential full-color guide to the Skorne Empire, eastern Immoren, and its inhabitants:
Discover the incredible millennia-spanning history of the skorne race. Learn the true nature of the Skorne Empire's culture, including their caste system, government, and warrior code.
Explore Halaak, Malphas, and the other major cities of the empire.
Adventure as a skorne with over a dozen new careers, new gear and weapons, and new adventuring companies. Create your character with the new Caste system, granting unique benefits that represent your place in skorne society.
Battle all-new beasts native to the unforgiving wilds of the east like subterranean razor worms, dangerous cyclopes, and the monstrous desert hydra.
Wield the power of the empire's warbeasts and new spells unique to Extollers, Mortitheurges, and Skorne Warlocks.

Join the Black River Irregulars and delve into the treacherous Undercity in this fully-cooperative adventure board game for 2-4 players. As you brave the decaying labyrinth of tunnels and caverns sprawled beneath Corvis, you'll need to work as a team and utilize your hero's unique strengths to battle the Undercity's deadly denizens and expose the dark conspiracy festering in the city's underbelly. If you're tough and smart, you'll gain valuable experience and equipment you need to destroy the evil threatening Corvis. Fail, and death will be the least of your concerns.
Contents
Campaign guide with 7 linked adventures
44 plastic figures
4 hero character sheets
203 cards
202 tokens and markers
8 dice
16 map tiles
Game board
Villain reference sheet
Rulebook
Check with your local game store, in every launch kit that stores ordered are six pairs of promo figures and twenty-four promo cards!

The horrific, insect-like aradus are among the most terrifying of the skorne's warbeasts. Protected by a thick layer of chitin, aradus soldiers lash out in battle with hooked claws to drag enemies toward their vicious mandibles. The soldier grows strong from its feast, wounds closing with each mouthful. The aradus sentinel possesses venom sacs that can be constricted to fire a precise blast of debilitating venom at its enemies. Living tissue exposed to this toxin dissolves and sloughs off the bone in melted gobbets.
All of these products are on shelves now.  Go grab em!
Look for a full Undercity unboxing and gameplay coverage coming soon.