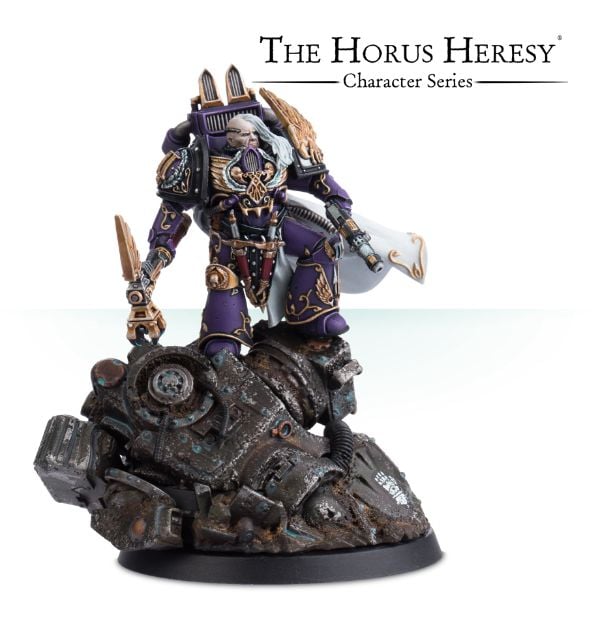 Perhaps the most arrogant villain of them all is here from Forge World! Come see the latest.
Three BIG releases this week for Horus Heresy will be coming soon to the table top. Plus Tamurkhan the Maggot Lord is back for Age of Sigmar, and Warhammer Forge's book have been converted to Warscrolls as well.
Lord Commander Eidolon was the pre-eminent commander of the Emperor's Children. An exemplar of the Legion, he embodied the perfection sought by the sons of Fulgrim. His arrogance and search for perfection led him to the ministrations of Chief Apothecary Fabius in his quest to 'improve' upon the designs of the Emperor of Mankind.

A skilled and aggressive warrior who specialised in striking down his foes with a single blow, Eidolon carried a master crafted thunder-hammer and archaeotech pistol in to battle, and made use of a jump pack to strike with speed and surprise. The surgeries he endured enhanced him with a sonic shrieker grafted into his larynx that produced a howl so destructive it could shatter bone and armour.

Lord Commander Eidolon is part of the Horus Heresy Character Series. He can be mounted on a removable display base depicting the remains of a shattered Deredeo pattern Dreadnought. A pair of optional heads, one helmeted and one bare, are included. Lord Commander Eidolon is presented in a Horus Heresy Character Series presentation box.
Specialists in the technological needs of their Legion, Techmarines are trained in the rites and secrets of the Mechanicum. They tread a fine line of loyalty between Legion and the Machine Cult of Mars but their duty comes above all other concerns, tasked as they are with overseeing the maintenance and manufacture of their Legions arsenal. Techmarines are often found in the heart of battle, repairing damaged vehicles and incanting words of supplication to beleaguered machine-spirits.

This Mk IV Techmarine is armed with a servo-arm, power axe and bolt pistol. He wears modified MK IV power armour. Rules for using Techmarines in Horus Heresy Games can be found in the Legiones Astartes Crusade Army List.
In ancient days the great horde of Tamurkhan the Maggot Lord swept out of the Northern wastes despoiling all before it. Great Slaughter they brought to many lands as Tamurkhan sought the Throne of Chaos. Riding to war atop his great Toad Dragon Bubebolos, Tamurkhan dealt ruin and death to all that stood in his way.
Tamurkhan the Maggot Lord, favoured by Nurgle with powers of regeneration, rains blows down onto his foes from high on the back of Bubebolos with the Black Cleaver, a potent magical battleaxe. Buebolos the Toad Dragon is content to stomp and smash its prey, or to lash at them with its prehensile tongue and tear at them with its fearsome jaws. Tamurkhan's true form is that of a bloated, maggot-like parasite which, in its death throes, can attempt to posses the great hero that slew him.

This is a complete, multi-part resin model. It includes four Nurglings that can be added to the model wherever you wish.

New Age of Sigmar Warscrolls