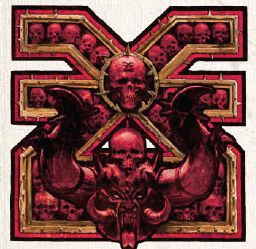 The Month of Khorne continues GW fans.  Here's the first word on this week's upcoming releases:
Sources say this week's releases are centered around the new "Chaos Castle" featured heavily in this past week's Quest for Ghal Maraz book.  Look for these:
– Khorne BloodWarriors kit
– Chaos Stronghold modular terrain system (4 separate kits)
(Keep, Gatehouse, Bastion, Walls)
– Ghal Maraz book
– Chaos Stronghold book
Chaos Dreadhold Skullkeep

$75 

(keep, 2 doors, balcony)

Chaos Dreadhold Malefic Gate

$100

 (gate, 2 walls, bridge)

Chaos Dreadhold Overlord Bastion

$130

(keep, tower block, stairway, wall)

Chaos Dreadhold Fortress Wall

$25

Battletome: Chaos Dreadhold

$33

Age of Sigmar: Ghal Maraz

$24
So this is the "big enchilada" modular terrain kit for the bad guys.  It looks to be a series of interconnected kits that allow you to build as small or big a fortress as you want.  It looks similar to the Imperial Cities of Death or the Defense Lines modular kits we have seen for Warhammer 40,000.