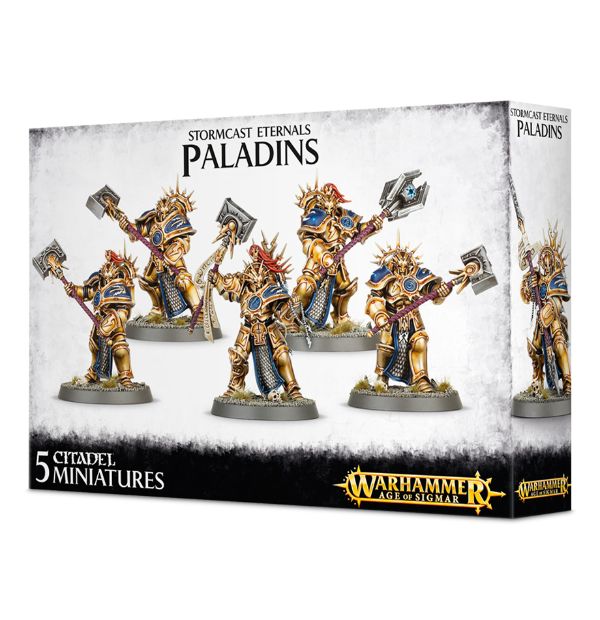 It's Trees, Terrain and Tough Guys Incoming from Games Workshop!
via Games Workshop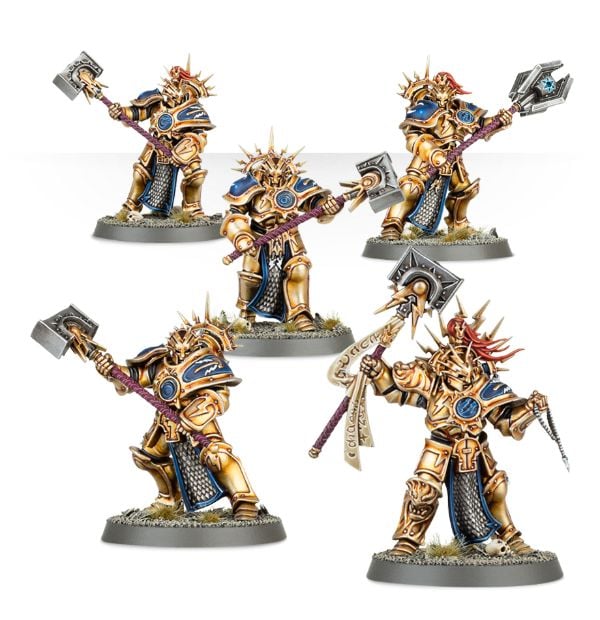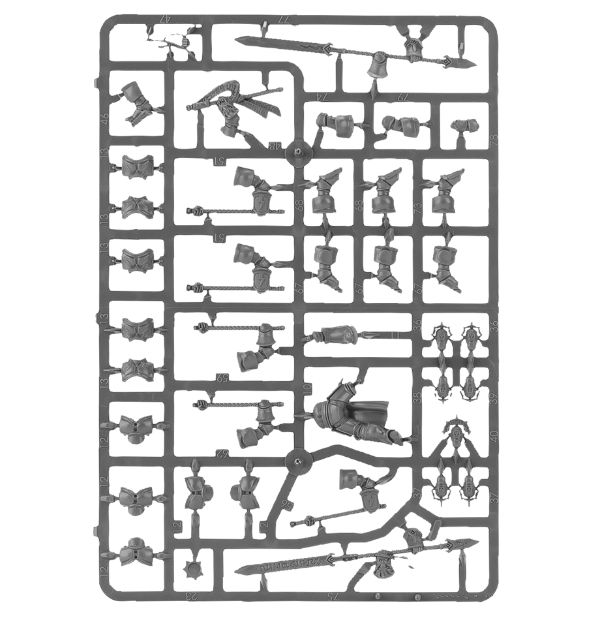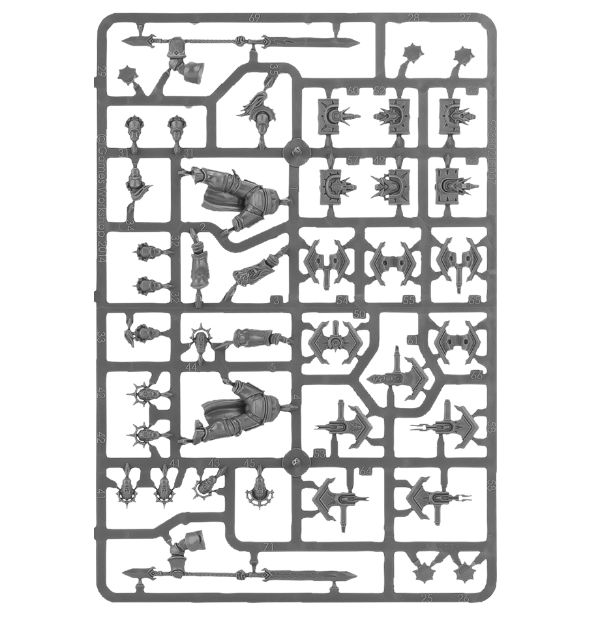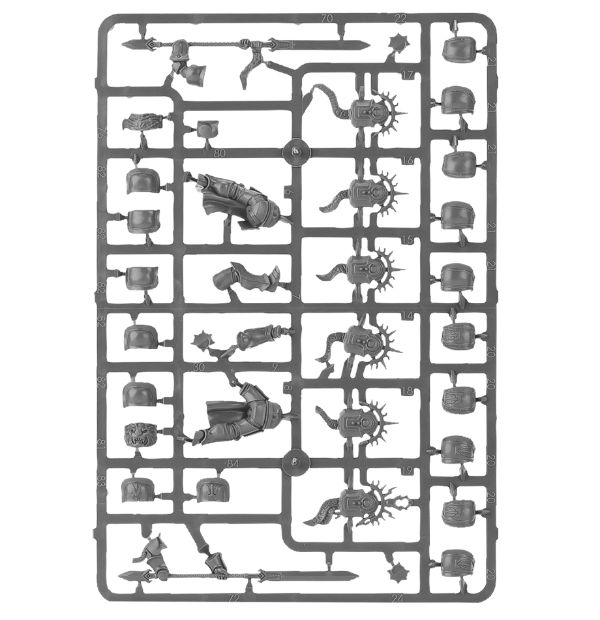 This multi-part plastic kit gives you everything needed to build five Paladins, who can be built as Retributors, Decimators or as seen here Protectors. Armed as standard with Stormstrike Glaives, one model can be built as a Protector-Prime whose Stormstrike Glaive is imbued with extra powers. One model can be optionally built with a special weapon, the Starsoul Mace. The box contains a huge amount of variety and options – eighteen heads, twenty shoulder pads, nine tilting shoulder plates – with interesting posability making your collection unique.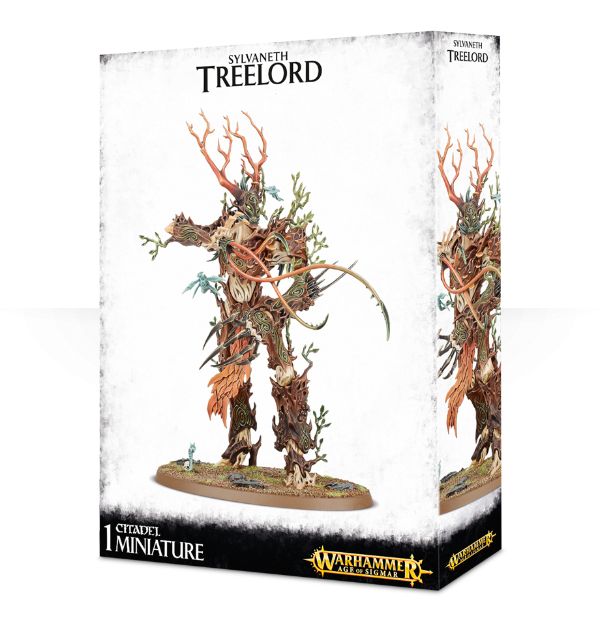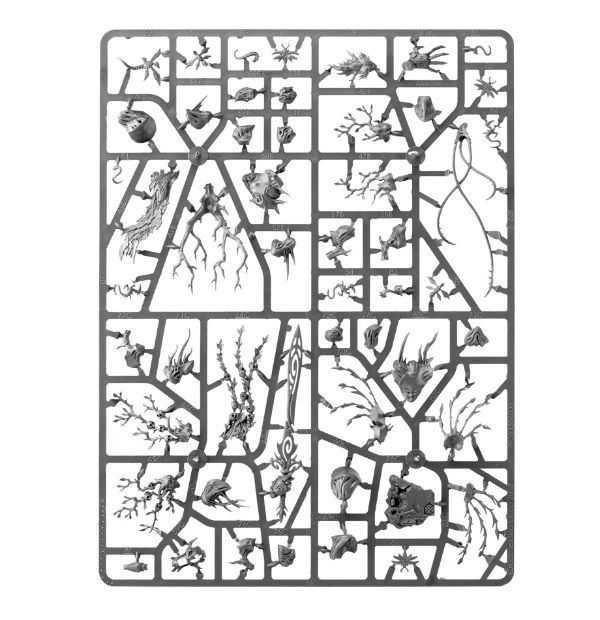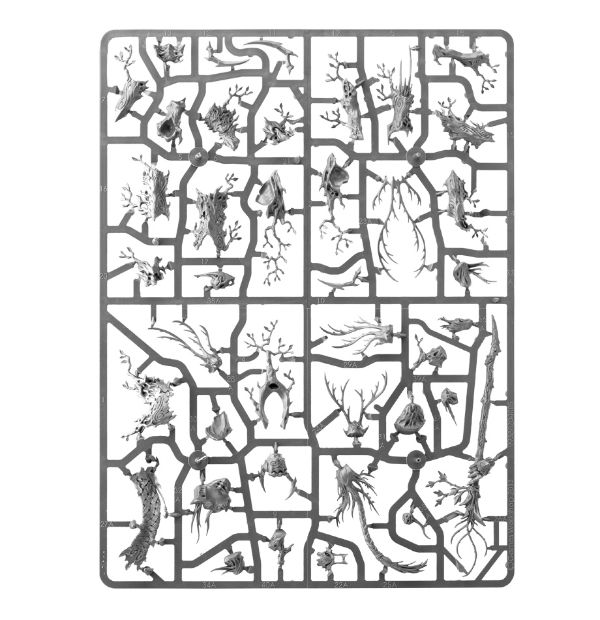 This multi-part plastic kit contains everything you need in order to build one Treelord, the hulking defenders of the sylvaneth. It comes with eight optional ethereal spites for customisation, a Citadel 105mm Oval Base and can be optionally assembled as a Treelord Ancient or Durthu*. Each of these variants has its own head and weapon option.

*rules for Durthu can be found in the Wood Elves Warscroll Compendium, available for free download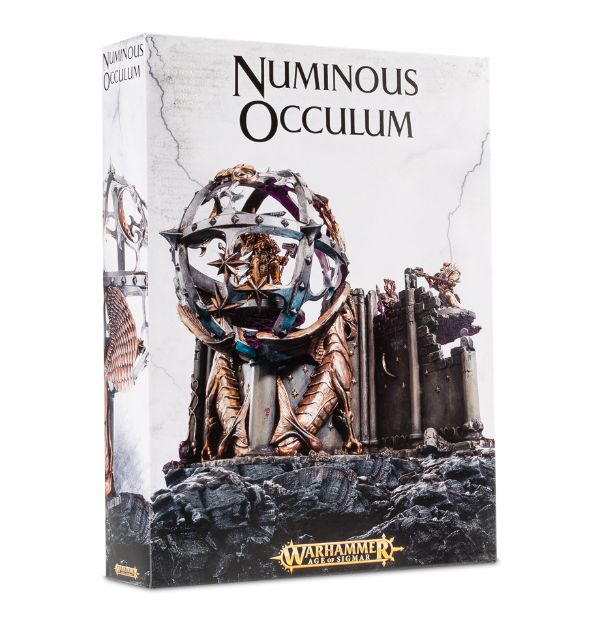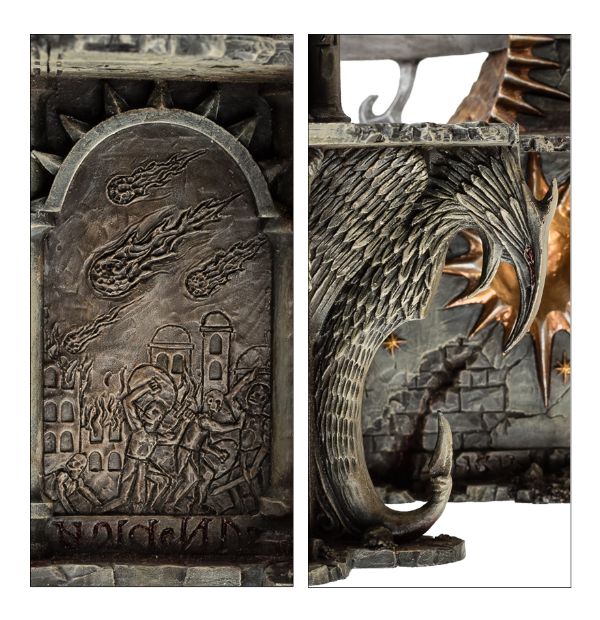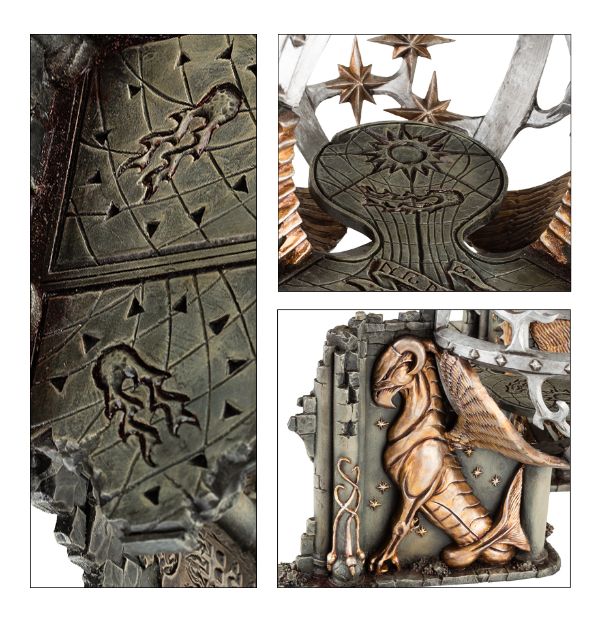 Places of arcane power and eldritch might, each Numinous Occulum connects the magic of the realms with strands of pulsing sorcery. Wizards that can master the spinning wheels of the occulum can peer into the future or the past, manipulate time or alter the fates themselves to bring ruin to their enemies and victory to their dark masters.

This plastic kit gives you everything needed to build one Numinous Occulum, a place of sinister magic and grim, portentous happenings in the Age of Sigmar.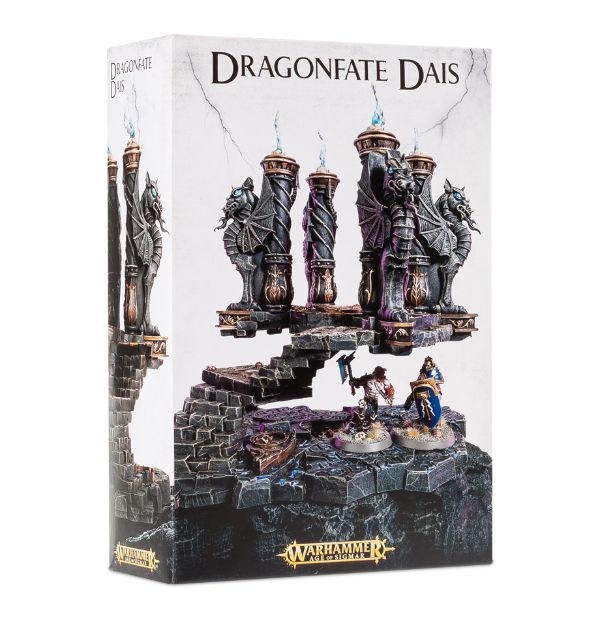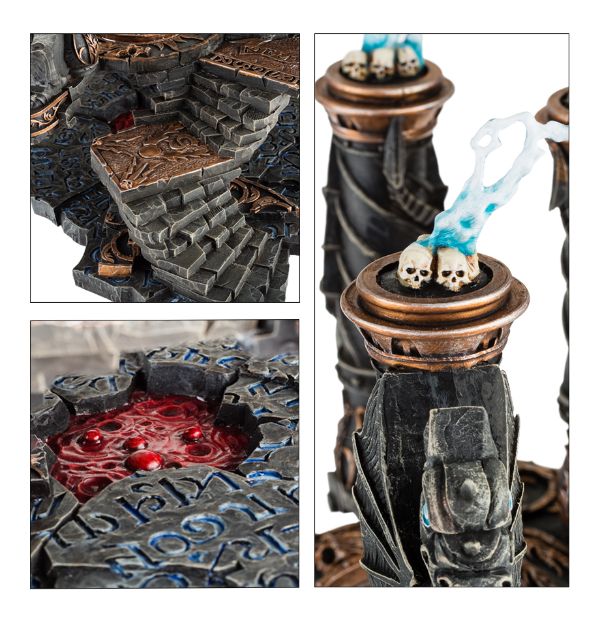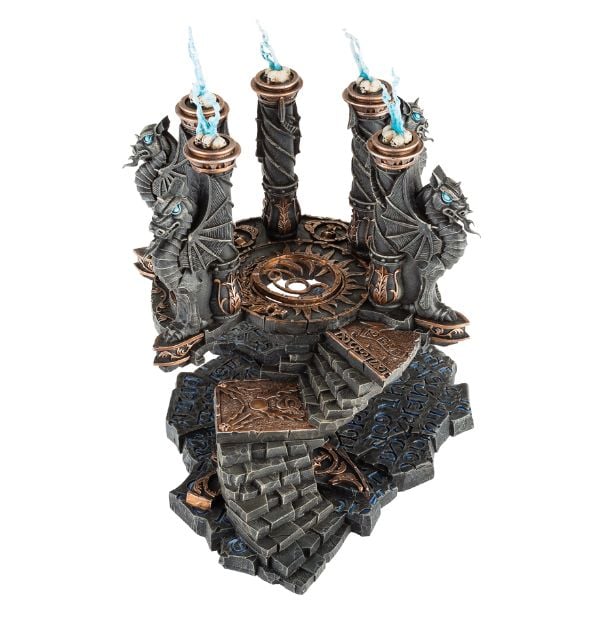 An ancient seat of power where priests are able to call upon the gods, the Dragonfate Dais is ringed by draconic carvings whose eyes glow with divine light. Hanging above the ground, suspended in a place between the realms and the heavens, only the bravest souls should even attempt to contact the divine through this dais – after all, your prayer may be answered by something other than divinity…

This plastic kit gives you everything you need in order to construct one Dragonfate Dais, upon which sacrifices can be made to appease the gods. Designed to hold miniatures in and around its confines, it makes an amazing addition to any Warhammer Age of Sigmar battleground.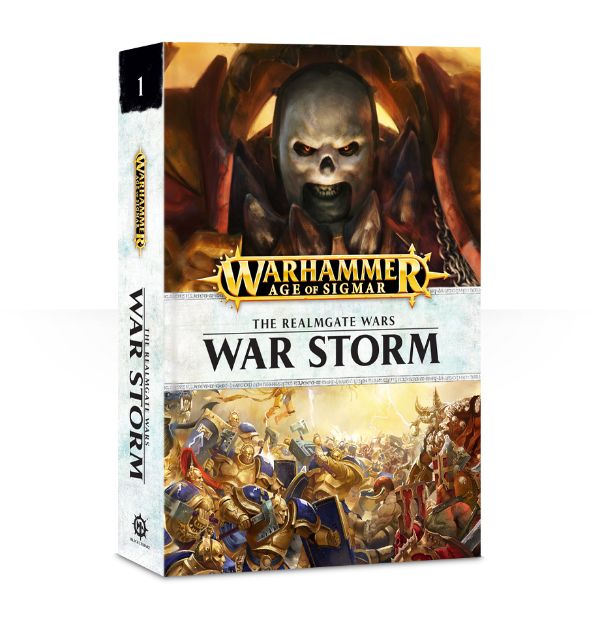 Across the Mortal Realms, a storm rages. Sigmar announces his return as his Stormcast Eternals strike a vengeful blow against the hordes of Chaos. Lord-Celestant Vandus Hammerhand has claimed one of the Gates of Azyr – he now makes for the dreaded Gate of Wrath in the fire-blackened Brimstone Peninsula of Aqshy, and a reckoning with the Chaos Lord Korghos Khul. His fellow Lord-Celestants fight just as hard to break the dominion of Chaos; the Stormhosts' grand crusade brings war to the Ghyrtract Fen, where Gardus of the Hallowed Knights strives to take back the Gates of Dawn. Meanwhile, in the mystical Hanging Valleys of Anvrok, Thostos Bladestorm leads his men against a towering fortress which conceals a prize beyond measure.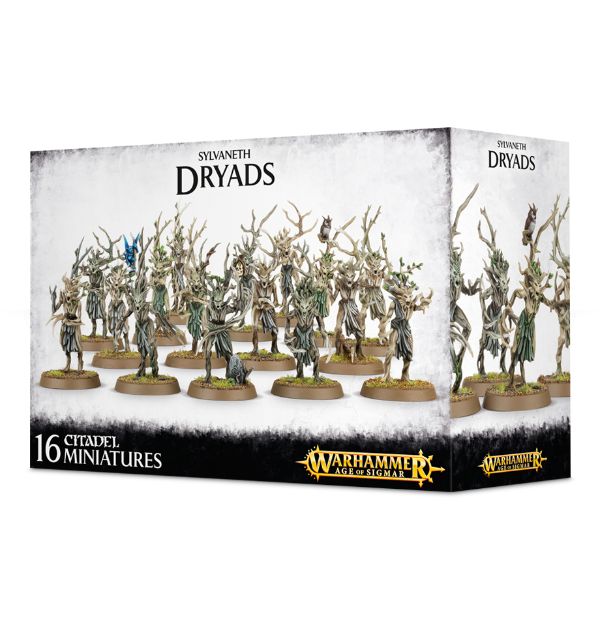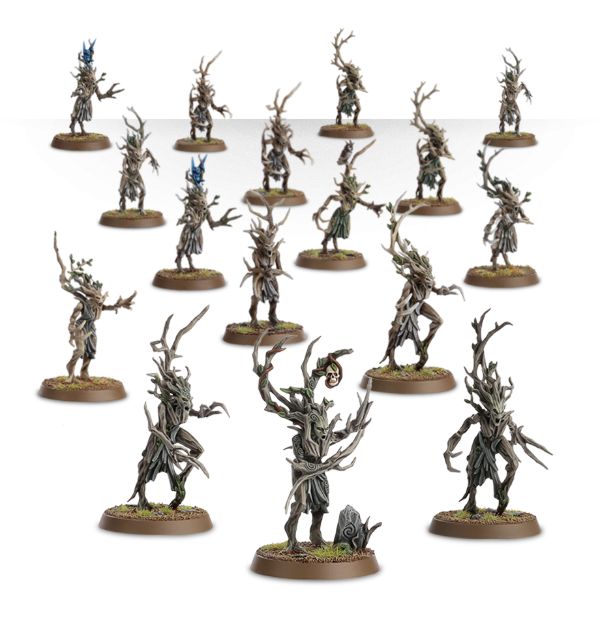 The Sylvaneth Dryads are a howling, screaming manifestation of the forest's wrath, falling upon those who defile their sacred glades with a malign violence that borders on glee. Dancing lithely between their opponents with a grace that belies their nature, they stab and choke foes with vicious talons, and few who invoke their wrath make it away alive.

This multi-part plastic kit contains everything needed to make 16 Dryads, including 16 Citadel 32mm Round bases.
And the Bundles: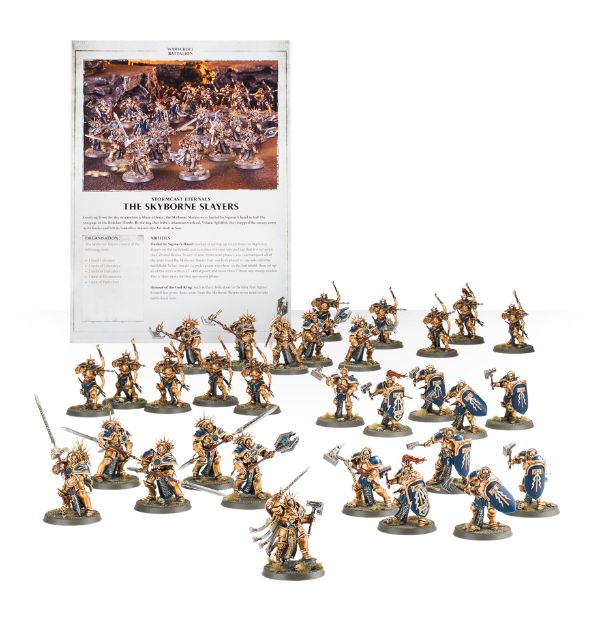 Slamming down from the troubled skies in a cataclysmic display of brutal, meteoric force, theSkyborne Slayers are hurled into the realms to achieve Sigmar's goal of annihilating Chaos. Showing incredible resolve and determination even amongst the bravery of the Stormhosts, these heroes can manifest in a surprise attack that can shock and awe even the most bloodthirsty of Khorne's followers.

This collection gives you everything you need to field The Skyborne Slayers ­ including one Lord­ Celestant, two units of Liberators, two units of Judicators, one unit of Decimators, one unit of Protectors and a set of awesome web exclusive rules. You'll truly bring alive the fury and glory of Sigmar by fielding this one!
Free PDF of the rules available in the link above.