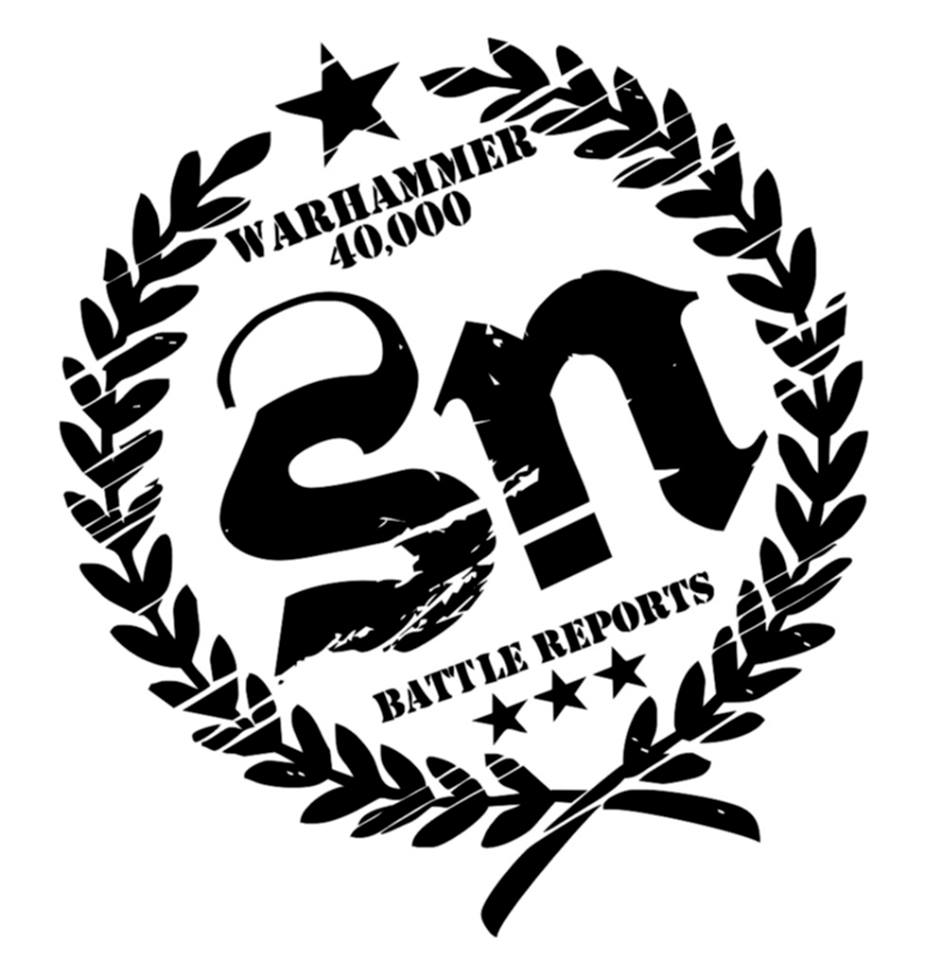 SN Battle reports brings you another great Special Mission battle report!

Special Mission: D3 victory points for every character killed in a challenge, 3vp for the Imperium if any of the veterans survive the game, 3vp for Khorne Daemonkin if the whole Veteran squad is killed
Deployment: Vanguard Strike
Points: 1000
"By St Ollianus' beard, trooper Kophen, if you don't get this bucket moving again then not even all the blessed Emperor's Astartes will stop me from fugging your face up so bad that even your mother will weep when she sees you!" "His mother already weeps at the sight of him, sergeant." Sergeant Ozias ignored trooper Ygonis' snide comment and kept his ire firmly focused on Kophen who visibly squirmed under the grizzled veteran's withering stare. Sergeant Ozias was one of the most respected, and feared, NCOs of the Thalmundii 411 Armoured Infantry. A veteran of 34 years' service with a
chest bursting with medals and a face brimming with scar tissue. The ruined features of his face were contorted into a permanent grimace by a veritable canyon of a scar that ran down the whole left side of his face. "Sergeant Ozias is so damn hard he took an Ork choppa to the face and survived… and then head-butted the Ork to death." Or so the story went. It was Ozias' job to get the fresh meat straight out of basic and whip them up into men worthy of the Fighting Four-One-One. He hated it with a passion and made no effort to conceal it. A glorified babysitter, he got milk drinkers and turned them into guardsmen only for command to reassign them the second they got good at soldiering. This latest batch could just be the worst he'd ever seen.
"Can't you recite some canticle or hymnal to get this fugging crate's machine spirit to wake up?" "I'm not a tech priest sergeant." "You are what I say you are! Fix this!" Kophen's shoulders sunk as he clambered back into the immobilised Chimera. "Any luck on the vox?" "None sarge, having trouble with the…" "Atmospherics. Always the fugging atmospherics. Keep trying, we're out on a limb here." The wind picked up and he shivered, it wasn't that it was cold but on this world the wind didn't howl, it growled like a hungry predator. He'd been in more than his fair share of hell holes but there was something about this place that had him on edge. His finely honed instincts told
him that there were eyes on him. Ozias' green unit had been sent on a recce. Rumour had it that J Company had vanished in this grid reference. Ozias had never heard such fugging bull. How do 300 men and 25 armoured vehicles just disappear?
"Ygonis! Keep your eyes peeled!" He added a kick to the troopers backside to emphasise his point. Ygonis ceased his habitual joking around and got back to scanning the horizon just in time to see something. Something indistinct. Something moving. "Sarge! Movement!" Ozias pulled up next to him in an instant, his rifle scope up to his eye scanning in the direction Ygonis had pointed out. "Sweet, merciful Emperor." He breathed. He had seen them but couldn't bring himself to believe his own eyes. Horrors worse than any he had seen in three decades of war stalked
towards them. His furious visage softened as tendrils of fear wrapped themselves around his heart and made his unease evident on his face. "K-Kophen?" His voice almost pleading by now. "Nothing sarge. It's dead." Came the all too predictable reply.
"Zell? Anything on vox? His voice was starting to tremble now. "Nothing sarge! It's just stati… Wait! Wait! I got something!" Ozias ripped the headset out of Zells hands. "This is Trent two nine zero, need urgent support or evac at GR 843, over!" Nothing but buzzing static greeted him. "This is Trent two ni…" A voice like the bass rumble of a volcanic eruption interrupted him. "Trent two nine zero, Astartes support inbound to GR 843. Hold the line. Help is coming." The static returned. Ozias held the headset to his ear for a few more seconds, dumbfounded. "Sarge, what's going on? What do we do?" Ozias slowly lowered the vox headset and turned to face his terrified
men. "Well I'll be a fugging…" He muttered. "Sargent Ozias, is command sending support?" Ygonis yelled, fear evident in his voice. "Support?" Muttered Ozias, his scared face breaking into a rare smile. "Support? They're only sending the fugging Astartes!" The squad cheered and whooped with delight, ignoring the horde of rapidly closing daemons that only a moment ago seemed to herald their imminent demise.
Unbound Special Mission List
Captain in Terminator Armour: The Burning Blade
Chaplain: Space Marine bike
9 Tactical Marines: flamer; missile launcher; + 1 Veteran Sergeant
4 Tactical Marines: flamer; + 1 Veteran Sergeant
4 Scouts: Space Marine shotgun; heavy bolter; + 1 Scout Sergeant
4 Terminators: + 1 Terminator Sergeant4 Sternguard Veterans: combi-melta; combi-plasma; flamer; grav-gun; + 1 Veteran Sergeant
Veteran Squad: + 1 Veteran Sergeant
Slaughtercult
• Skulltaker
• 4 Possessed: + 1 Possessed Champion
• 8 Bloodletters – Bloodreaper
• 8 Bloodletters: Bloodreaper
Slaughtercult
• Daemon Prince: Goredrinker; warp-forged armour; daemonic flight• 4 Possessed: + 1 Possessed Champion
• 8 Bloodletters: Bloodreaper
• 8 Bloodletters: Bloodreaper
Please feel free to like, share and comment! ENJOY