Star Wars: X-Wing – "Oldies but Goodies"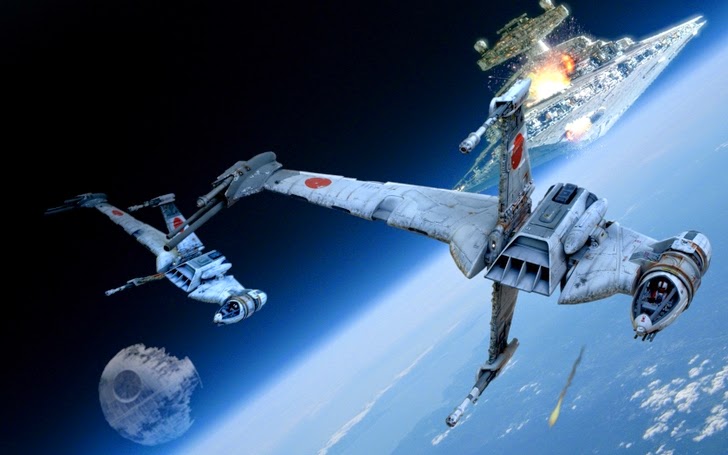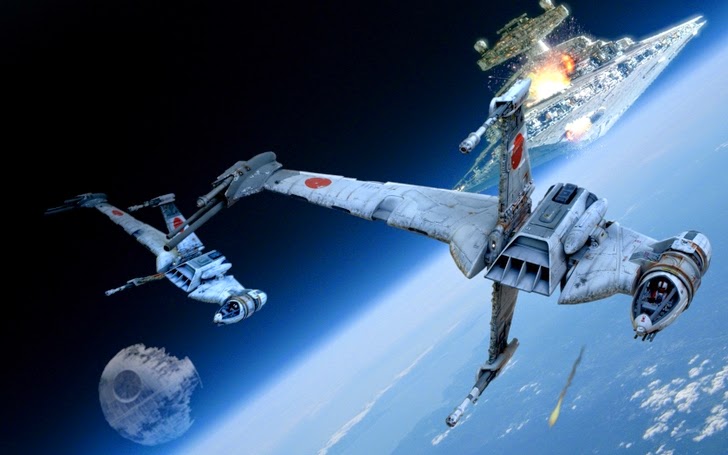 With all the new-hotness out there it's easy to forget your X-Wing roots. But the classics are classic for a reason – Check these out!
Hey BoLS Readers and X-Wing Aces out there, AdamHarry back with more X-Wing musings. This time I wanted to type about some old school cards that people often overlook because of all the new toys that are out there. Lately, at least locally, people seem to want to get their hands on all the cards from the Imperial Raider. I mean, who can blame them! The Imperials got a LOT of love with that sweet space vessel. We're actually seeing Darth Vader in a TIE Advanced terrorizing the Rebels (as he should be)! A lot of that is because of the new Title card: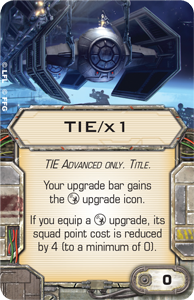 When combined with the OTHER new upgrade card in the box Advanced Targeting Computer – Vader is putting out more firepower than rebel shields can repel! But that's not the only option. Many pilots have had some success with an older card. You don't forget good ol' Accuracy Correcter from the Star Viper/IG-2000 box either.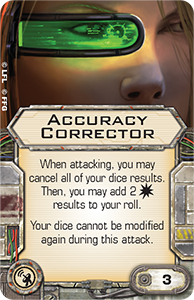 But really – that's not an old card…That only came out a few waves ago. That's very true! But did you know the perfect counter to Advanced Targeting Computer already exists for the Rebels? I'd like to introduce you to an old friend from the Rebel Transport Expansion: Wes Janson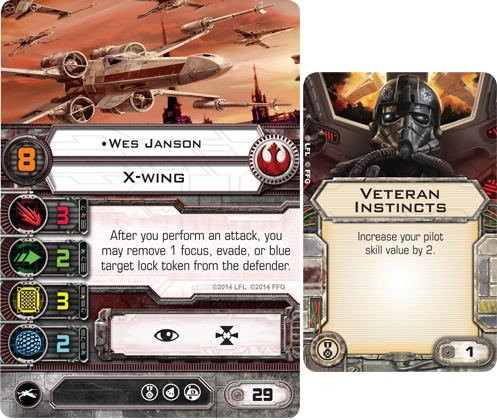 "So what? It's just a pilot skill 10 X-Wing that removes a Blue Target Lock from the defender. And it's not like Advanced Targeting Computer only works if the attacker has a Target Lock on the defender – Plus Vader is PS…9. Oh. Oh crap."
Subscribe to our newsletter!
Get Tabletop, RPG & Pop Culture news delivered directly to your inbox.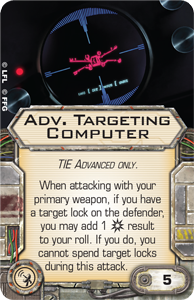 "Oh crap" Indeed!
It's amazing to me that the Imperial Raider Expansion not only managed to sell itself AND more TIE Advanced boxes for FFG, but now it's going to help sell the Rebel Transport Expansion, too!
One of the things I love about X-Wing. The new stuff out there is GOOD – but that doesn't make it BETTER than the old stuff. In fact it can make the old stuff even BETTER because FFG acknowledges this thing called "The Meta" and before we get all "Tourney vs Casual" on everyone, let me just stop you there. It's exactly because FFG acknowledges that "The Meta" exists is why we such a great game in X-Wing. It's also why we see rules tweaks (Barrel Rolling Large Ships, anyone?) and cards that "fix" older cards/ships  (Chardaan Refit). It may take a wave or two – but the fixes come along with new toys and combos to explore.
Another thing I really appreciate about X-Wing is the fact that while these combos/counters exist there is one thing that cannot be ignored: Player Skill. Because of the way movement works – the cat & mouse game of thinking of your opponents moves while you're planing your own – Player Skill helps to get you into position to take advantage of those same combos/counters. It's the reason you can run something like this list:
MGB Blues: 100 points
Blue Squadron Pilot – 25 pts
Blue Squadron Pilot – 25 pts
Blue Squadron Pilot – 25 pts
Blue Squadron Pilot – 25 pts
And give just about anyone a head-ache. That's just a bunch of B-Wings and a card from the Lambda/E-Wing Expansion (all older cards/ships, btw). Don't believe me? Try it out. That's the beauty of good game design. Don't ignore the oldies because you got some new goodies – building a collection is so much more entertaining than just buying a list.
Don't forget those other classic meta makers: Fat Han, 58 Dash, and The Captive Decimator!
If you have a bunch of older ships you should take the X-Wing list Randomizer out for a spin and see if you stumble on the next big thing! Oh and if you didn't know Fab has a new Fleet Generator for Armada, too!
What are your favorite "Old Cards" and Combos that still terrorize people? Let us know in the comments below! AdamHarry, OUT!