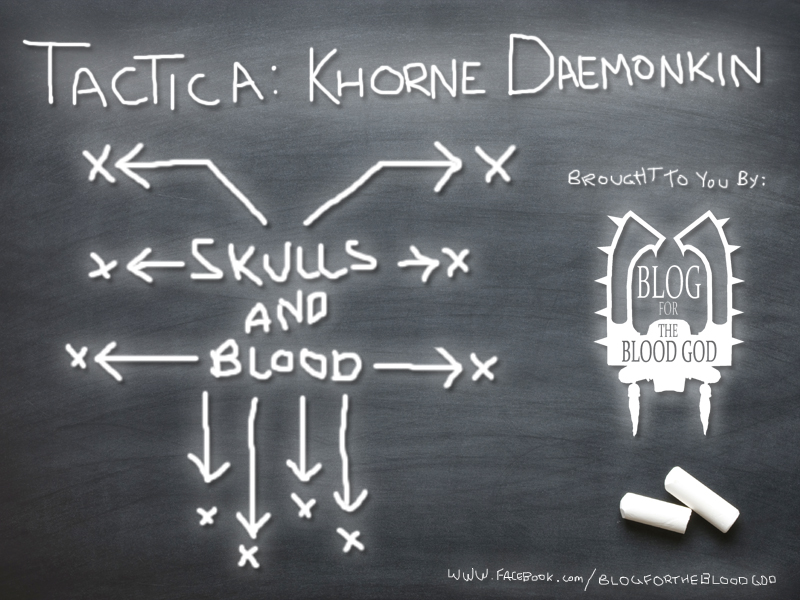 Hey guys! today's Tactica Khorne Daemonkin will cover using and abusing Come the Apocalypse Allies – for the greater glory of Khorne!
Come the Apocalypse 
There are a tonne of Forces that the bloodthirsty masses that are the Khorne Daemonkin can ally with when the Apocalypse cometh! Including Armies of the Imperium, Eldar, Tyranid, Harlequins.
There are so many that I am only going to be able to cover a few here in detail. I have decided I will only cover things that would make sense in the fluff (I understand with a good enough imagination anything could make sense but I am going to attempt to remain within the realm of sanity)
First some general comments on allies, using the ally system allows for infinite possibilities for force composition, I obviously will not be able to cover them all here so I will simply add the ones that pop out. Always when taking Allies with the Daemonkin remember that thier main strength is the blood tithe and the more allies you take the less effective this strength becomes. Unless you are adding Daemonkin as allies to an existing force, in which case go nuts!
Remember when taking Come the Apocalypse allies the you cannot deploy within 12″ of allied units and if you move within 6″ you risk essentially missing a turn with those units. The deployment restriction can be very rough as in most games you will only get a 12″ deep deployment zone. Forcing you to deploy your 2 detachments side by side with a 12″ gap down the middle. I suggest taking minimal allies for this reason.
Codex Imperial Knights (as Allies)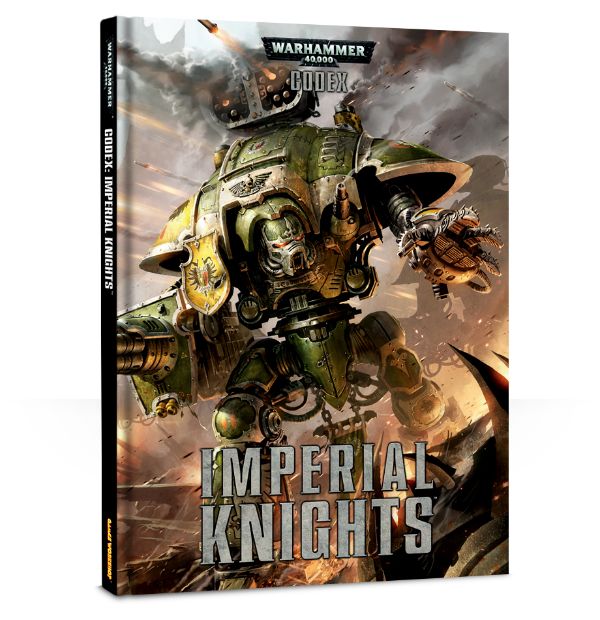 I know I know, Chaos have thier own knights now as well as the Kytan… this is great and all but not all gaming groups allow experimental Forge World rules and the Chaos Knights have very few options. Imperial Knights on the other hand have a plethora of options and are perfectly legal. They are very easy to add to a Daemonkin force as you can add a detachment of a single Knight (oathsworn detachment) making deployment not an issue. The question is which Knight variant synergises well with Khorne Daemonkin? My vote goes to the Knight Crusader.
The Knight Crusader comes stock with a Gatling cannon ( range 36″ S6 Ap3 heavy 12 with rending) and a Thermal Cannon (range 36″ S9 Ap1 Large Blast, melta) upgrade it to have a twin Icarus Autocannon on the carapace for an additional (range 48″ S7 Ap4 heavy 2 twin linked with Interceptor and skyfire) and you know have a weapons platform that is extremely difficult to kill and can target 3 separate units with extremely powerful weapons. I have seen the Thermal cannon destroy multiple vehicles every turn with its large blast, I have seen the gatling cannon drop a Bloodthirster in a single turn (it was mine… that sucked) and the additional skyfire from the autocannon is a huge boost to the Daemonkin anti aircraft ability.
Park this bad boy in a corner so his rear armour is protected and your opponent has no chance of taking him down or claiming the objective you set up in the corner 😉
I know a lot of people will say one of the Imperial Knight's main strengths is Initiative 4 D strength combat and I could not agree more, however when allying with Daemonkin you already have plenty of strong combat units and want to keep your Knight further than 6″ away from your other units so that kinda rules out the combat variants.
Codex Astra Militarium  (as allies)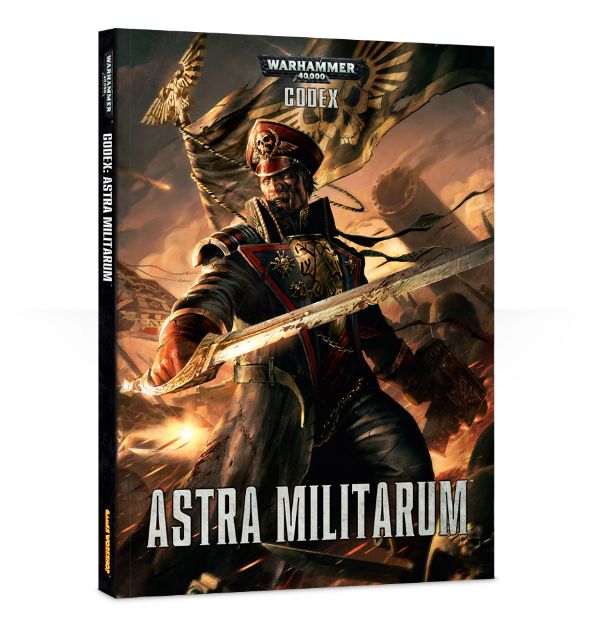 Good old Traitor Guard! I know that Forge World have released rules in Imperial Armour 13 for renegades and heretics but like I said with the Knights not all gaming groups have come to accept Forge World, I think you would be hard pressed to find one who didn't allow the Astra Millitarium however.
There are a tonne of fantastic options in this codex for allies, that being said I highly recommend keeping it minimal as it will stuff up your Daemonkin if you have too many allied units. I would recommend something like this…
Allied Detachment
HQ
Tank commander in your favourite Leman Russ Variant fits this role perfectly. Personally I like knight commander Pask in a Punisher with all heavy bolter uprgrades, be puts out 9 S5 Ap4 shots and 20 S5 Ap – shots all at BS4 with Rending and Re rolls to armour penetration! That is a total of 29 strength 5 shots! The re rolls to armour penetraton practically double the effectiveness of Rending when firing at a vehicle. This unit firing at an armour 12 vehicle would inflict roughly 15 hits, then thanks to re rolls on armour pen he would likely roll 4 6s, which could be 1 glancing and 3 penetrating hits per turn with relative reliability! But it's main strength is what it can do to Monstrous creatures and infantry, against a gliding Bloodthirster he will get approximately 15 hits, which would equal approximately 6 wounds 2 of which ignore armour! inflicting roughly 4-5 unsaved wounds per shooting phase! and against a unit of MEQ he will hit 15 times, inflict 10 wounds 2 of which ignore armour causing about 5-6 casualties total.
Don't forget because Pask is a tank commander you can take a second vehicle in his squadron and then use the tank orders to give the unit the ability to split its fire. Due to the short range of Pask's punisher cannon I recommend a single Demolisher to accompany him as both units are the same range, and the Demolisher provides insurance against TEQ and AV14.
TROOPS
Unit of 10 Veterans with melta guns or flamers
ELITES
Wyrdvane Psykers are a good choice as a cheap way to get divination, cast Prescience on Pask to make him even more insane! 29 shots with BS4 re rolls could mean around 23 strenght 5 hits with rending! I'll let you do the math but that is a very scary unit.
FAST ATTACK
Vendetta Gunship, put your veterans in here to avoid deployment issues, use vendetta to fill the Anti Aircraft role that your Daemonkin lack and also drop some melta or Flamers in the enemy back field or drop your obsec veterans on an objective you need.
HEAVY SUPPORT
Vehicle squadrons suck in my opinion, they get truly decimated by combat units as excess hull points spill over on to other vehicles in the unit. That being said in an allied detachment if you want more than 1 tank you kinda have no choice. I would recommend taking a single tank for your heavy support choice. This could be your opportunity to get a 3rd Leman Russ Variant or you could add a basilisk or wyvern or even a hydra. Personally I would add an Executioner as in my opinion they are the most cost effective of the Leman Russ Variants
Codex Eldar (as allies)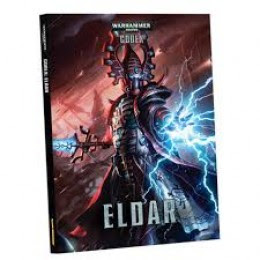 Goody two shoes, psychic heavy, pansy arse Eldar…. belong nowhere near the bloodsoaked badarses of the Khorne Daemonkin in my opinion, from a fluff perspective it just doesn't work and you would only ever do this if you wanted to add some serious D strength cheese to your list. I am strongly against these sorts of pairing so I am just going to stop here.
Codex Tyranid (as allies)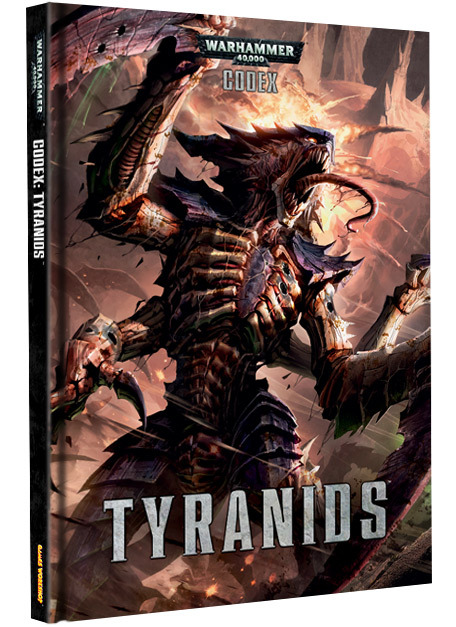 Tyranids are another codex that I believe should never ally with Khorne Daemonkin, I cannot see a single explanation that would work as the hive mind is uncorruptible by the forces of chaos and would never ally willingly and the Khorne Daemonkin would no reason to ally with them as they would then have to compete for the glory of the slaughter. Both forces are so similar I see no reason anyone would even want to ally them.
Codex Space Marines  (as allies)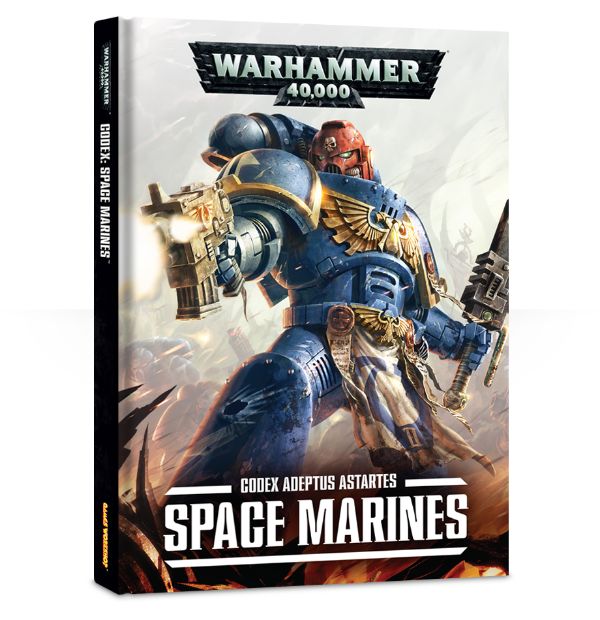 Of all the Come the Apocalypse allies I think this one rates the highest, for simplicity sake this will cover all space marine books (Dark Angels, Space Wolves etc.)
New Space Marine armies turn to chaos every day so having a traitor Salamanders force makes perfect sense, perhaps after half of thier force is wiped out by a couple of Bloodthirsters they finally see the awesome power of Khorne and decide to cast away thier false Emperor and spread the Chaos taint! As for what units to add, due to come the Apocalypse deployment restriction I suggest making all of you allied marines arrive via drop pod or deep strike, this way you can drop you marines behind the enemy and your Daemonkin can charge the front of them creating a sandwich effect! The Skyhammer annihilation force is perfect for this as it gives you 2 Devastator squads in drop pods that get a turn 1 arrival, can then combat squad giving you up to 4 units and can also fire heavy weapons due to being relentless! And as if that wasnt enough you also get two Assault squads with jump packs that are also guaranteed a turn 1 deep strike, can also combat squad giving you another 4 units that can charge in the same turn they arrive! Time this well and you could potentially pop 4 vehicles and engage 4 units in combat turn 1! Really takes the heat off of your Bloodthirster 🙂
If you want to play a competitive game I think every army should consider adding this formation as it is TOTALLY BANANAS! Chuck a couple flamers on the assault marines and kit out your Devastators with multi melta or grav guns and you will decimate most enemies.
The new Space Marine codex is also littered with fantastic formations that you can add to your Daemonkin, as is the Dark Angels and Space Wolves books. I wont list any more here as if I start I will never stop, just remember that their are deployment restrictions and movement restrictions so whichever units you choose to add should have:
1. A different way of deploying to the battlefield. Be that outflank, deep strike, infiltrate or even flyers coming from reserve. Try to avoid units the must deploy on the table as they create a 12″ bubble of wasted deployment zone.
2. Different purpose to the rest of your Daemonkin, since moving within 6″ of each other can force your units to become inactive for a turn you really want to keep your Daemonkin and thier allies separate, if your Daemonkin are fast assault units (hounds, Maulerfiends, Bloodthirsters) then maybe you want ranged objective campers for your back field objectives? You can always hold them in reserve until your Daemonkin have moved forward then move the allies into position in the back field. Or alternatively if you have a slower Daemonkin force (Soulgrinders, Bloodletters, Terminators) you might want to deep strike in some allied support in the enemy back field. Either way focus on separating your force and you will control the table.
3. Fill holes in your Daemonkin. Try to add units that can do something your Daemonkin can't. Drop pods full of melta are a perfect example as Daemonkin struggle to destroy vehicles early in the game.
I hope you found this series on Allies useful, I had great fun writing it… now to think what I should write about for the next Tactica: Khorne Daemonkin article!
Thanks again for tuning in! Make sure you keep your eyes peeled for the next installment of Tactica: Khorne Daemonkin! and while you are at it head over to Blog for the Blood God, give me a like, and join in on the other great content! Everything from Battle Reports to Hobby Tutorials, Rules discussions and tactics to Animated movies and 40k based comedy
wanna see Khârn do an AMA?