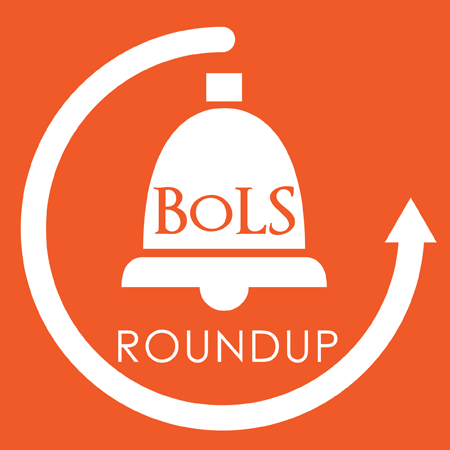 A LOT of stuff broke this past Labor Day weekend.  All you weekend partiers – get in here to catch up on what you missed!
via Battle Bunnies:
Tau KX-139 super suit gets painted

Solar Auxillia with Axes (new minis)
via Facebook (all over the place):
Blood Angels get the Heresy treatment
More Centurio Ordinatus
Raven Guard Sniper
Decals for Iron Hands, Salamanders, Imperial Fists
via Bolter and Chainsword's m_r_parker:
Horus Heresy Book VI Info
From what I heard regarding Book VI:
It has been floated that the name is 'Retaliation', and will be a Conquest-esque tome focussed on the Shattered Legions (Iron Hands, Salamanders and Raven Guard) taking the fight back to the traitors, specifically the Iron Warriors.It won't feature the traditional introduction of a Legion, with it's rules / characters / units / Primarch, but will feature a mechanism for creating a Shattered Legion force for both sides of the Heresy (both loyalist and traitor).I believe it's also been mentioned that this book will contain the Legion rules for the Blood Angels, Dark Angels and White Scars – but will be restricted to Legion rules and Rites of War, and will not include any legion-specific units or characters (or Primarchs). This is to enable those waiting to do these Legions to start whilst they wait for their tomes to come out. This ties in with the upgrade packs coming out before the end of the year. I don't know if this will also contain the Wolves and Thousand Sons, but I have a feeling it won't and will be covered in the detail it requires in the Prospero book.We may also see other elements of non-Astartes forces as well as other elements not tied to Legions – but this may not be this book, and may be covered later. At the Open Day Alan Bligh was talking about various things that he wanted to do, like dark assassins and 'agents of the Warmaster'. Might not be for this book, but could be later.
via B&C's Lord Thørn
For the Space Wolves, it seemed like they were starting to plan them, but really just the very beginning stages. They don't know yet what the final Legion symbol will be, so that's a fair example of how early on in the process they are. Mark Bedford's examples were grey armour with black pauldrons, with the Wolf in the Stars (the Great Wolf's) symbol from the decal sheets, but that is only to get an idea. However, they also seemed to be grizzled warriors with jump packs, so JPs might not be limited to Wolf Guard and Blood Claws ?

However, any fears about them being Wolfy McWolfy Wolves can start to be quelled. The idea really seems to be to represent the Emperor's executioners and exterminators, as they were designed to be in the fluff, moving back to disctinctly Space Vikings vibe, rather than silly wolfiness.

The Solar Auxilia with the axes are the only new models, but they are really nice. Of course, I wouldn't have expected much more, since it is only an open day, with bigger events coming up very soon.

…Doom of Mymeara 2nd edition should be out soonish (in the next couple of months), with an updated and expanded corsair list (new units, but no or few new models planned)

There was also quite a bit of very sweet concept art for Thousand Sons (depthcharge should be happy because tuning forks featured prominently smile.png) , some hairy heads (read possible White Scars and Space Wolves), iconography/transfers for the Legions of Istvaan III, and Invictarius Suzerain stuff. Since the Invictarius are already out and they didn't look exactly like the ones in the sketchbooks, don't read too much in to this. (One of the World Eaters symbols really made me go wow, a kind of a profile hound skull bighting a world, which isn't on the transfer sheet that already exists. I think AO108 took a snapshot of it).

As already mentioned, lots of amusing and eerie concept art for Dark Mechanicum, I think we're in for a treat with those ! Also, the sketches I saw still seemed relatively close to the loyalist counterparts, so there should hopefully be conversion opportunities.
Some talk about a possible online update of IA2, since Space Marines codex came out later

[irony]No-one new anything about any possible plastic heresy, and there is nothing to suggest that it will be out next games day…[/irony] Read that this is pretty much sure.tongue.png None of the designers seemed concerned about Games Workshop taking over, and seemed to feel that it should complement Forge World's stuff, as a launching ground.

I may have been too direct when I asked, but they didn't seem to be aware of any possible Chaos releases, they seemed to think it was "made up". As I said, I may have been to direct, so don't jump to conclusions.
via Games Workshop
This lavishly-produced limited edition features:
A magnetically-closed box with soft touch finish and unique numbering;
The full-colour hardback 152-page Battletome: Stormcast Eternals, on exclusive, special heavy paper stock;
Metallic ink detailing and gilt-edged pages;
Envelope with five art prints;
Strictly limited to 1000 copies worldwide.
A vision of golden celestial light, a living embodiment of the God-King's might, the Stormcast Eternals are messengers of vengeance armed with the might of stars. Once-mortal champions of Order forged by Sigmar into an astonishing fighting force, hurled down from the heavens to meet the forces of Chaos head-on, they wreak bloody revenge on the Dark Gods, the corruptors of the realms. Their assaults are heralded by the rumble of thunder and the spark of sky-scorching lightning, their attacks are a raging maelstrom of bolts, and their enemies will soon be as dust under the relentless, righteous anger of their unified onslaught.

This 152-page, full-colour hardback book contains:
Incredible backstory and details of the Stormcast Eternals – their origins, motivations and trials. Warscrolls for all the various Stormcast Eternal miniatures;

A set of three Battleplans – instructions for fighting incredible battles that follow the exciting narrative of the Realmgate Wars, with special rules and conditions for your miniatures;

Nine Warscroll Battalions – special formations with their own rules;

Stunning photography of beautifully-painted models;

Heraldry and colour schemes for the various Stormhosts;

The complete Warhammer Age of Sigmar rules – play games right away!
The warrior-heralds of Sigmar, bearing a message of violent retribution, the Prosecutors are a gliding storm of vengeance. Hurling down stormcall javelins without mercy or relent, they use incredible speed and manoeuvrability to overwhelm their enemies, destroying them utterly in a glorious blaze of heavenly light.
This multi-part plastic kit gives you everything you need in order to build three Prosecutors, avenging angels of the Stormcast Eternals. This variant is armed with a stormcall javelin and sigmarite shield, with a special weapon available: the mighty stormsuge trident. the javelin-wielding Prosecutors feature unique crest and helm options.
One model can be optionally assembled as a Prosecutor-Prime, with his own special helmet and crest options. In all, eighty-one components are included, as well as three Citadel 40mm Round bases and a transfer sheet. This kit can also be used to assemble Prosecutors with Celestial Hammers.
The herald of the Stormhosts, an avenging angel clutching a glittering starblade that can carve a swathe through the hardiest of foes, the Knight-Azyros wields another, far more potent weapon. He carries a celestial beacon, a lantern radiating the searing light of the heavens, a light that falls upon the forces of Chaos as a sea of torment far more painful than those twisted agonies the Dark Gods gleefully conceive. Wherever this light shines, so might Sigmar cast his divine bolts more easily – the Knight-Azyros is the tip of the spear, bringing glorious illumination to those places thought lost to infinite corruption.
This multi-part plastic kit gives you everything you need in order to build one Knight-Azyros. Featuring striking, posable wings of light, intricate armour and a domed helm, this miniature is an incredible example of the glory of Sigmar's Stormhosts. The kit can also be assembled as a Knight-Venator, and includes a starblade, dagger, lantern, helm and shoulder pads unique to the Azyros. Twenty-six components in total, includes one Citadel 50mm Round base.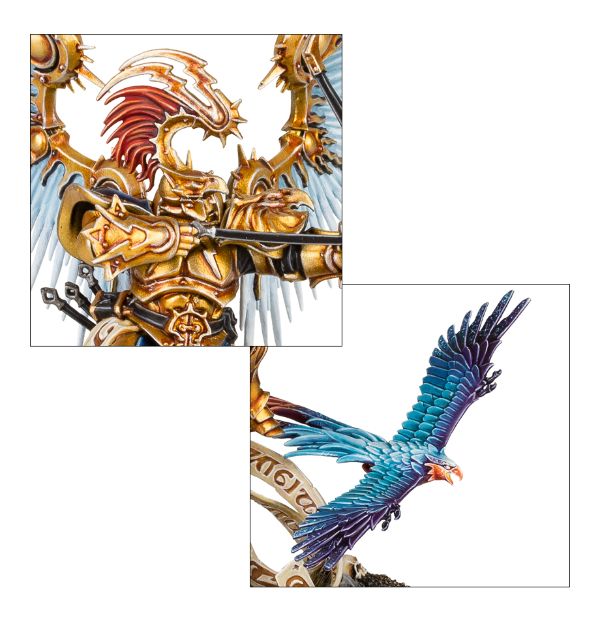 An awesome multi-part plastic kit that contains the components you need to upgrade a set each of Paladins, Liberators and Prosecutors to represent the Celestial Warbringers Warrior Chamber.
An awesome multi-part plastic kit that contains the components you need to upgrade a set each of Paladins, Liberators and Prosecutors to represent the Knight Excelsior Warrior Chamber.
Games Workshop and Black Library threw out these images in thier downloadable samples from the new
Battletome: Stormcast Eternals book:
Tada!  Behold the Knight-Vexillor and the Knight-Heraldor miniatures – maybe the final cherry on top of the Stormcast Eternal range.
We have lots more in the pipe coming soon.  Happy Labor Day!