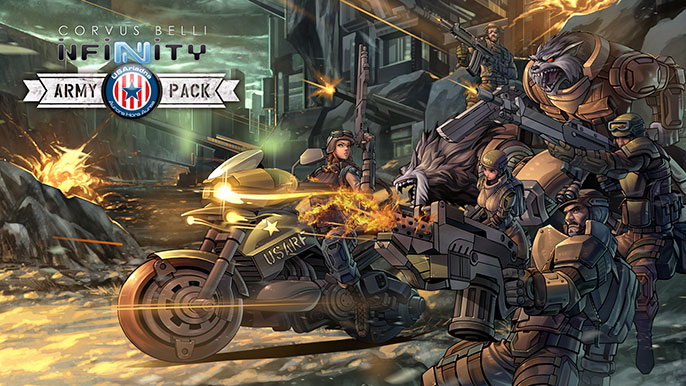 We're taking another look at the new Infinity sectorial. This time we'll examining each individual model in the new starter box.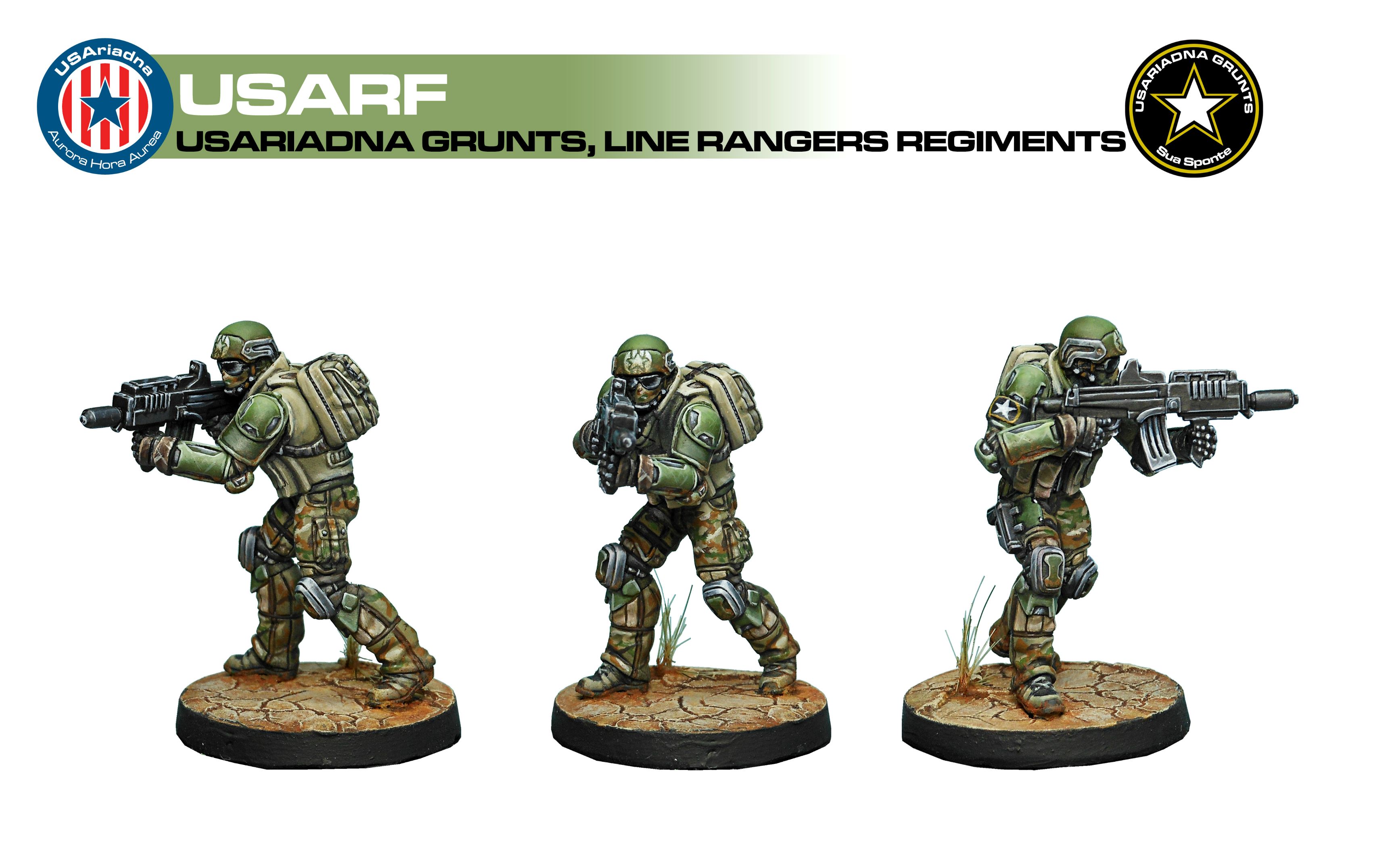 There couldn't be a better place to begin than with the Grunts. As USAriadna's cheapest troops, you'll likely be taking a lot of these. 10 points is a little above average for Garrison troops but barely. And these guys definitely have the stats to back it up. As I mentioned in the last article these guys are very unusual for Garrison troops as they're Medium Infantry. They even have better ARM than a lot of other medium Infantry. 3 is very respectable – in cover they'll be quite hard to kill.
They're decent shots. Their BS of 11 is a little above average for troops in their price range. And in a full link they'll be able to hit pretty accurately. The basic rifle option in the box can be configured into a couple of different loadouts. You can make one of them your Lieutenant, but it will cost you an entire SWC. Or you could go with paramedics for cheap (but risky) healing, and/or Forward Observers for cheap specialists. I even really like their one special ability: Shock Immunity. Its more useful than it might sound. Anything that might keep a Specialist in the game so they can achieve an objective will come in handy. The same logic will apply to the Special Weapon armed troops we'll see in the coming months.
One big downside the Grunts have is the low mobility inherent to all Medium Infantry. 4-2 compared to 4-4 isn't much, but you will feel it. It could mean an extra order to get your link team into position, an extra order to get in range to Forward Observe, or an extra order to get your paramedic next to a model to heal them. They also have a BTS stat of 0, making them highly vulnerable to Viral ammo any other weapons require you to save with BTS. But hey – given all the other things these guys have going for them this seems like a good way to balance them.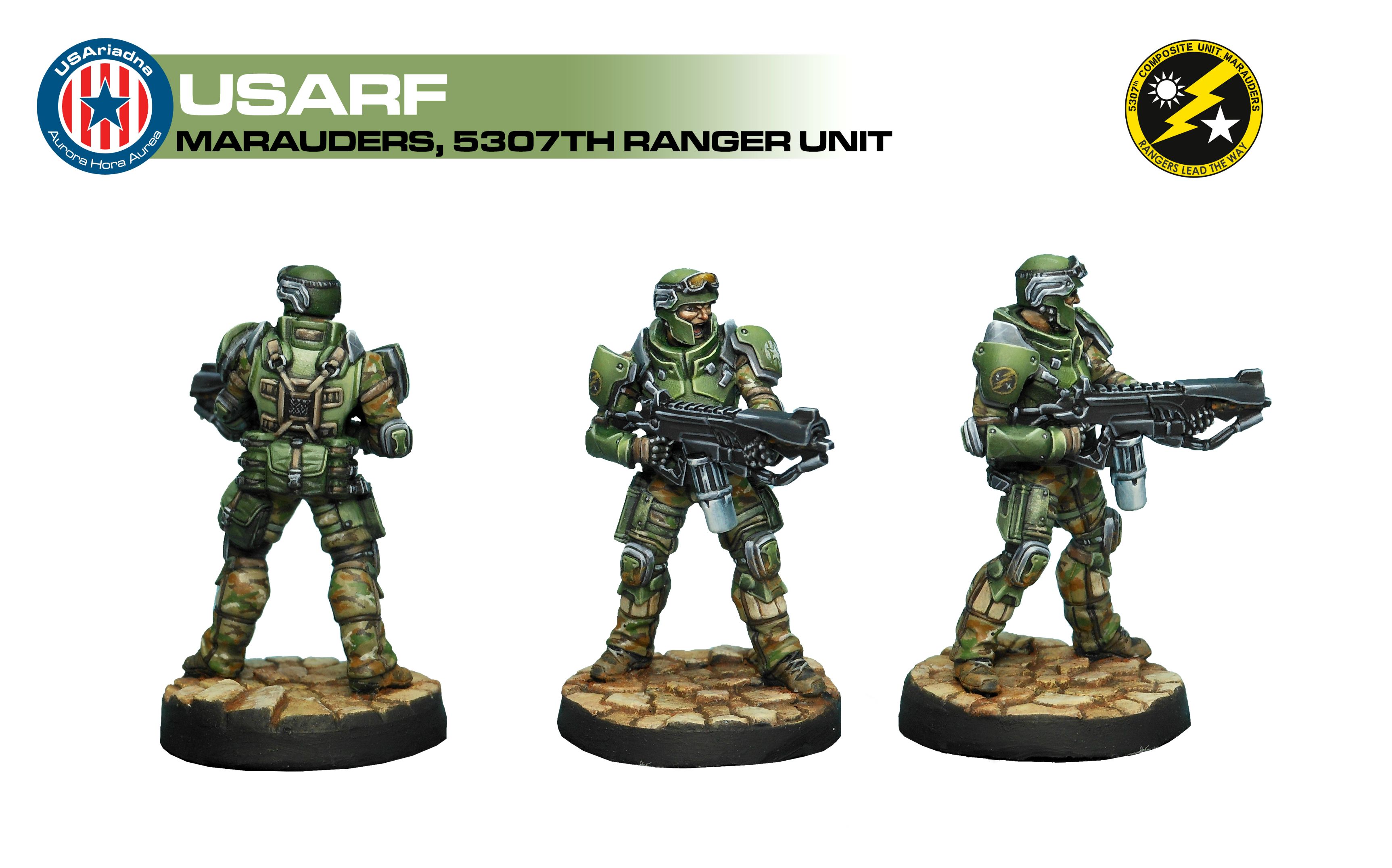 The Marauders are more Medium Infantry – but Veterans this time. Their stats are a little bit better in a lot of places with BS, CC, PH, and WIP all improved by 1. Their ARM and OV remain unchanged. Then there's the addition of this Heavy Flamethrower which puts down a nice big template. He even has a Heavy Pistol to give you options for any situation.
Additionally they have a host of other skills. Forward Deployment helps make up for their low MOV, and has the added advantage of not just putting you closer to the enemy but also giving you wider deployment options. There might be a building with a better vantage point just outside your Deployment Zone for example. Dogged is also quite useful – especially when you have a weapon that you have to use up close like this guy's Heavy Flamethrower. Stealth might come in handy sometimes, but it's pretty rare to be able to get into a models ZoC without someone being able to see you. Jungle Terrain will be great if people in your area use a lot of it. Here we use a lot of Icestorm/Hephaestus/USAriadna card stuff and no trees ever.
While the standard version of this model costs 21, you can take him a couple of different ways. Most interestingly you can take a version of him with Haris for an extra Army point and an extra SWC. Then he can form an extra link team allowing you to run two of them. It will only be able to have 3 models but that's still pretty cool and makes the Marauder an especially interesting choice in Vanilla Ariadna. Of course, this ability won't be much use until we have some more Marauders to buy. You could alternatively field this model as a medic which wouldn't be so bad given his decent Willpower. He also makes a very attractive LT choice since he's an option that doesn't cost any SWC.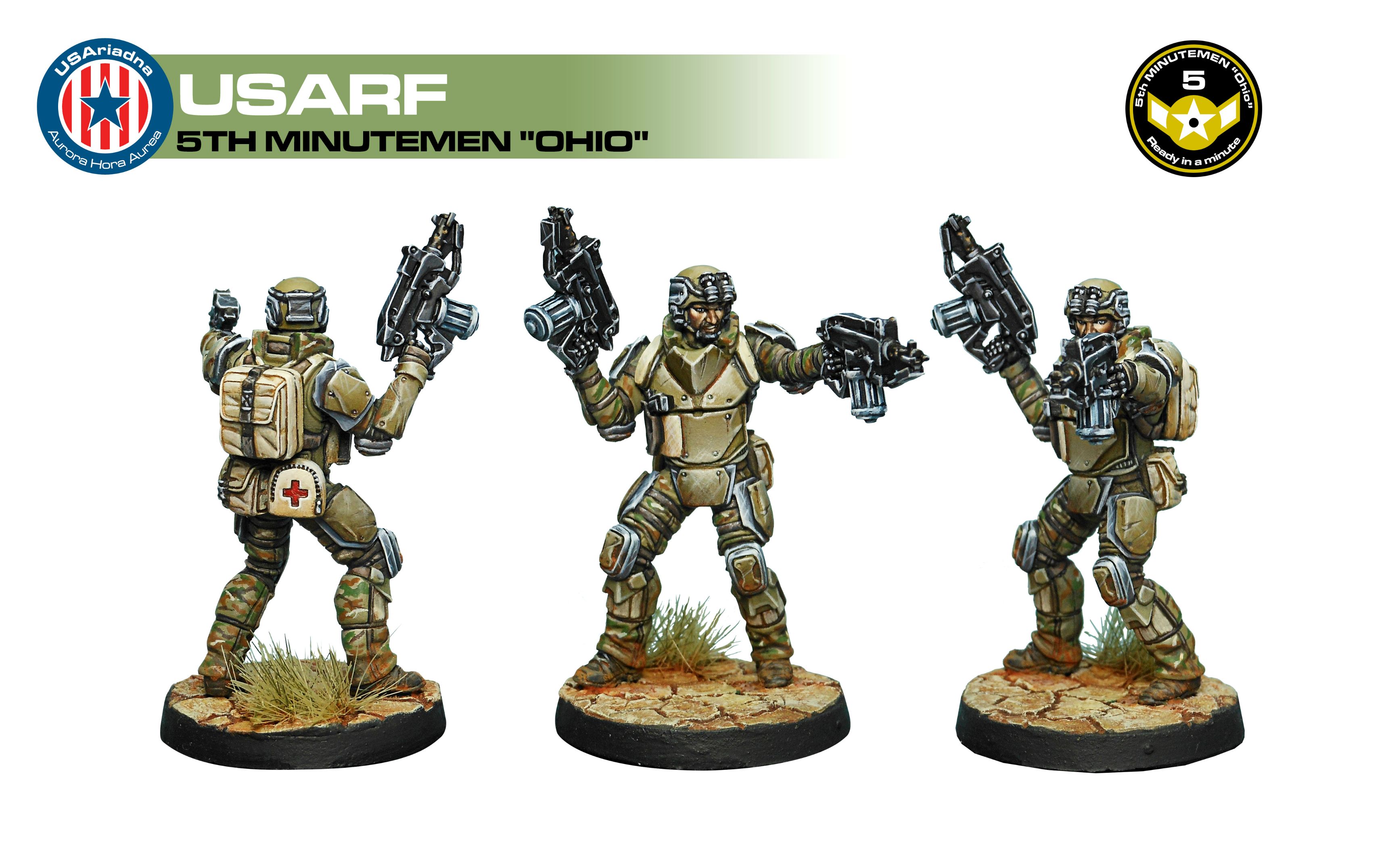 The Minuteman is technically Heavy Infantry, although his ARM and wounds are the same as our last model. Without a real powered carapace like the other factions have, 1 wound is the best Ariadna HI can muster. What makes this guy special (relative to the Marauder) is that he has standard HI movement of 4-4. He's an even better shot too with a very respectable BS 13 and his CC, and PH,  have been likewise improved but his WIP is down to a 12. Not bad for 22 points. The Special Weapons Minutemen are likewise affordable so this guy can make a link team with some of his buddies and you'll still have plenty of points left over for whatever.
I'd prefer if he had Dogged like the Marauder but he gets Shock Immunity instead. Multiterrain is good though since it lets you pick what type of terrain he gets to ignore. Kinematica can also save your life with a lucky Dodge roll. If it gets you into cover your opponent will have to waste valuable orders lining up another shot.
I think his twin flamethrowers are better in the active turn but not as exciting in ARO as the Heavy Flamethrower. He has a Rifle too even though it isn't shown on the model. I'm not sure what's up with his medic pouch since paramedic isn't a skill he can take. He can be a Forward Observer though, and since he's durable and not too slow, this makes him a good choice for this role. It only adds a single Army Point to his cost so I say go for it. He's yet another LT option as well, although maybe go for the Marauder with the higher WIP.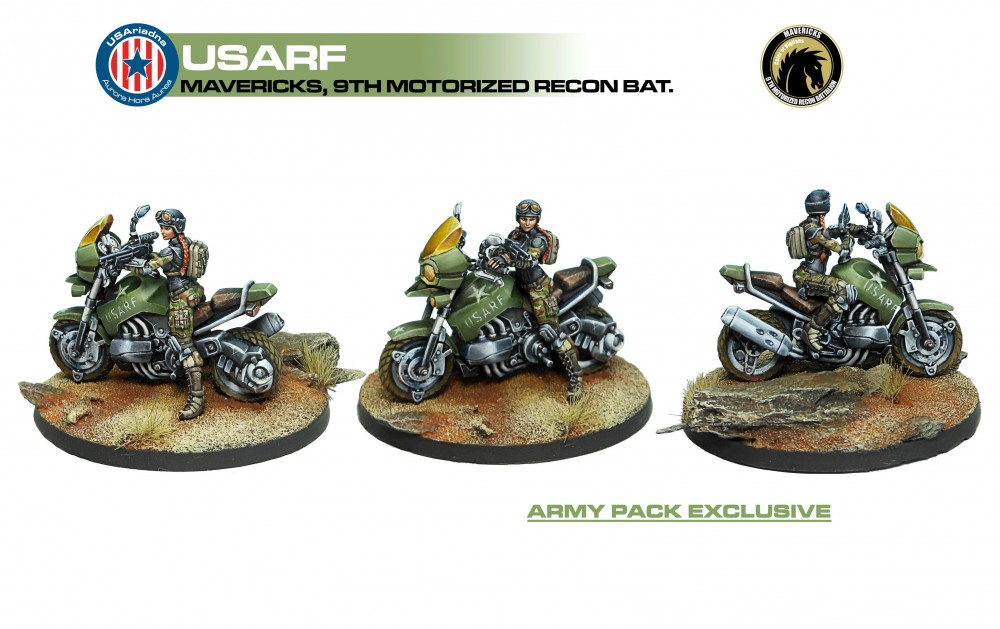 The Mavericks are basically Marauders on bikes – except that they're impetuous. They even have access to some cool special weapons like the Molotok or Light Rocket Launcher.
Bikes can be great, but terrain can impede their efficiency drastically since their bases are so big. If buildings are too close together they'll have to go around. Sometimes they might even have to dismount if they want to get where they need to be.  Still speed is important in this game since faster models use orders more efficiently. Since an activating model only triggers one ARO per eligible enemy model, speed can also be safety. Faster models trigger fewer net AROs than slower models covering the same amount of ground. I don't think there are any rules on how players should place terrain, so you may have to try to come to some kind of equitable agreement with your opponent if it looks like your bikes won't have any room to manuever.
Assuming you can take advantage of their speed, they have the typical Smoke Grenade Launchers to help get them across the field, plus a good assortment of weapons you can use up close.  As you can see, the only one that exists right now has a boarding Shotgun which is an amazing weapon if you can position yourself to use it. You can even take a Maverick that can Forward Observe, although this one will cost you half an SWC.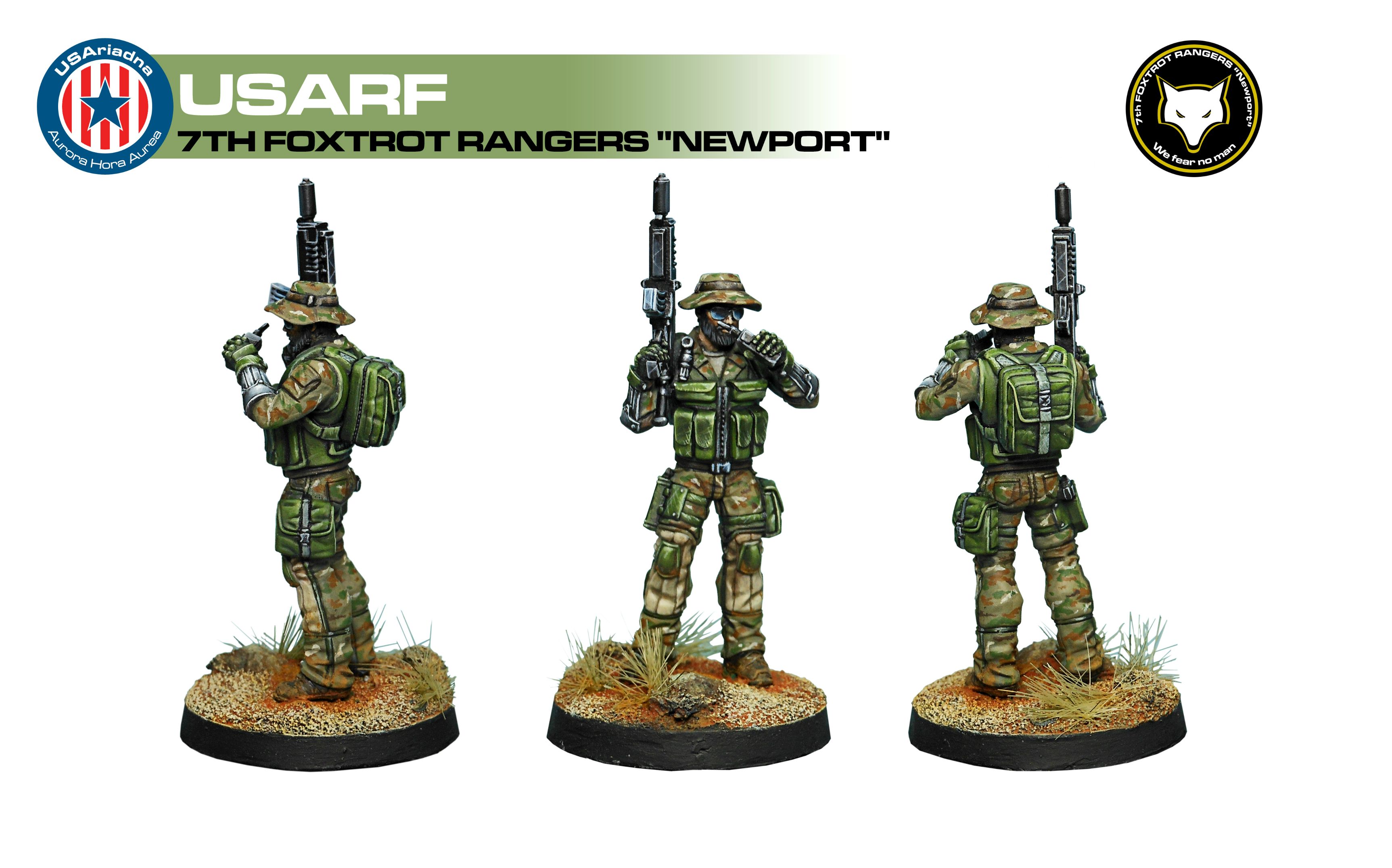 The Foxtrot Ranger is one of those sneaky guys with Camo and Infiltration. Even the most basic version of this Rifle armed Foxtrot Ranger can lay Mines. This easily makes him worth his 17 points – even though his BS isn't that great, and his ARM is 0. By now it shouldn't surprise you that I think you should spend that extra point to make him a Forward Observer. With AVA 4 you can have these guys dropping their mines and observing all over the board.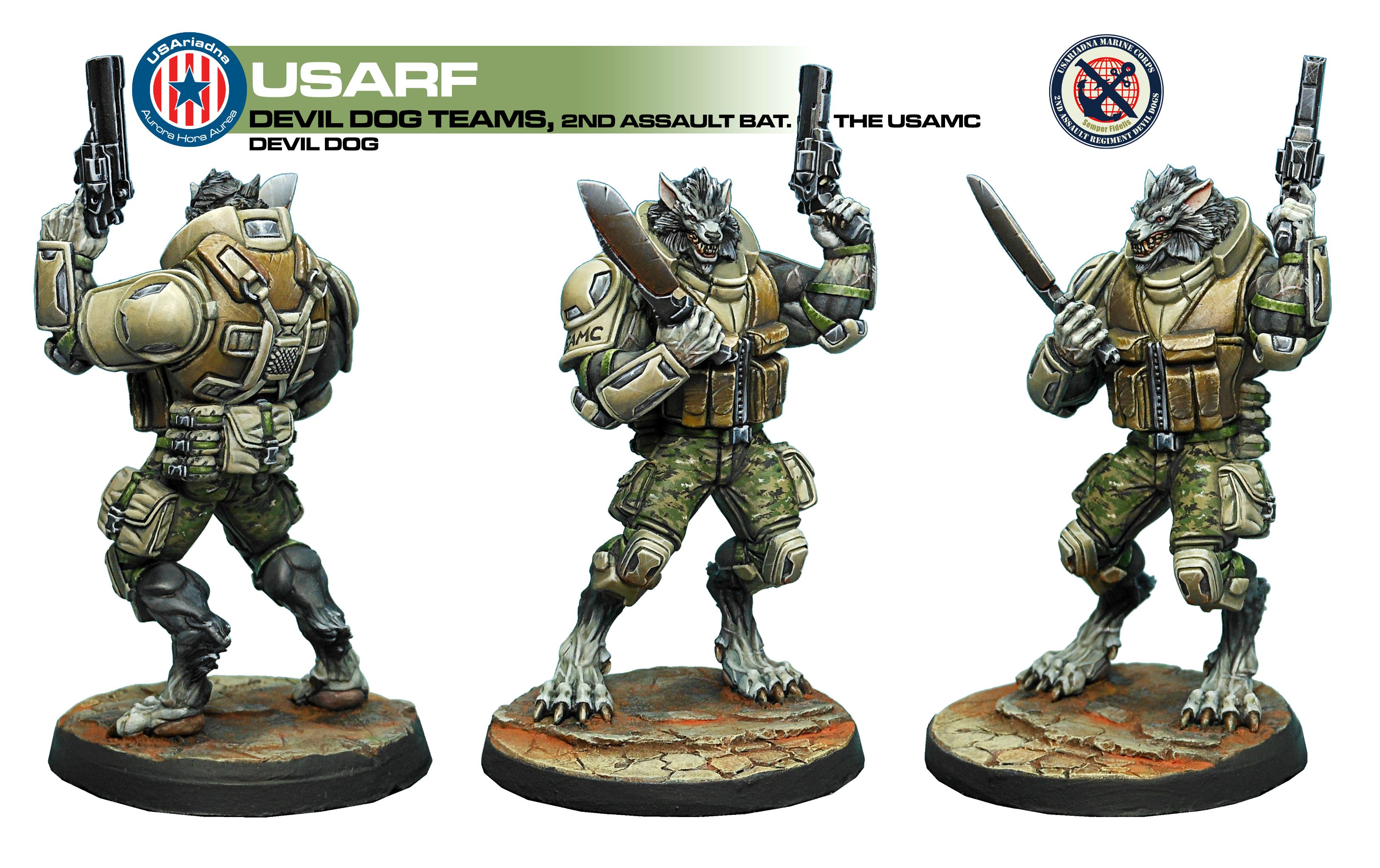 Our last model is part of an inseparable duo. The Devil Dog and an Antipode pal are synchronized to act with the same order.
The Devil Dog himself is the real combatant. He actually has guns. This version has a Chain Rifle. This nice big template weapon doesn't even have to roll to hit but will leave him vulnerable to ARO. He also has that AP Heavy Pistol: a hard hitting weapon with a low Burst of 2. It's only really effective at close range, and since the Devil Dog is a lousy shot, he'll have to get close if he wants to use it. If he and his companion get close enough that they can engage, they might just be better off in CC. They'll give each other an extra burst, and the Devil Dog's CC and PH stats are quite good – even though he lacks martial arts. Like our biker, he has Smoke Grenades and Super Jump to help him get across the field. Plus he's pretty resilient with ARM 4, 2 Wounds, and Total Immunity.
The dog is less focused on combat with Sensor being his real gift. He can flush out all the hidden and camo models as he follows the Devil Dog across the field. He has Super Jump too so you don't have to worry about him keeping up. He might not be as tough as his pal, but Mimetism will help him against incoming projectiles, and Kinematika L2 and a PH of 15 can help him dive for cover. They both have Aquatic Terrain in case they need to swim to get somewhere.
~Do you think they're as cool a bunch as I do?  Did I gloss over any of their coolest tricks? Let me know.