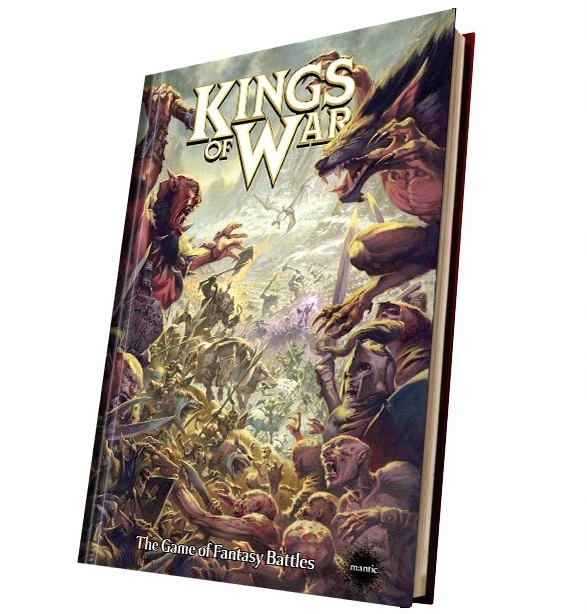 If you want to grab your copy the white hot Kings of War rulebook – you better act fast. Here's the details:
In perhaps the biggest surprise of the summer of 2015, Kings of War has just exploded on the wargaming scene, and is becoming the new darling of many tournaments across both America and Europe.
With that in mind, it's not a surprise that the sudden demand meant that the initial runs of the brand spanking new Kings of War 2.0 rulebook sold out in record time. But get your pennies together, Mantic just rolled out the following news:
The Kings of War rulebook is BACK IN STOCK Tuesday, September 29th
So get in your preorders asap to reserve your copy.  There is a good chance this printing will go just as fast as the previous ones.
Kings of War 2nd Edition is a hardback rulebook that contains the complete Kings of War history and rules. It features:
Rules written by Alessio Cavatore (Warhammer 40,000, Bolt Action) and the Mantic Rules Committee. Kings of War is a game for gamers, by gamers.
Compelling new background, art and photography that invoke a powerful realm of swords and sorcery.
Elegant easy-to-learn rules, balanced and playtested by the community for casual and tournament play.
New Magic Spells and Artefacts
Eleven Force Lists upgraded with new units, including Forces of the Abyss, Forces of Nature, Undead, Dwarfs, Elves, Abyssal Dwarfs, Goblins, Orcs, Ogres, Basileans and the Kingdoms of Men.
~ Get in on this summer's breakout hit!  What do you think of Mantic's sudden rise.