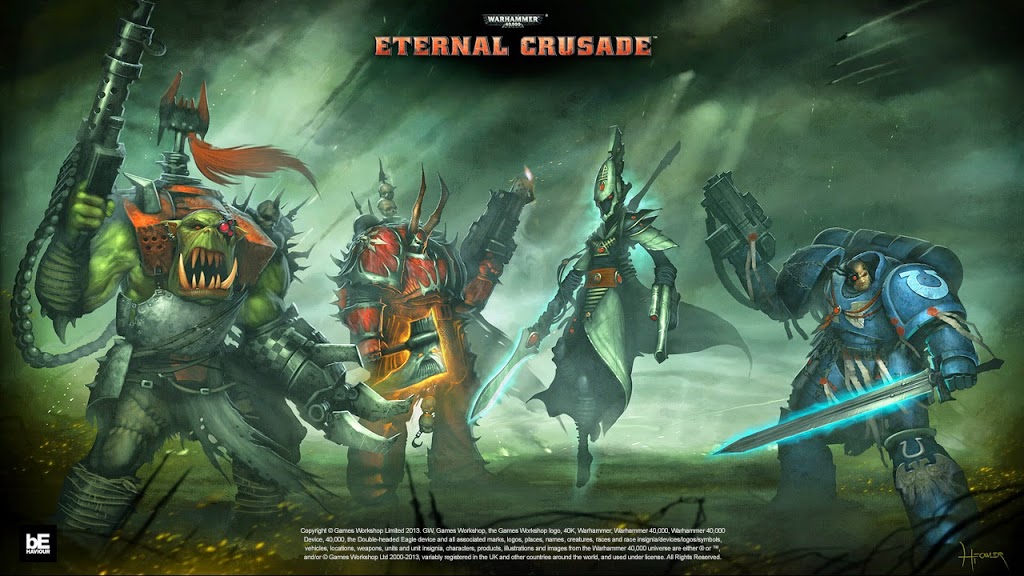 Do you like Warhammer & the Grim-Dark? Do you have a PC? Need a painting break? Then check these games out!
There are a BUNCH of Warhammer and Warhammer 40,000 themed games out there. Here's a quick run down of the games you may be interested in. Some of these are even playable RIGHT NOW and they cover a wide spread of video game genres so take a look:
Eternal Crusade has a recent Livestream up and ready for your viewing pleasure:
Brent Ellison, Katie Fleming, Ghislain Barbe, and Nathan Richardsson recently showed off the plasma cannon, showed a detailed art update, played live with fans in Closed Alpha, and answered Q&A.
Nathan Richardsson also sent out a new State-of-the-Crusade newsletter which you can read. But everything sounds likes it's moving along very rapidly with over 6,000 players already in the Closed Alpha! They are hoping to open up the Closed Alpha to all Sergeants by the end of October and Warriors by November. It's pretty ambitious as they are "building the plane as they fly it" to borrow an analogy. If you want to get in on the action you can order a founders pack and ride in with the appropriate wave of new recruits!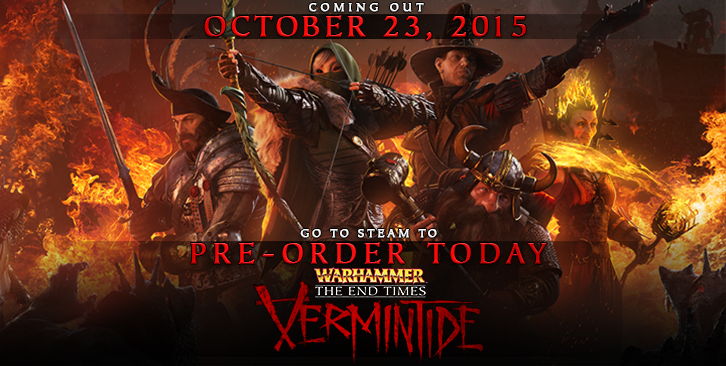 Vermintide has announced it's release date but if you want a shot at trying it out for free you can sign-up for their beta event going on now (Sept. 30th through Oct. 1st). This game looks like a mash-up of Dead Island or Left4Dead and the Warhammer Old World (RIP). Basically take one of those Co-op zombie bashers, replace the zombies with Skaven, make all the weapons Warhammer approprate, and update the graphics – you've got Vermintide!
Here's a gameplay trailer from the folks at TGN: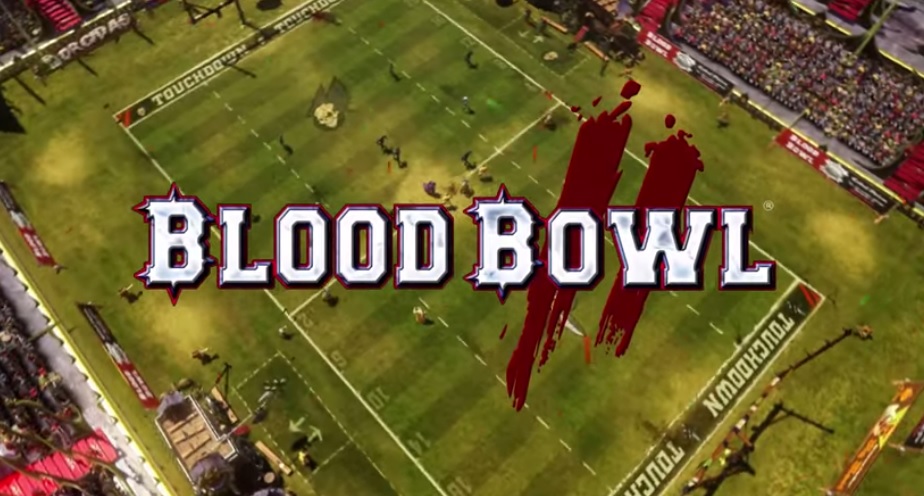 Blood Bowl II is out (Sept 22) and available in stores for PC, Xbox One, PS4 and on Steam as well. If you enjoyed the previous incarnation this one appears to be more of the same – but with much better graphics.
Lead the famous star team Reikland Reavers back to glory, in a new solo story campaign supported by the hilarious commentators Jim & Bob from Cabalvision. Each match is unique, with unexpected and surprising events constantly renewing the experience!

The single and multiplayer modes are bigger and richer than ever. In the online persistent mode against players (or offline against the AI), create, manage and develop your own teams comprised of eight races from the Warhammer world – Humans, Orcs, Dwarfs, Skaven, High Elves, Dark Elves, Chaos, and the Bretonnian newcomers – gaining XP and unlocking new skills. But beware! On the pitch, all losses are permanent… Online, organize entirely customizable championships, from qualifications to finale, and trade your players on the new Transfer Market to build your Blood Bowl dream-team!
Just a heads up: Some of the fans of the original may want to read some of the reviews/critiques of this one before purchasing because the experience has been tweaked.
Here is a quick launch trailer:
Here is a quick game-play example of a game between Orcs and High Elves:
If you've ever played the board game, after watching the game play video, I kinda had flash backs…which isn't a bad thing at all! It seems very true to the source material.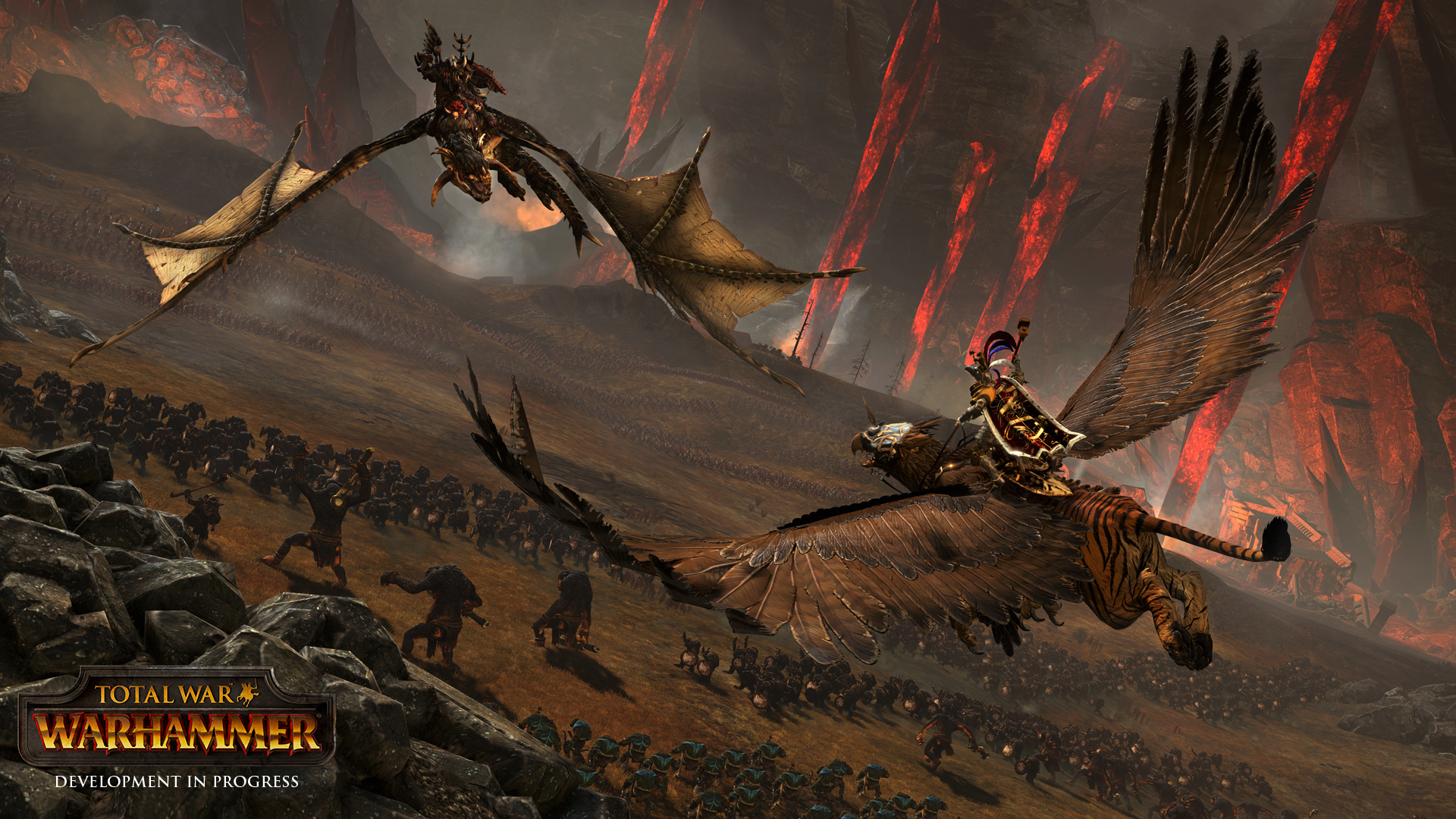 Total War: Warhammer is moving right along. Their latest video introduces the Dwarf Artillery units in action. It's a pretty cool "behind-the-scenes" and it's worth two minutes to watch:
Using in-development concept art, animations and models from Total War: WARHAMMER, Introducing.. Dwarfen Artillery offers a glimpse at some of the most powerful and beautifully crafted weaponry in the Old World.

This video focuses on the mighty Grudgethrower Catapult, the Organ Gun and the terrifying Flame Cannon, just three of a number of deadly artillery units included in the Dwarf unit roster.

One of four playable races in the initial launch of Total War: WARHAMMER, the Dwarfs are gifted engineers exhibiting incredible ingenuity, technical know-how and buckets of design flare. As such, artillery will form the cornerstone of any self-respecting Dwarfen army and its devastating power can more than compensate for any perceived shortcomings of this proud and mighty race.
This game is really shaping up and I'm excited to take a crack at it. I'm hoping that it scratches that real time strategy itch that has been growing for awhile now. I guess I'll play some more Dawn of War II until this game comes out. I know they are completely different but I need to play some digital Warhammer games…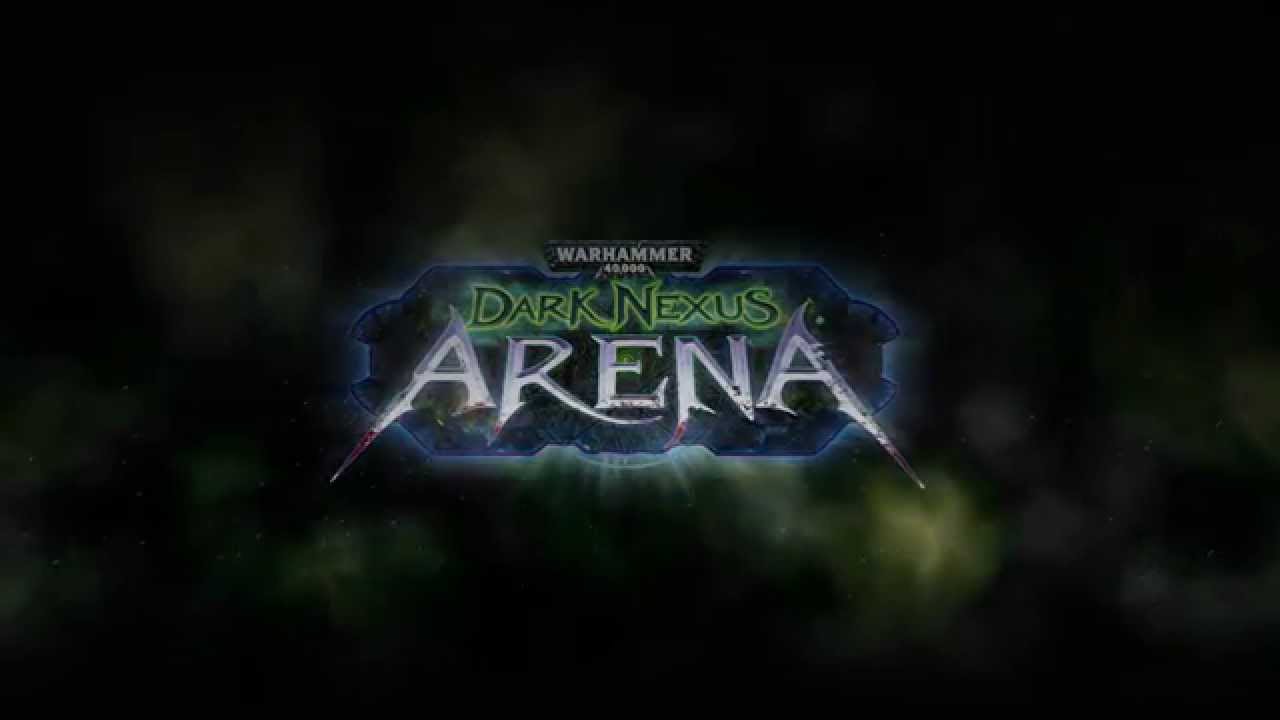 Dark Nexus Arena is going strong in the MOBA category. If you're a fan of DOTA, League of Legends, or Heroes of the Storm and you've always wished to play those games set in the Grim Dark, well this is the game for you. If you want to give it a shot they actually have an Early Access Program where you can purchase founders access and take a crack at the game while it's being developed. Keep in mind the game is still a work in progress and that access to the game servers is only available on weekends. Then again, the basic "Raider" pack is $15. That's the price of a movie ticket in some places and this gets you recurring access. Not a bad deal, but it's not for everyone either.
If you'd like to take a look at it before taking the plunge check out some footage from the in-game engine: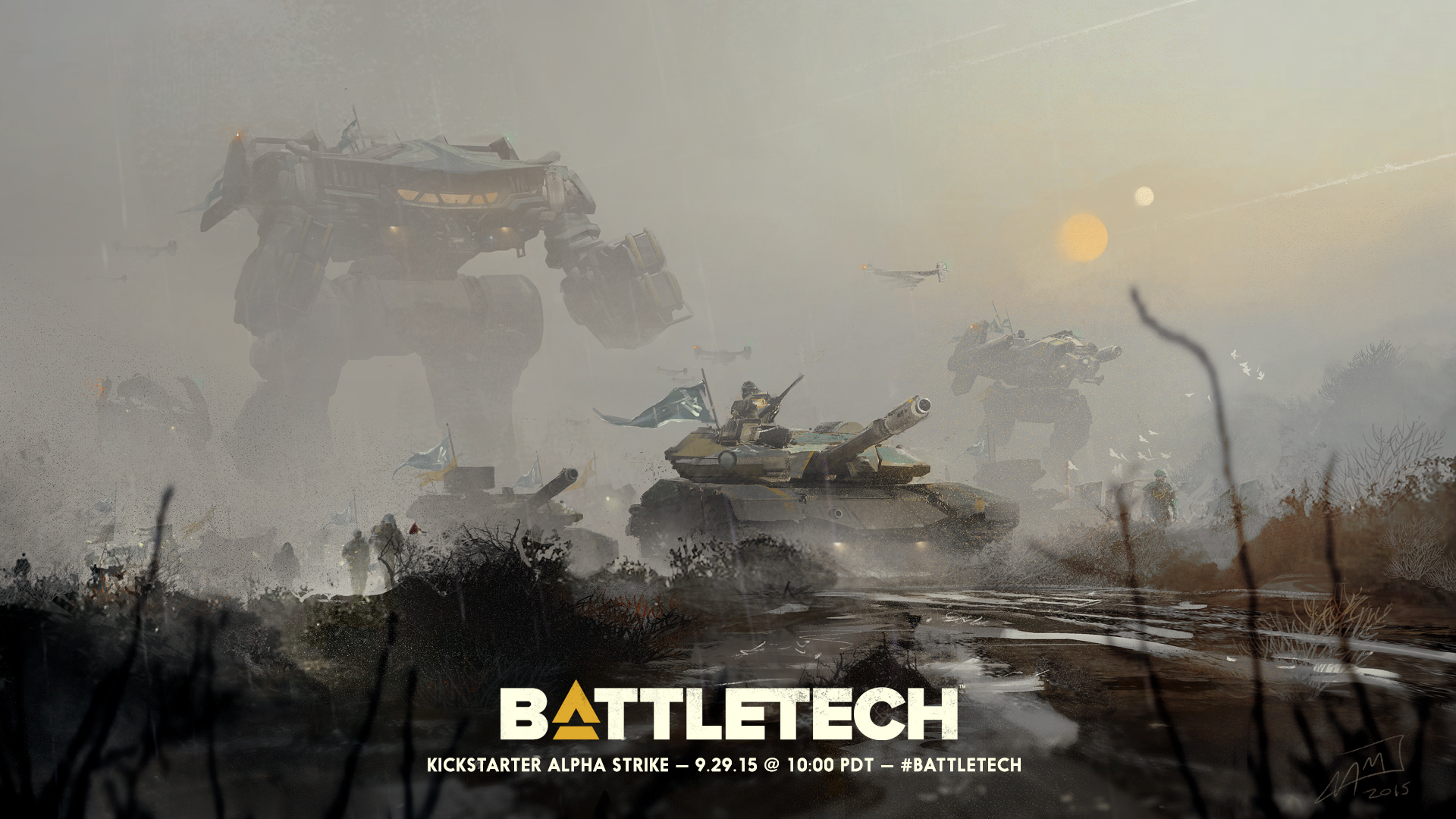 This may not be a Warhammer game – but it's something you should be aware of: BattleTech is BACK! The folks at Harebrained Schemes (Shadowrun Returns, Golem Arcana) are bringing the 'Mech genre back to it's Turn-Based roots. Jordan Weisman, the creator of BattleTech and MechWarrior is leading the charge. After a successful Kickstarter and launch for his previous creation Shadowrun, I can tell fans are willing to put their money into this one. It's already over it's $250K goal and quickly approaching the 1-Million-Dollar mark…in less than 24 hours after launch!

Our BATTLETECH game is set in the popular 3025 Succession Wars Era of the BattleTech Universe – often referred to as "Classic BattleTech".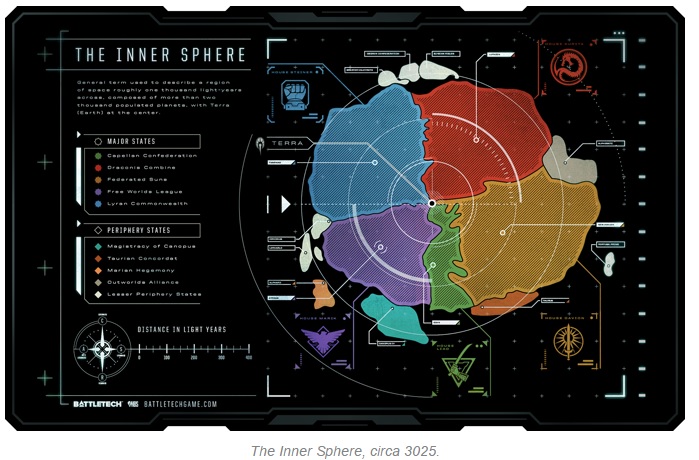 With your help! The success of our last few games allows us to fund the Base Skirmish Game – but with your support BATTLETECH can become so much more. Here's how the game will expand as the campaign's funding increases. (For a full summary, see the Game Stagessection below).

STAGE 1 (Already funded by Harebrained Schemes): A turn-based tactical skirmish game – command a Lance of 4 'Mechs & MechWarriors against AI opponents across a variety of battlefields.
STAGE 2 ($1,000,000): We add a full, single-player story campaign to the game.
STAGE 3 ($1,850,000): We add side-missions, procedurally-generated missions and the campaign becomes open-ended.
STAGE 4 ($2,500,000): Introduces PVP multiplayer combat in the famous arenas of Solaris VII.

BATTLETECH is in development for PC, Mac, and Linux in English and will be delivered in standard and DRM-free versions on Steam, GoG, and Humble stores. The game will also be made available in German, French, and Russian (with localized text, and audio subtitles) in a post-launch update. Other platforms and languages may be announced at a later stage. BATTLETECH is expected to launch in early 2017.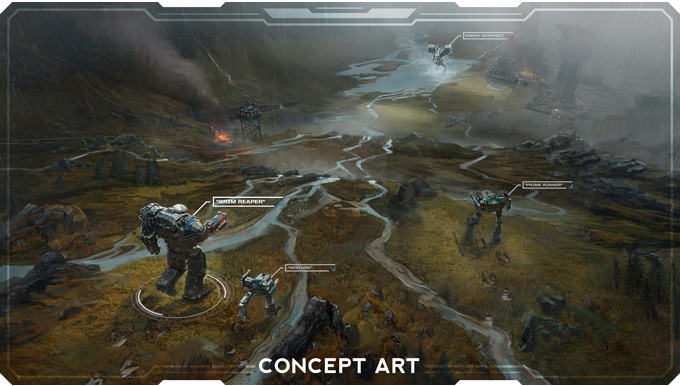 BattleTech and MechWarrior are game I grew up with and have a lot of memories playing. Heck, I still hop on MechWarrior Online frequently and blow-up Mechs for fun! So I'm thrilled to see BattleTech coming back to the turn-based side of things. Go check out the Kickstarter for more info.
That's it for this PC Game round-up! Tell us what you think – And if there are any other Warhammer/Tabletop games making the jump to the digital realm, and you want us to follow them, let us know in the comments BELOW! AdamHarry, OUT!