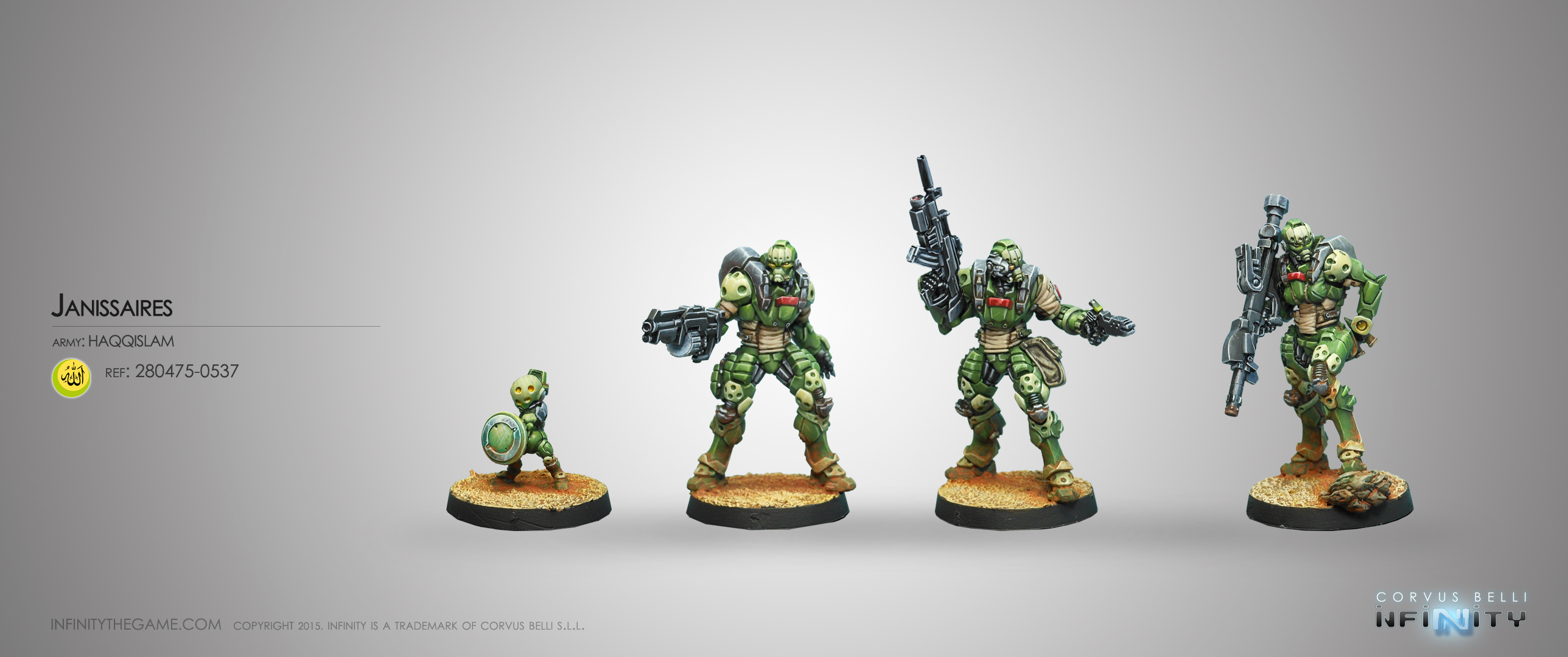 Let's take a closer look at last August's Infinity releases from Haqqislam, Combined, Tohaa, Yu Jing & Ariadna
I guess I'll have to start with these cool new Janissary sculpts. With this box you can easily make that Janissary link team for your Qapu Sectorial, or just have access to whichever Janissary you need for the army you happen to be building. There are only good options in this batch. The Boarding Shotgun is great with the Heavy Infantry like the Janissary since he's tough enough to get close and make the most of it. The Missile Launcher will be great in a link since it will get an extra burst. Of course Missile Launchers are great any time. Then there's the Doctor. He's not just any Doctor. This is an Akbar Doctor. Whenever he tries to heal anyone he can choose to receive a +3 mod to his WIP or heal his target back up to their full wound capacity.
Along with the AP Rifle Janissary from the starter, and the HMG model sold individually, these three will make a pretty insane link team. They'll have weapons to be deadly at any range band, and a doctor capable of healing any of them back to their starting wounds. The only model in the set that I'm not completely sold on is the Tinbot. I just don't see him being worth an extra half an SWC. Although having recently played the Biotechvore mission I might be willing to reconsider paying a little extra for more BTS.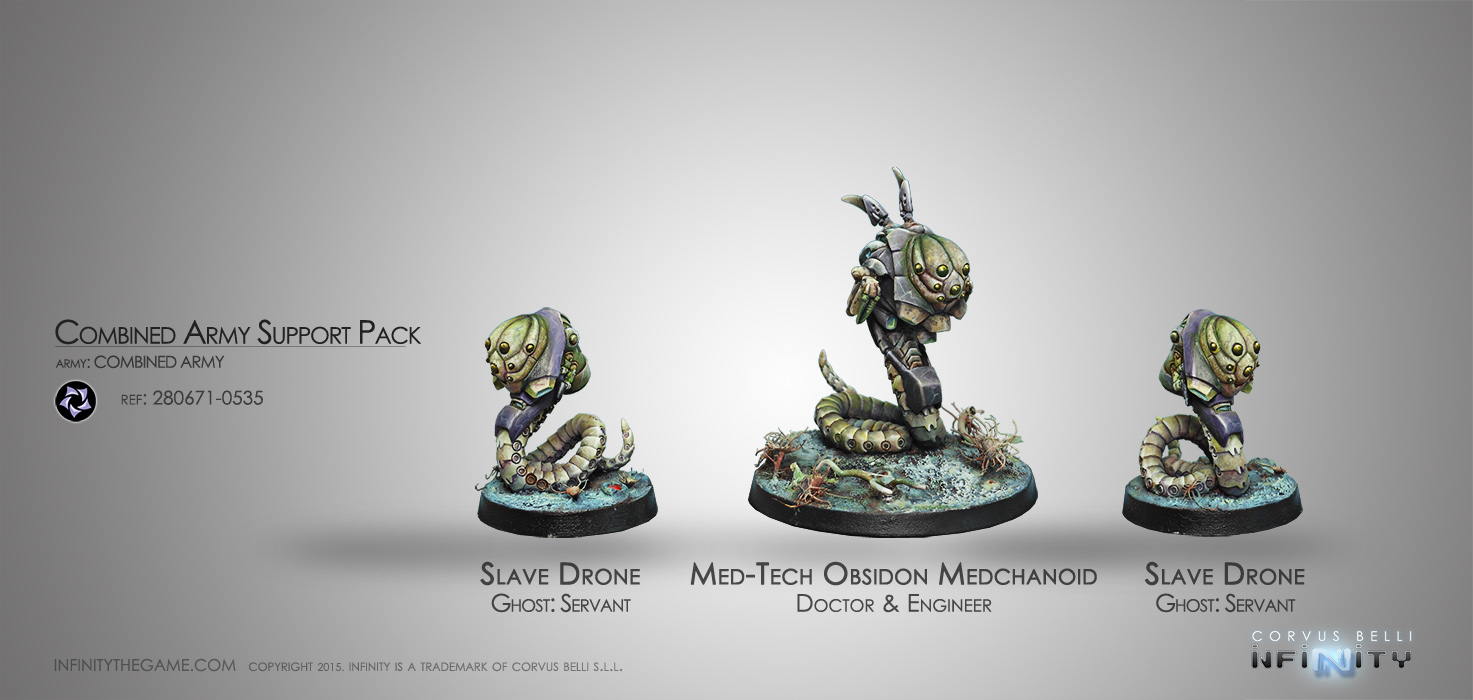 This thing brilliant. A Doctor and Engineer together in the same Willpower 14 package. Its not even that expensive considering. It's even kinda fast so if you're playing a mission where you need to use it's D-Charges you might be able to save an order or two getting it where you want it to be. And it'll set off fewer AROs along the way. The Slave Drones are more or less the same as any other G: Servants, but it is nice to get them in the same package now. I remember looking for these guys online back when they were sold individually, and it always seemed like if one was in stock the other was sure to be out.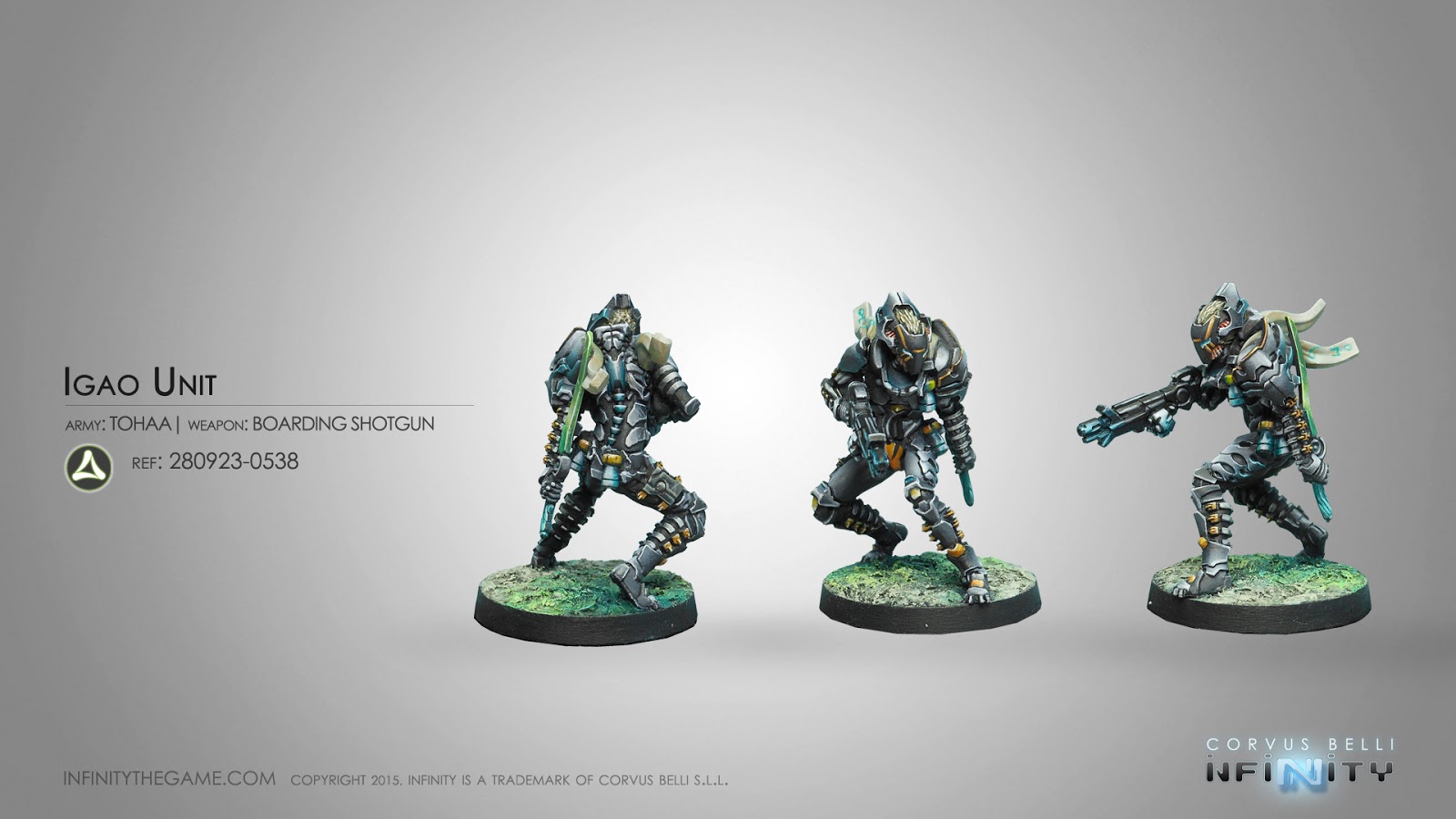 The Igao is a sneaky killer. Camo and Infilltration help him get up close where he wants to be. Martial Arts L3 will give him lots of good bonuses in CC, although it's one level short of that extra burst that is such a huge help. There are two versions of the Igao. This one packs an AP CCW. Not as good as the DA carried by the other Igao, but I much prefer his Boarding Shotgun to the other version's Combi Rifle. The shotgun is a ranged weapon I tend to have good luck with, so the fact that this guy has the tools to get close enough to use it effectively makes him look like a good choice to me. The one problem is that he's a bit pricey. I think a lot of his cost goes towards Martial Arts – which I just don't see him using that often. Maybe if he had some mines or something. Or maybe I'm just spoiled by how cheap Camo is in Ariadna.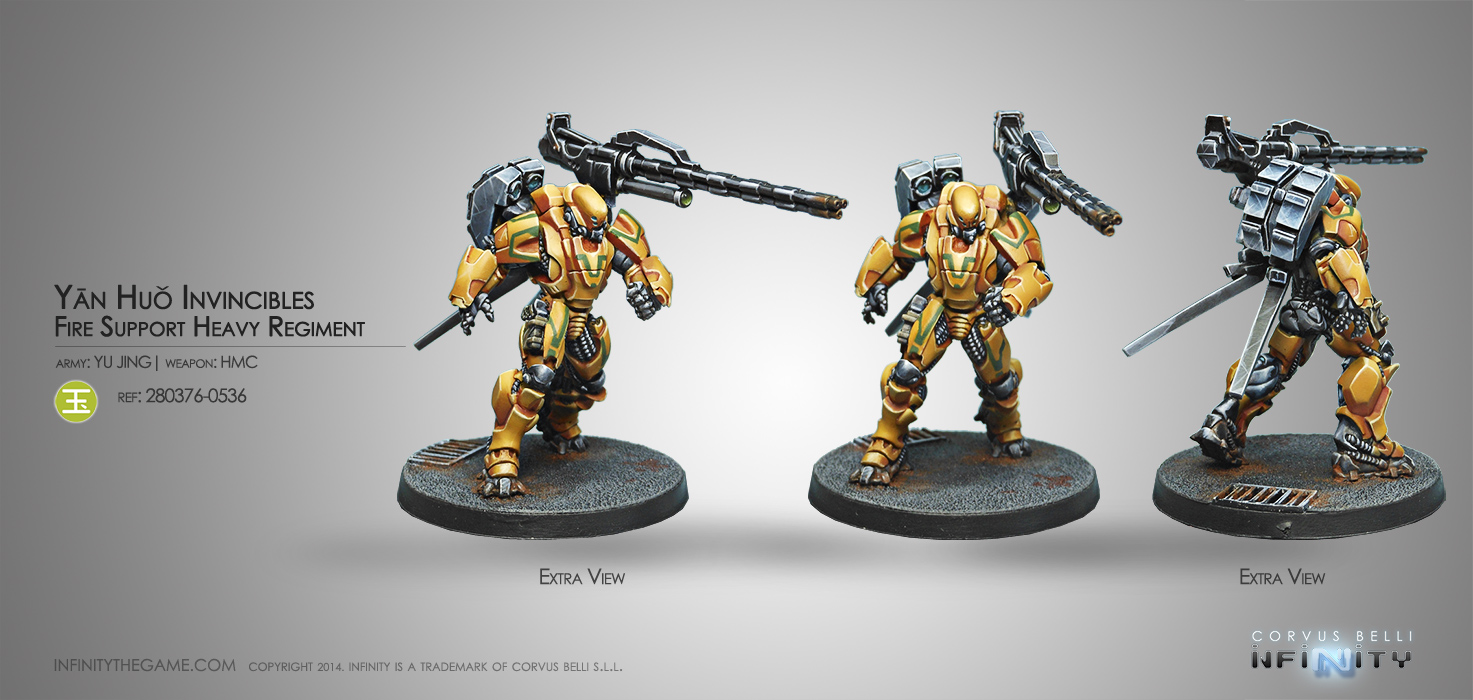 This guy almost looks like he could be a TAG. Is he really as big a badass as all that? Well that gun is pretty ridiculous: it's essentially an AP HMG with an extra Burst added and no penalties to hit at long range. You can even crank out DA rounds with it but at Burst 1. This guy's also as tough as he looks with ARM 5 and 2 Wounds. Unfortunately he's about the slowest model I've ever seen. If you don't have a good position to put him in at the start of the game, it will take quite a few orders to get him somewhere worthwhile. Once he's there, he'll really only be able to threaten targets that get near his field of fire. But with that gun and his BS of 14, he can seriously bring the pain.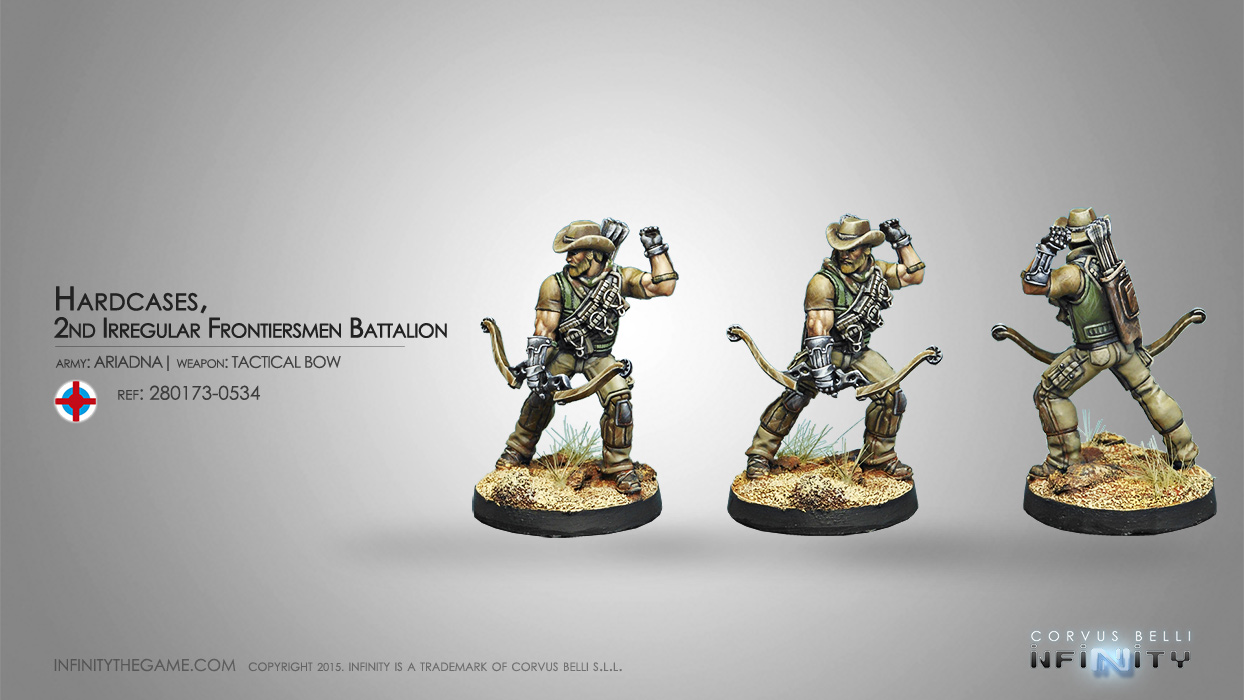 This guy looks so cool with that freaking bow of his. I really wish it was the amazing weapon we all want it to be. Unfortunately, the situations where you'll find yourself using it are quite limited. The real beauty of the Tactical Bow is that a model hit by it can't ARO… but only if he can't see the model that shot him, and only if he doesn't survive. The amount of orders required to sneak around out of line of sight just don't seem worth it for a chance to fire the B1 bow. It does hit pretty hard using the Hardcase's PH of 13 for Damage with DA ammo. But his BS of 11 is not great and you have to be within 8″ to get a bonus to hit with it. Fortunately this guy packs another weapon. You can field him with a Rifle or a Light Shotgun in addition to the bow. Given that he has Ambush Camo and is quite cheap, I think he's still totally fieldable – even if you only use the bow once every other game or so.
~Hope you enjoyed the article. What are your thoughts on these models? Did I miss anything worth mentioning?