Time to talk about the September Infinity releases and how they function on the table.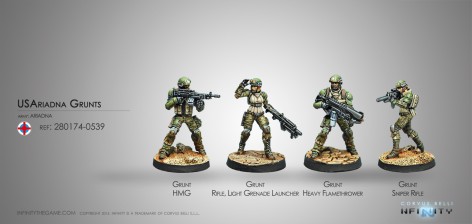 I guess we'll start with the good old U S of Ariadna. If you have decided to play this sectorial, you know you'll want these models since they're the first with Heavy Weapons. You probably bought them already. They'll make a good link team with one of the rifle armed Grunts from the USARiadna box and have weapons to excel at at any range band.
If you're an Ariadna generalist that isn't interested in the USA sectorial specifically, these guys are a pretty cheap way to bring some firepower. Unfortunately pretty cheap is still not as cheap as an HMG or LGL armed Metro or Volunteer. While similarly costed in army points their weapons cost only half an SWC, compared to the Grunts 1. The Grunts are a fair bit harder to kill though, and better shots. If you can spare that half point they're worth it.
The other two weapon choices are the more interesting ones. The Heavy Flamethrower Grunt costs no SWC, and he's one of only two models that can take this weapon in Ariadna. I think he can find a place in the USA sectorial or a regular Ariadna force. The Sniper might be even cooler. She has the Marksmanship LX ability to help with those really tricky shots against ODDs or models in cover. And she's seemingly the most modestly priced of the bunch at 18 points and only half an SWC.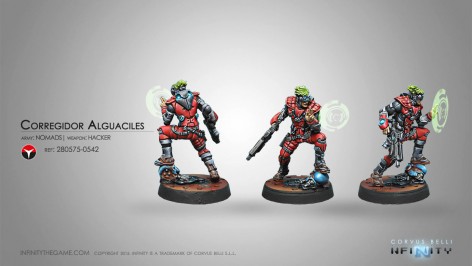 Corregidor players rejoice. This cheap hacker is now available outside of the sectorial starter pack. He might look like just a humble cheerleader, but WIP is one of the Alguacile's best stats so he should hack pretty good. He can't use any of the really fancy programs though since it's just a regular hacking device.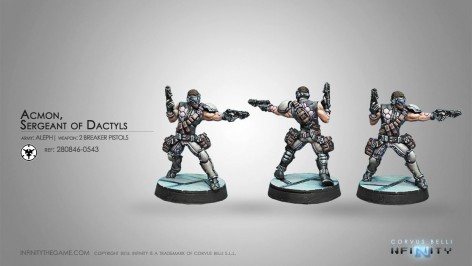 It seems like just the other day I was writing about Dactyls. So how does their Sergeant stack up? For 0 SWC and 27 Army Points, I'd say he's pretty mean. If you can get him in range to use them, those two Breaker Pistols will absolutely ruin a TAGs day. And would you believe… he has Nimbus Grenades to help him do just that. He even has a Panzerfaust, so he can be devastating at longer ranges too. Since he's an Engineer, he can also score you any objectives that involve Engineering or use of D-Charges. Seems like a damn good model to me.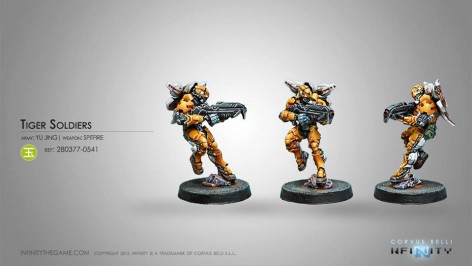 Last up we have this Tiger Soldiers These are only available in a standard Yu Jing army. Neither sectorial can take them. Which is too bad for you Sectorialists since they're impressive troops. Their BS is nice, and they have decent armor. They even have mimetism which is great because the backfield of your opponent's army is a risky place to be. This particular Tiger Soldier has a Spitfire to really clean up. It's a great weapon for an Airborne Deployment model since you should be landing in its best range band.  I also like the Boarding Shotgun Tiger Soldier, but there's no reason you can't field both of them. They're FA 3 so you can even bring the hacker version along too if you like – except that it hasn't been made yet. They're the only AD troops you can field in a standard Yu Jing force, so you might as well stock up.
~Hope you enjoyed the article. Which of these new releases is your favorite?