Beginner's Guide to 'Magic: The Gathering Arena'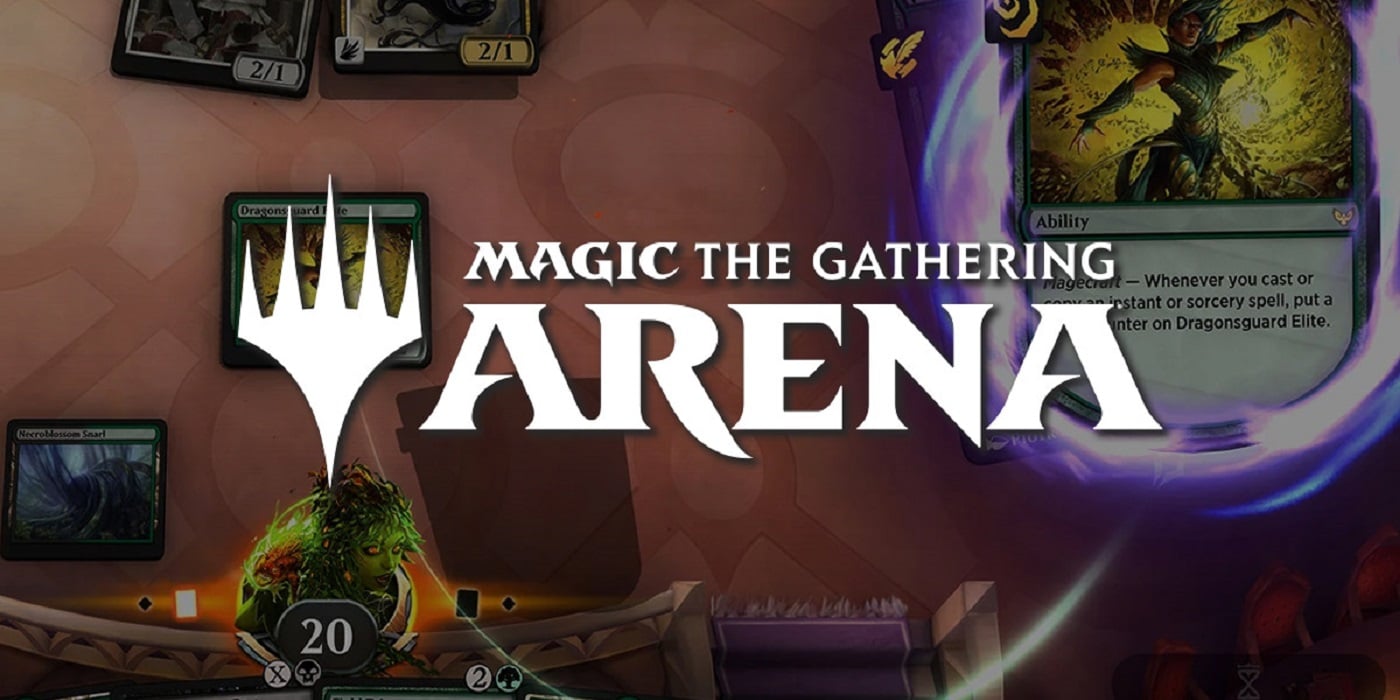 Magic: The Gathering Arena is the online way to play Magic that's free to play with tons to do! But how do you get started with MTG Arena?
Playing paper Magic can be tough. You never really know who you're going to find at Friday Night Magic and trying to get your friend group together is often easier said than done. If that sounds like you, why not check out Magic: The Gathering Arena?
Where To Play MTG Arena
Magic: The Gathering Arena is a fully online platform. It's available directly from Wizards.com, on the Epic Store, on mobile on Google Play, or from the Apple Store. So, pick your poison.
You'll need to set up an account, which takes only a few minutes.

Getting Started With MTG Arena
When you first open MTG Arena, you'll be greeted with some friendly and helpful tutorials. This will run you through the basics, but if you're just looking to jump in, we've got you covered.
Let's go over each of the main elements on the home screen.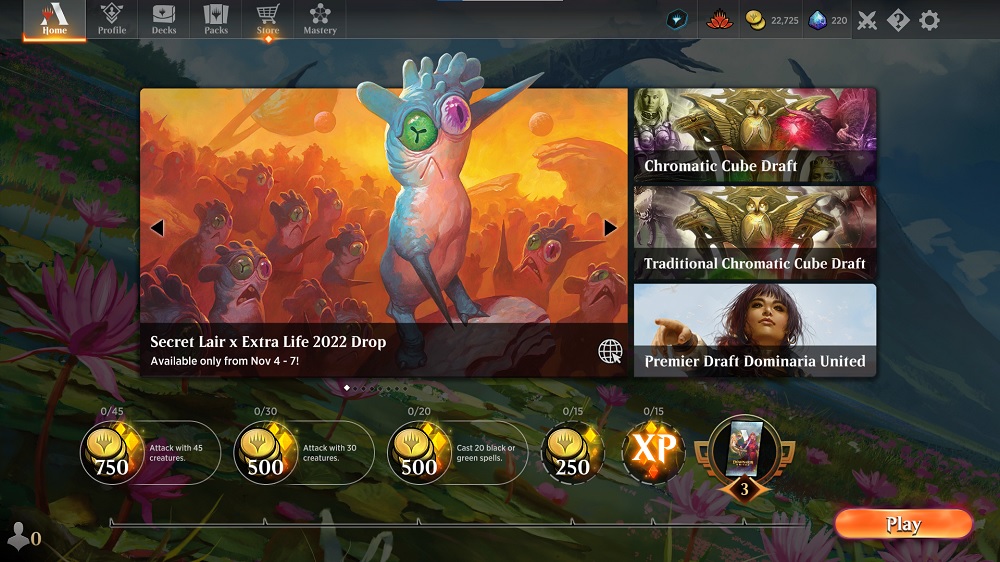 The home screen is your hub for navigating MTG Arena, but you won't really spend too much time on this screen specifically. Along the bottom are your quests and rewards. The 3 quests on the left of the bar rotate out daily, and you have the option to switch them out if you don't like one of them. These quests provide Gold, which we will get to later.
On the right side of the quest-bar are your rewards. The leftmost reward is your daily reward and provides gold for each win. The one to the right is your weekly reward and offers XP, and the rightmost circle tracks your XP into the listed reward. The rewards are tracked on the Mastery track.
Mastery and Rewards
Like many free-to-play games, MTGA uses a battle pass system, which they call Mastery.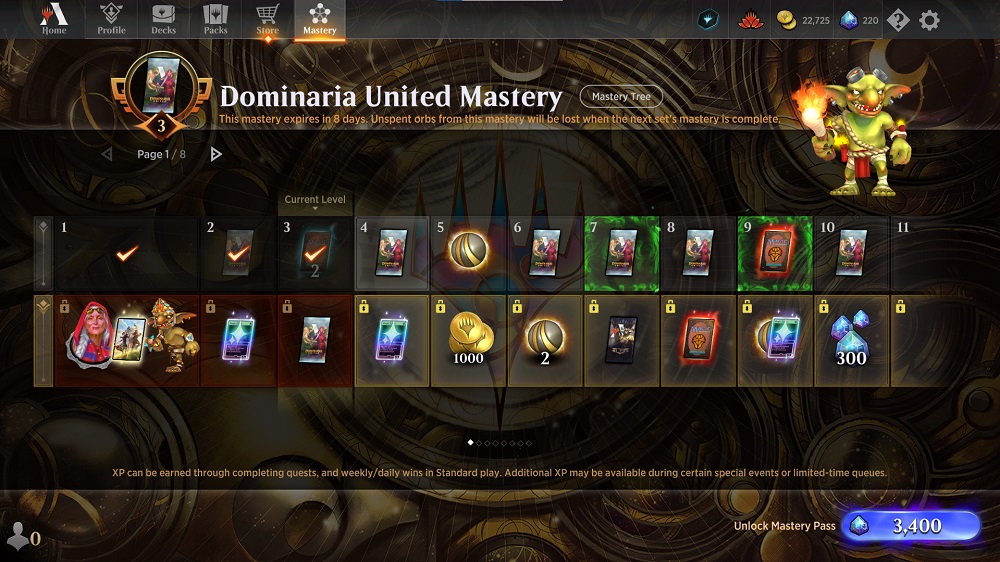 The free track is on top with an unlockable pass below it. Each time you level up your battle pass, you will gain the listed rewards. Rewards include things like free packs and cosmetics. MTG Arena has a lot of cosmetics, so be ready if that is your thing! You can get player avatars of your favorite planeswalkers, pets, card backs, unique card styles, similar to Secret Lair, and emotes.
The Mastery Pass is unlocked through Gems, which brings us to the store and currency in MTG Arena.
The Store and Getting New Cards
Magic: The Gathering Arena has two main currency types, Gold and Gems. They are both used primarily in the Store.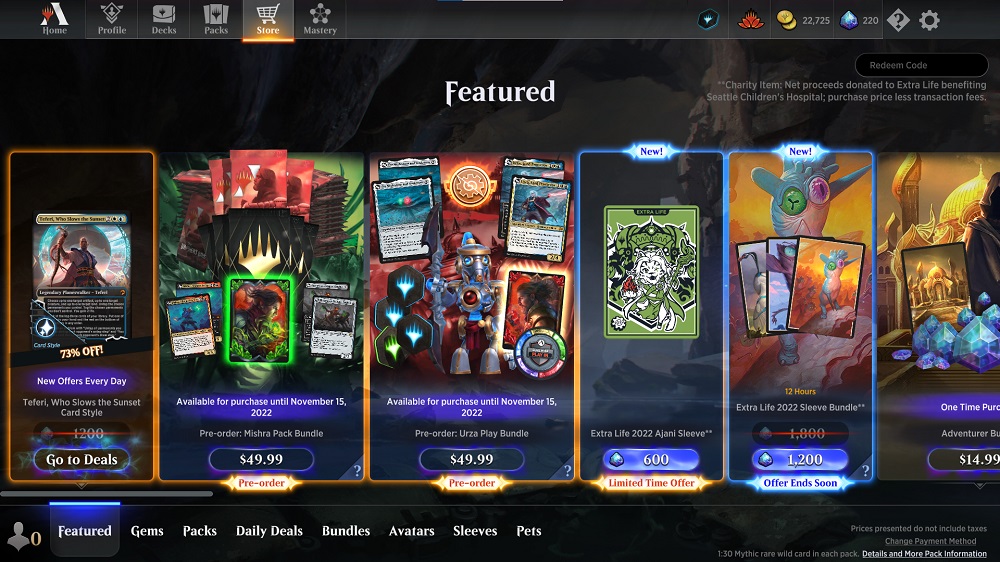 From the store, you can spend your Gold and Gems on various things, mostly cosmetics. But this is also where you can buy booster packs. They offer a variety of packs, but the basic idea is the same. You'll pick up a rare or mythic and a few uncommons and commons. All the cards you collect will go into your collection to build your decks.
Subscribe to our newsletter!
Get Tabletop, RPG & Pop Culture news delivered directly to your inbox.
You can also craft specific cards using the secret third currency, Wildcards. You'll collect Wildcards as you crack open more packs, and through the Mastery pass. The Wildcards come in 4 types, matching the rarity levels. Any Wildcard can be turned into a single card of that rarity, with no moving up or down. You can't turn a Mythic Wildcard into a Common card.
Deck Building in MTG Arena
If you played through the tutorial segment, you'll have a few basic decks at the ready. If not, you're probably pretty comfortable with Magic and don't need me to tell you the basics of deck construction.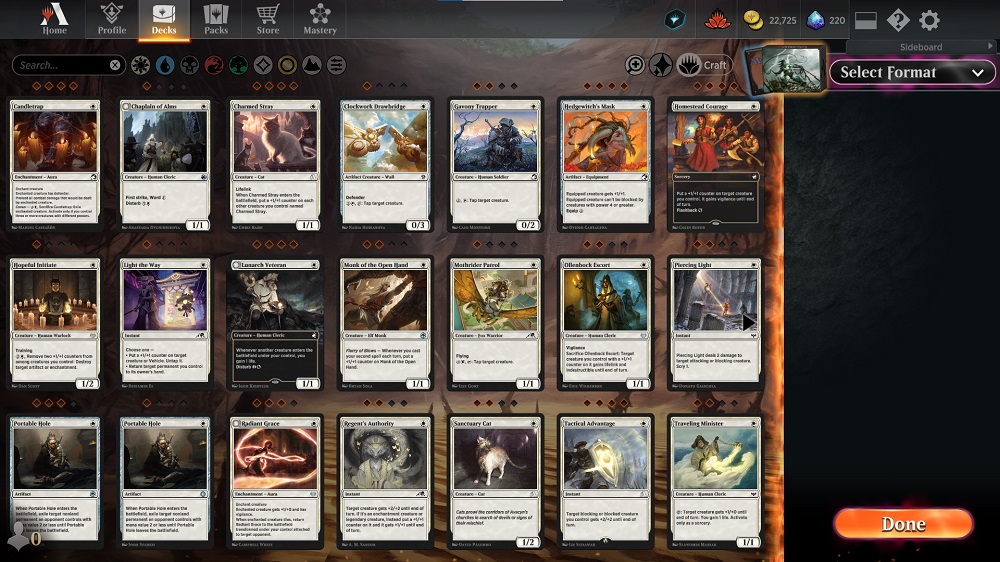 When you start building a new deck, the first thing you need to do is select a format in the upper right. MTGA is often toying around with the format options, but there are a few that are pretty Standard. There are really only 2 that are unique to MTGA
Alchemy – Alchemy is a special format that uses the fact that it is on a digital platform. There a several mechanics unique to this format, that mostly deal with hidden information. Like modifying cards in hand or library, without the worry of the possibility of cheating. It's quirky and fun.
Brawl – Brawl is Commander, just with 60 cards instead of 100.
Enough Boring Stuff, I Want to Play!
Fair enough. Once you got your deck built, it's time to play! Head back to the Home screen and hit the Play button in the lower right.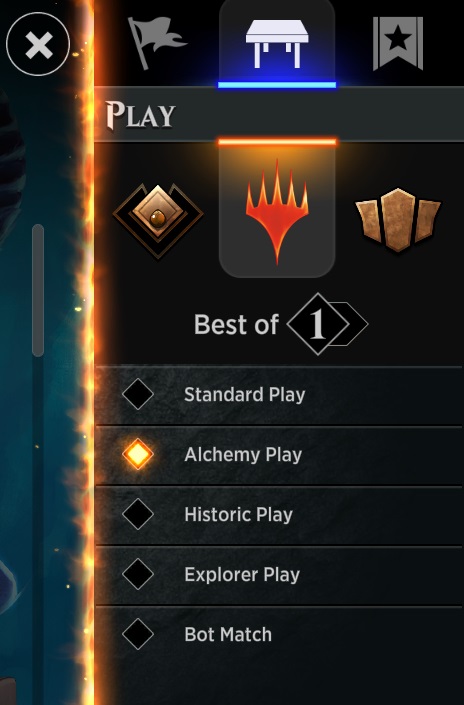 From this sidebar, you'll have the option to play any of the currently running Events (the flag icon), a random game (the table icon), or play whatever you did most recently (the star banner). Under the play tab, you'll have Ranked play on the left, normal play in the middle, and Brawl on the right.
For any play option, you can choose a single game or the best of 3 matches, and which format you'd like to play. As you shuffle through the option, your decklist will show the decks you have that fit that criteria. You might also see some decks with red or yellow icons. This means the deck is illegal in that format for some reason. Most likely cards in the deck have cycled out of rotation.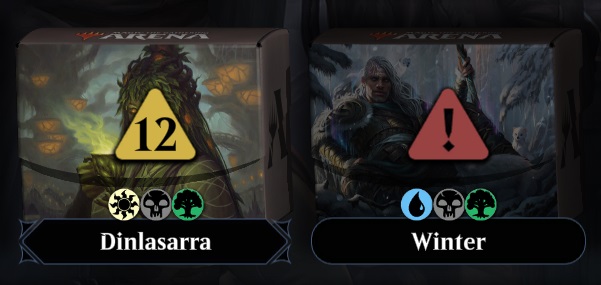 That's All, Folks!
Once you learn the bells and whistles, Magic: The Gathering Arena is a great place to play. Thanks to the Ranked play options, you can be sure you're going up against evenly placed players. And it's so easy to build your collection quickly, so you can really play around with different decks without needing to shell out tons of cash.
Plus, as a sucker for collectibles, there are tons of ways to customize your look for each individual deck. So, you won't have to be using your Vampire Bat pet with your Jaya Ballard brawl deck.
Can you even imagine?