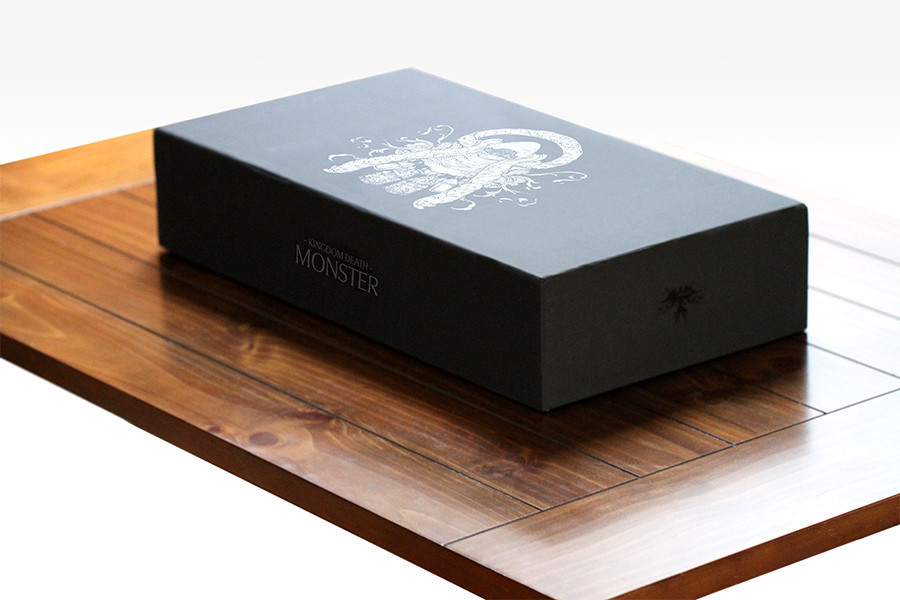 The wait is finally over. Monster is shipping. Join us as we take a dip into the void…
Hello again BoLS Readers, AdamHarry here with our unboxing of Kingdom Death: Monster – and it was totally worth the wait. This game is described as a "boutique nightmare horror board game" and that's the most elegant description I have for this game. Part board game, part campaign system, part RPG…and more. This game isn't just something that you casually pick-up and play. This is a game that takes a bit more dedication than a simple board game night with friends. And that's not a bad thing at all.
The miniatures and materials are all top notch. I don't even think I'm doing them justice by calling them that. The box by itself is impressive: it's a dark matte finish hides an intriguing logo that kind of gives me the creeps when I look at it…but I can't help but look! The models inside are all bare grey plastic but are more detailed than most modeling kits. We've talked about them before so I won't gush any more than I need to – but they are amazing. The rest of the printed materials really sell you on this ominous nightmare world you're unpacking when you open the box. It really is unlike anything else out there. Take a look:
We will be going over much, much more of Kingdom Death in the weeks to come. It seems like the right time of year for that after all. I'm hoping to bring you some actual game play of Monster in action – the game is dense but not unwieldy. It's going to take a bit of time to build the appropriate models, read the rules, sort the cards and punch out all the tokens but all that is part of the experience. I'm excited about the prospect of digging deeper into the world of Kingdom Death. I'm gathering my gaming group of players who are willing to take the plunge with me into the abyss – wish us luck…we'll need all we can get!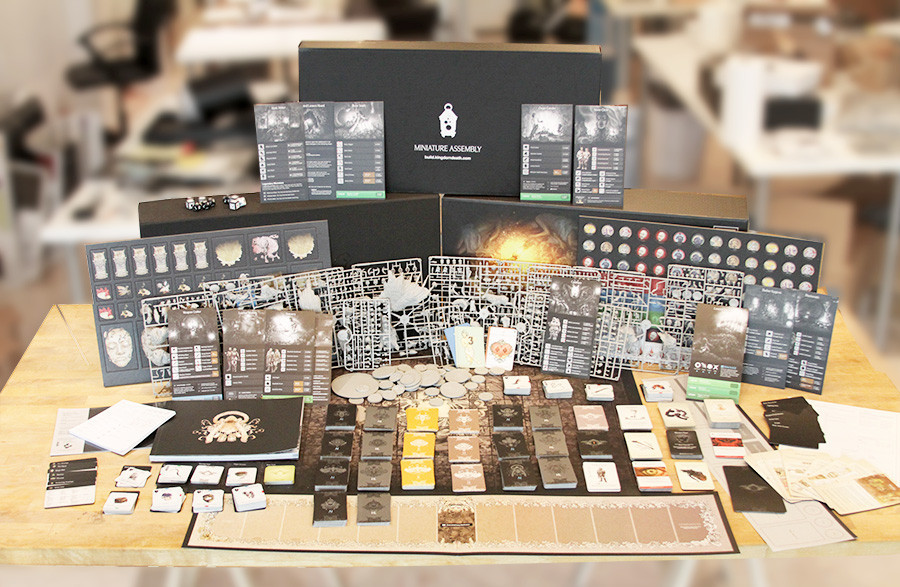 Kingdom Death: Monster is a fully cooperative tabletop hobby game experience. Unite to survive by hunting monsters and collectively guiding the development of your settlement through a 25 year, self-running campaign. Every choice – from each showdown space moved, each desperately crafted piece of gear, to what Principles your settlement upholds – can have lasting impact on this highly replayable and challenging game experience.
This game may not be for everyone or every gaming group. But for those of you out there who are willing to take that leap you will be rewarded. Having looking through the campaign system a bit more after we unboxed everything, I can tell there is a rich gaming experience to be had. Our GenCon Demo barely scratches the surface but at least you'll get to see some of the basic combat mechanics in action:
Monster is going to be a fun, challenging experience in a dark nightmarish world. Things go bump in the night and they want to eat you and your friends. But based on your choices in game sometimes the Monster might be you…
Looking for a gaming experience unlike any other? Pick-up a copy of Monster…Just be sure to lift with your legs and not your back.