X-Wing: The Scarface Corsairs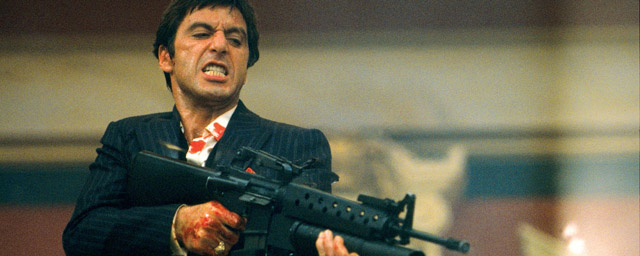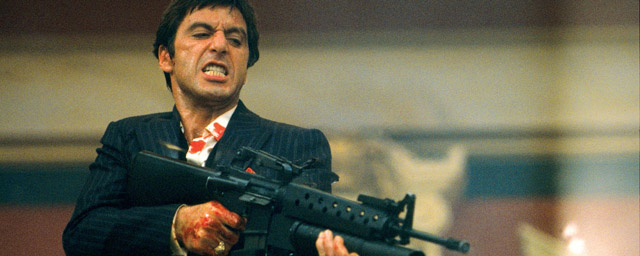 Some times inspiration comes from weird places. List building with Scum & Villainy is no different.
Hey BoLS Readers & Star War Fighter Aces! AdamHarry back with another fun theme list that brings the PAIN. It's no secret that I've been experimenting with Glitterstim lists. I think Scum & Villainy has one of the most devastating Alpha Strike options available. Glitterstim + Cluster Missiles is brutally effective. However, I did find some issues with my previous delivery methods and after more tweaking I've got a list I'm pleased with.
I also stumbled on to some fun facts which I wanted to share. But really it all started with the latest meta-cheese* – a Scum Y-Wing + Twin Laser Turret. I was doing some poking around with the different Y-Wing options and I stumbled upon Kavil who is the most expensive Y-Wing option for Scum starting at 24 points. He's a respectable PS 7 but his ability is just plain mean when combined with the TLT.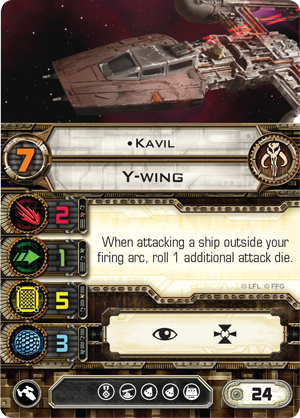 Notice, that doesn't say anything about primary or secondary or a restriction on once per turn. It's all the time. So that means when you take your TLT out for a spin you're now rolling 4 dice per attack, with 2 attacks. Now your potential damage stays the same – that's okay! We're just increasing the odds (which you should never tell me) of scoring those two points of damage. It's also great for picking off targets with high agility or stealth devices.
This seemed like a natural fit so I had my starting point. Then I did some more research and was reading up on Kavil himself. Then I found a picture: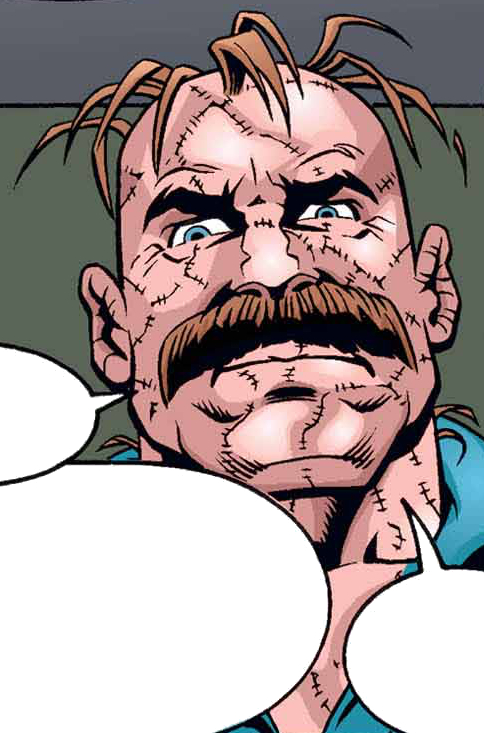 Courtesy of Wikia
I thought to myself "Wow, I didn't know Star Wars had a Scarface…" and then it all clicked.
The List: Say Hello to my little friend, 100 points (Scum)
Kavil, Y-Wing – 36 points
Veteran Instincts
Engine Upgrade
Twin Laser Turret
Unhinged Astromech
Black Sun Ace, Kihraxz – 32
Subscribe to our newsletter!
Get Tabletop, RPG & Pop Culture news delivered directly to your inbox.
Predator
Cluster Missiles
Glitterstim
Black Sun Ace, Kihraxz – 32
Predator
Cluster Missiles
Glitterstim
The way I look at it, Scarface is in his element with a big machine gun and two attack dogs ready to pounce. Kavil is moving near the end, if not last with his now PS 9 and he's firing first. This is to help setup the kill shot from the Aces.
Say you have a pesky high-agility TIE like the Phantom or Interceptor with a Stealth Device – those 4 dice you're rolling to hit vs their 4 evade dice are suddenly tipped in your favor. And you've got 2 shots to do it. If just one point of damage connects you've dropped their stealth device which is a win in my book.
The Engine upgrade is there because that extra boost move can get you in just the right spot when you need it – or get you out of a bad situation if necessary. The Astromech is there because turning ALL of your 3 maneuvers green in the "sluggish" Y-Wing throws a curve ball in anyone's plans.
For the two "Attack Dogs" I had to go with the Glitterstim + Cluster Missiles. After you get a Target lock you sweep in for the kill shot and it's a bad time for most pilots. If your opponent went the cheap/swarm route, you're going to delete ships from the game. Just don't forget your RE-ROLL (or TWO if they are low PS) from Predator AND to use the Glitterstim at the start of your combat phase. It's upping that damage output to crazy levels.
I also like going with the Black Sun Aces because they are PS 5 – and in our local meta people are going with the cheap, low pilot skill ships more and more. That's just how it's going here so Predator becomes much more efficient for the points. Each Ace is putting out 6 dice in one turn and you're getting to re-roll up to 4 of those dice. All you need is a hit, crit or focus when it's Glitter-time. It's going to be Ouch-town, population: Your Target.
"Say Goodnight to the BAD GUY!" What do you think X-Wing Aces? Do you have any fun combos with Glitterstim or Kavil you want to share? Let us know in the comments below, AdamHarry OUT!
*I don't actually think it's cheesy. I think X-Wing is really well balanced and everything has good, viable counters – the TLT is just the fancy new fad that is hot right now and people are freaking out. But that's how it goes…