Horus Heresy: Primarch & Hardcover Holiday Deals!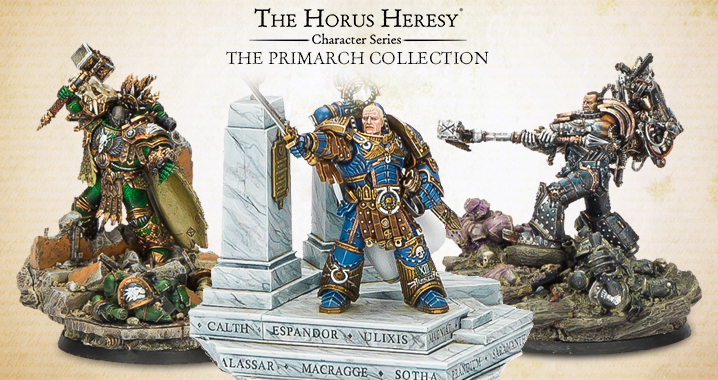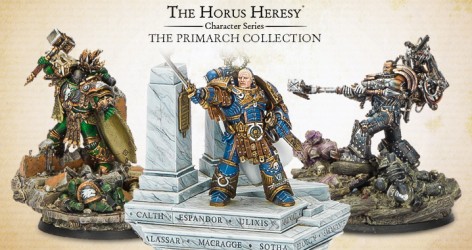 Forge World rolls out Primarch and Horus Heresy hardback deals and bundles in time for Christmas – Get in here Heresy fans!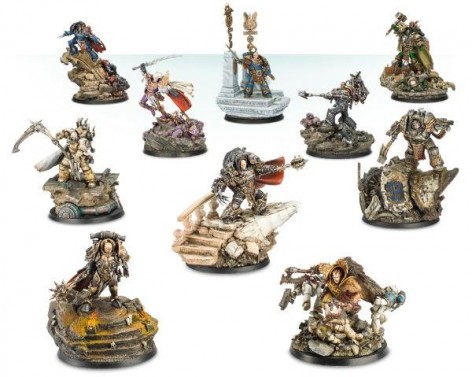 Make the most powerful warriors of the 31st Millenium part of your collection.
"This collection brings together all 10 Primarchs currently available from the Horus Heresy Character Series. Each is a highly detailed model including a removable, scenic base and is presented in a stylish Horus Heresy Character Series box. It includes; Angron, Primarch of the World Eaters; Ferrus Manus, Primarch of the Iron Hands; Fulgrim, Primarch of the Emperors Children; Horus the Warmaster, Primarch of the Sons of Horus; Konrad Curze, Primarch of the Night Lords; Lorgar, Primach of the Word Bearers; Mortarion the Reaper, Primarch of the Death Guard; Perturabo, Primarch of the Iron Warriors; Roboute Guilliman, Primarch of the Ultramarines; and Vulkan, Primarch of the Salamanders."
Buying the primarchs separately costs: £615, you save £15 (about $22.50) on the bundle!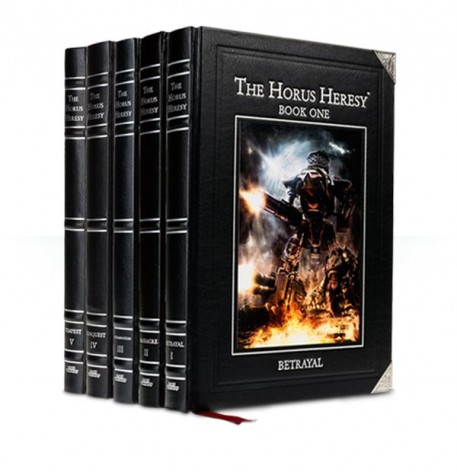 "The Horus Heresy Collection comprises of all five Horus Heresy books from Forge World; Book One – Betrayal; Book Two – Massacre; Book Three – Extermination; Book Four – Conquest; and Book Five – Tempest. These lavishly printed, leather-bound books contain extensive backgrounds, unit profiles for the Legiones Astartes and other Imperial armies, campaigns and rules for fighting Warhammer 40,000 battles in the Age of Darkness."
Buying each book separately costs: £376, you save £26 (about $39) on the bundle.
Subscribe to our newsletter!
Get Tabletop, RPG & Pop Culture news delivered directly to your inbox.
So the clear winner bundle wise is the book bundle which gets you a 7% discount, as opposed to the anemic 2% discount.  In any case, keep the holiday bundles coming Forge World!
Also, don't forget your Horus Heresy Weekender ticket:

The Horus Heresy Weekender is the ultimate, most exclusive event for any fan of the cataclysmic battles of the 31st Millenium. Taking place at The Nottingham Belfry Hotel on Saturday 6th and Sunday 7th February, tickets are limited to just 350, so order yours now!

This ticket will be sent with free shipping.

When doors open at 9.30am on Saturday you'll receive a limited edition bag with your event programme and more goodies. From then on you'll be able to get hold of exclusive products available for the first time; meet the writers, artists and designers behind the Horus Heresy; find out all about the Horus Heresy and what the future holds in fantastic seminars; learn new skills from our painters and designers; take on new opponents in the gaming room; and prove your mental prowess in the Horus Heresy Quiz.
Which Primrch model do you think is the best and worst?