BoLS Unboxing: Terra Tiles: The Misty Moorlands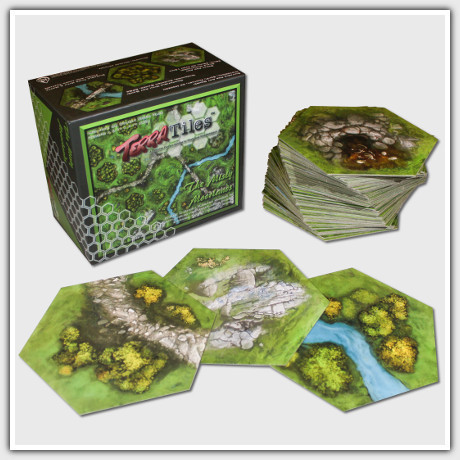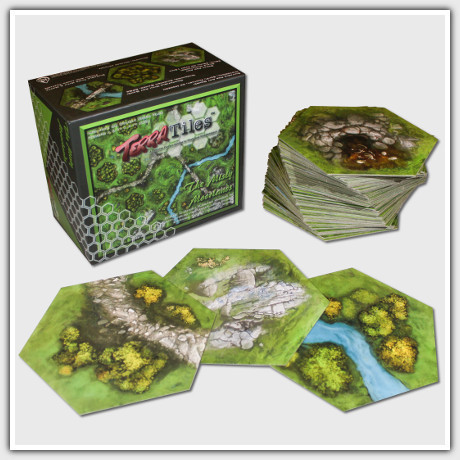 Join us as we take a look at RAINN Studios' new modular Tabletop Terran System!
Hey BoLS Readers, AdamHarry here with a quick look at Terra Tiles: The Misty Moorlands from RAINN Studios. If I'm honest – I was a little skeptical at first, but after taking a look at the tiles first hand, the art and the quality have won me over. Take a look:
Once I got a look at the tiles and actually created a "map" with them I could see exactly what to use them for. I want to play on these tiles for any RPG that involves outdoor combat. I would even use these for any game system that used a tape measure. Because of the double sided nature of the tiles, these would be a perfect system for general wargaming as well. If you're playing with abstracted terrain rules (Warmachine/Hordes) these are ideal for that. Elevation can be simulated by simply stacking tiles so you get a nice uniform look. But don't take my word for it. Here's what RAINN Studios had to say:
via RAINN Studios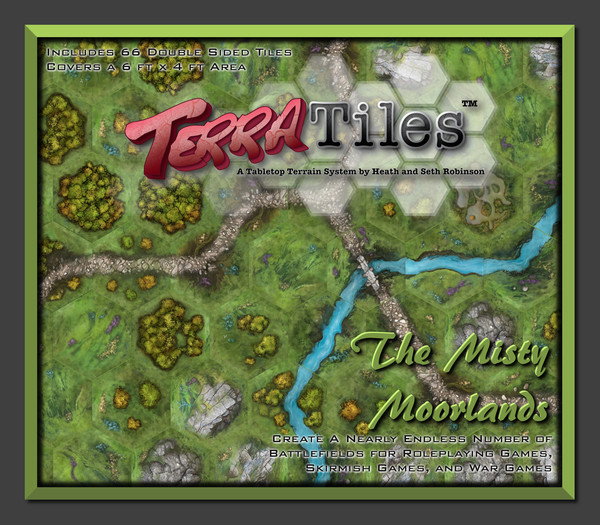 TerraTiles: The Misty Moorlands is a tabletop terrain system that will let you spend your time gaming instead of making terrain. Each box contains 66 double sided tiles that depict a wide array of terrain features such as open grasslands, forests, rocks, streams, and more! Quick to set up, and easy to take down, TerraTiles is ready right out of the box to turn your whole table into an awesome battlefield regardless of what game you play. There's nothing to assemble, paint, or flock, and the terrain itself doesn't get in the way of your miniatures during the game. In short, TerraTiles is fantastic terrain without the hassle!
Quick Set-Up – You can cover your table quickly and easily, because each hexagon measures nine inches from corner to corner.

Variety – Keep your games fresh and exciting! There are nearly an infinite number of ways to assemble a TerraTiles board

Compatible with Any Game, Genre, or Scale – Use TerraTiles for Warhammer Fantasy, Warhammer 40K, Dungeons and Dragons, skirmish games, RPGs, and all of your miniature gaming.

Easy to Store and Transport – TerraTiles takes up no more room on your shelf than a regular board game.

Subscribe to our newsletter!

Get Tabletop, RPG & Pop Culture news delivered directly to your inbox.

Compatible with Your Standalone Terrain Pieces – Place your buildings, trees, and other terrain pieces right on top of TerraTiles!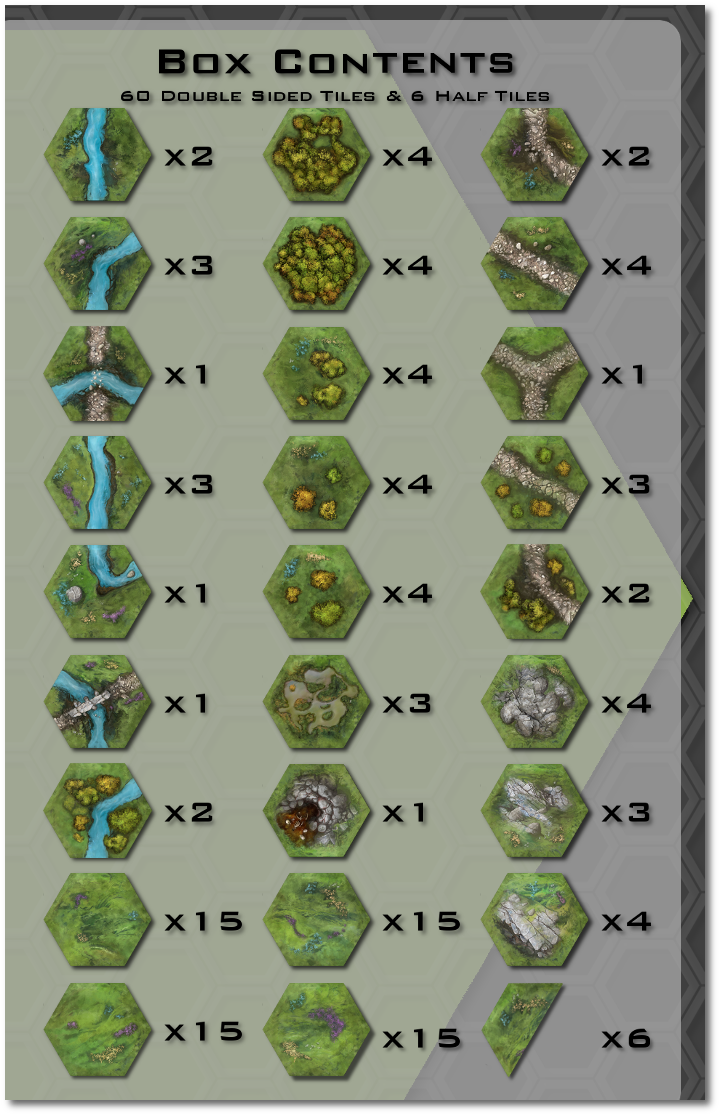 66 double-sided – enough to cover over 24 square feet

Open grasslands, forests, rocks, streams, marshes, and more

Durable material with a matte finish and linen texture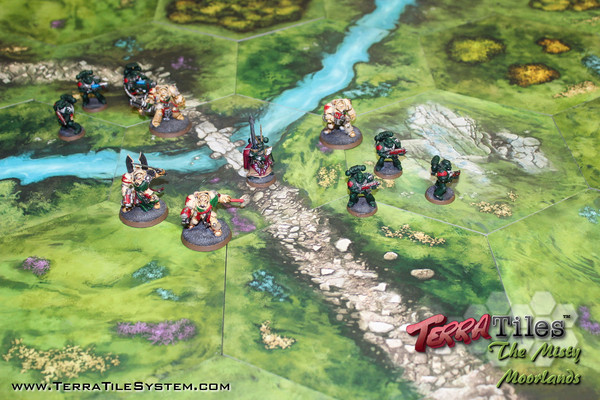 I'm just gonna take cover behind these Happy Little Trees ~Bob Ross
[mepr-active memberships="290601, 290602, 290603, 290604" ifallowed="hide"][/mepr-active]