CMON: Arcadia Quest: Inferno – There Be DRAGONS!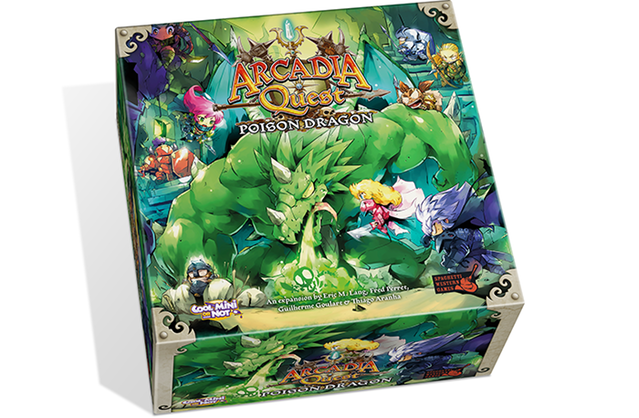 Arcadia Quest's Kickstarter is rocking! Backers just unlocked another expansion for the game – check it out!
The Arcadia Quest: Inferno Kickstarter passed $1 million today thanks to all of our wonderful Arcadians! Backers have unlocked a ton of extras so far, including new heroes, monsters and the recently announced Whole Lotta Lava Side Quest. As a thank you, we want to introduce another new and free expansion: Arcadia Quest: Poison Dragon! This deadly foe joins the Frost and Chaos Dragon to bring new, high-level terror to Arcadia and its Heroes. The Poison Dragon turns the streets of Arcadia into a hazy gauntlet of deadly fumes, weakening heroes as he snuffs all life in the city.
The new expansion will unlock over a series of Stretch Goals. At $1,050k, backers will receive the epic Poison Dragon figure and cards. Then, once we reach $1,075k, everyone will get the Poison Dragon Game Tile and Tokens. The exclusive tile is double-sided to fit with either the original or Inferno's campaign. And last but not least, if we reach the $1,100k goal, the complete expansion will be rounded out with the expansion's Item, Upgrade and Dragon Turn cards and a box for all the other unlocks.
The full Arcadia Quest: Poison Dragon expansion includes:
1 Dragon Figure

1 Double-Sided Tile

24 Level 6 Upgrade Cards

2 Relic Cards

Subscribe to our newsletter!

Get Tabletop, RPG & Pop Culture news delivered directly to your inbox.

14 Dragonstone Cards

24 Dragon Turn Cards

20 Poison Tokens

2 Dragon Monster Cards (Tarot-Sized)

1 Rulebook/Campaign Booklet

1 Dragon Power Card
Unlike the previous two Dragon expansions, the Poison Dragon is only available for Arcadia Quest: Inferno Kickstarter backers, so it will not be on sale at a later time. Thank you for backing! For more details and to back Arcadia Quest: Inferno, go here.

For more about the original Arcadia Quest, click here.

For more about CMON's other titles, click here.

Stay up to date with the latest news and contests by following us on Twitter!
With only 3 days left to get in on the Kickstarter Action, you might want to jump in QUICK if you've been on the fence!

Check out their Kickstarter for all the different pledge levels, rewards and GAMEPLAY VIDEOS like this one:
Arcadia Quest – Get it while it's HAWT!