HOBBY: Dark Age – Painting Forsaken Flock Pt 1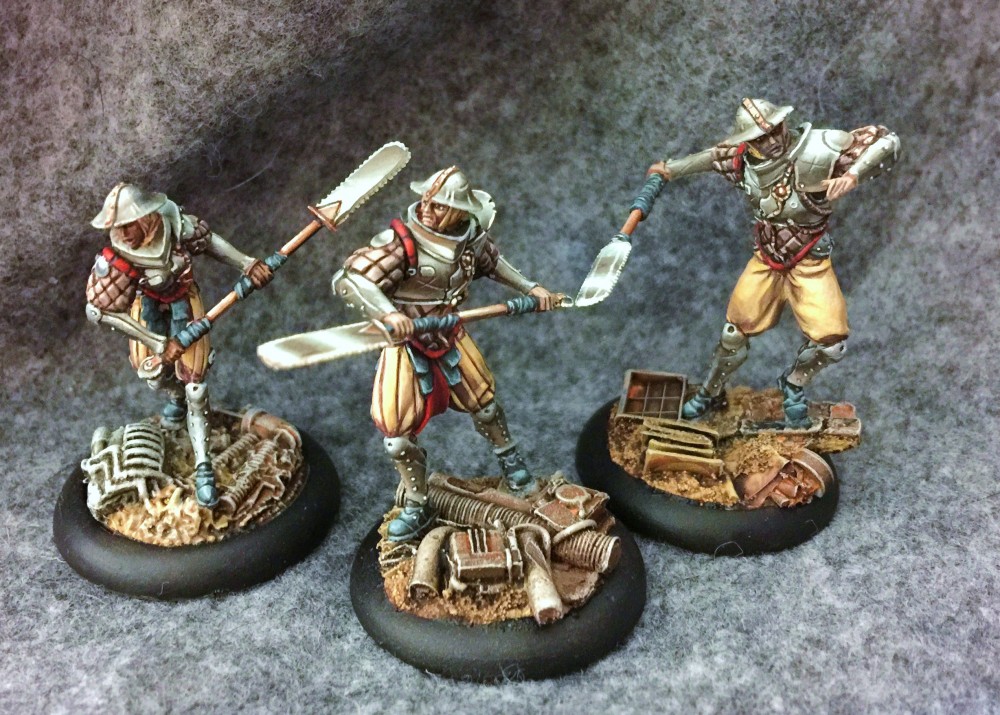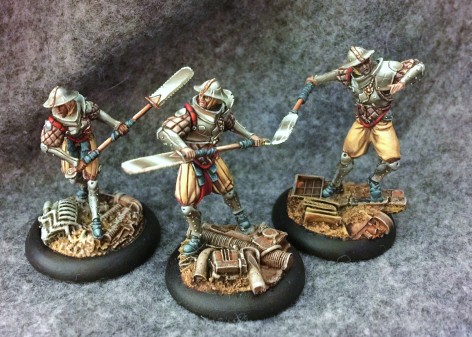 Today I'll be painting some of the lowliest troops in the Forsaken army: the Flock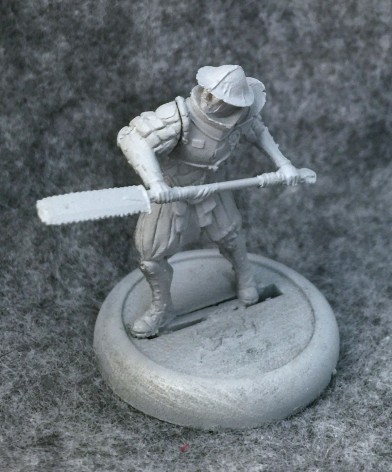 The Flock are made up of any Forsaken who couldn't cut it in the military but nonetheless possess a zeal that drives them to serve. Forsaken Commanders will have local Shepherds round up whatever Flock they can to assist with their campaigns.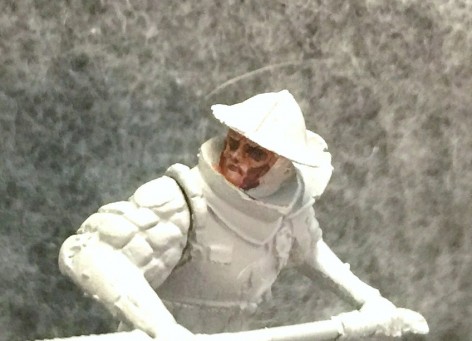 I start with the face. It's always best to begin with the most recessed parts of a mini. There are four different colors used here. The base coat is Idrian Flesh, which is highlighted with Menoth White Highlight, and shaded with a mix of Umbral Umber and Exile Blue. The idea is to get the kind of rough tanned appearance you'd expect from someone unfortunate enough to live on the hell hole that is Samaria.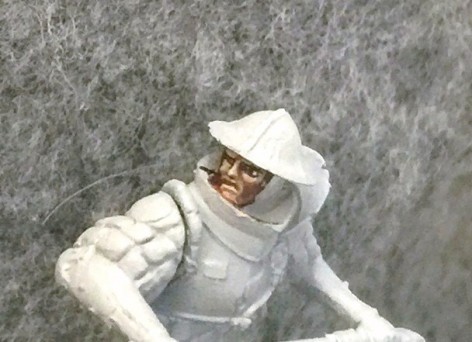 I clean it up a bit and add pupils.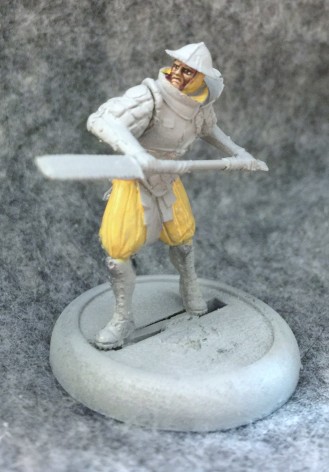 After a little more blending on the face I start on the pants and cowl. I used Sulfuric Yellow for the basecoat here. I hadn't used this color before and wasn't expecting it to dry looking quite this yellow, but I decided to stick with it. In the end I think the results worked well.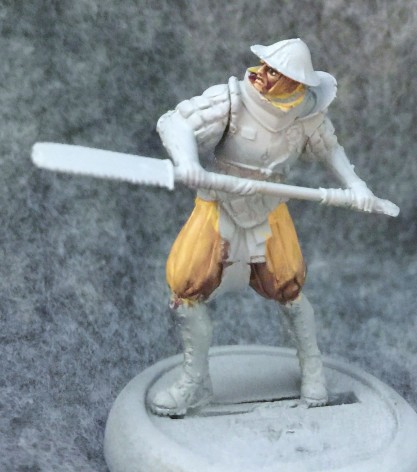 I begin adding some shading with a mix of Umbral Umber and Beaten Purple.
Subscribe to our newsletter!
Get Tabletop, RPG & Pop Culture news delivered directly to your inbox.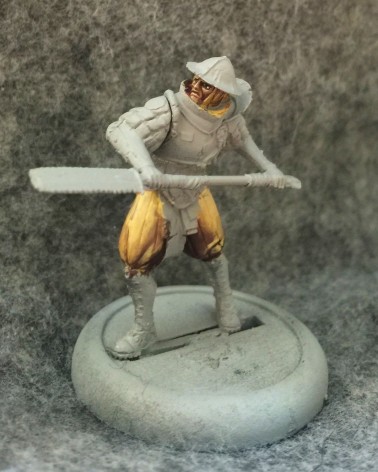 I further define the shading and add some highlights with Menoth White Highlight.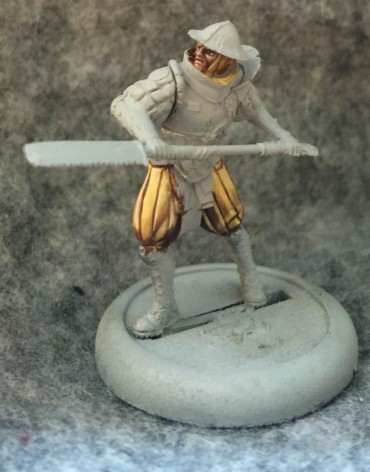 Then each of the pleats gets a line of highlight with a mix of Menoth White and Sulfuric Yellow before the lines are filled in with that same Beaten Purple/Umbral Umber mix.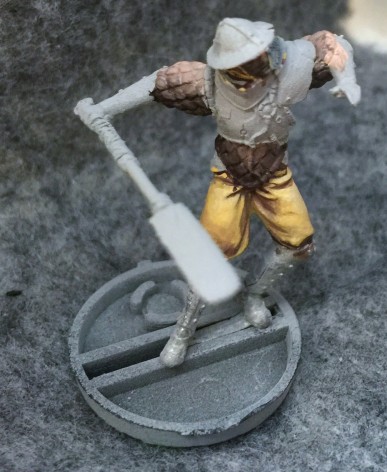 Then its on to the leather padding. The whole area is given a basecoat of Umbral Umber. This is shaded with a mix of Thamar Black and Ordic Olive, then highlighted up with Ryn Flesh.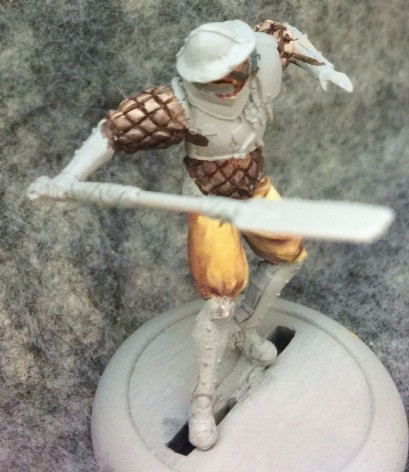 The Black/Olive mix is then painted into every crevice.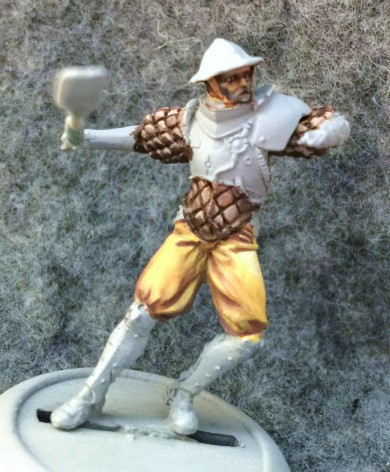 Then the upper ridges on all the padding get a line of highlight with Ryn Flesh. In darker areas, some Umbral Umber is added to the Ryn Flesh to keep this highlight from having too much contrast.
~Hope you enjoyed the article. I'll cover all the metal areas in Part 2, which should be coming soon.