Mercenaries: Sergeant Nicholas Verendrye 101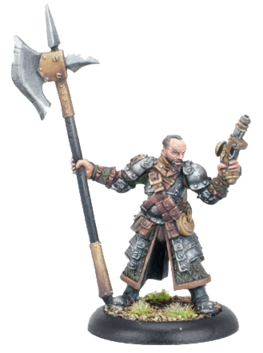 All steelheads rejoice.  You might live a little longer and see the field a little more.  Sgt. Nick is a new mercenary solo that can give your steelheads a boost on the field.  
The Basics
This guy packs a great list of abilities that can keep steelheads in the action. He is a commander so you can use his leadership for pesky command checks. Field Medic is a small bubble that gives out tough to friendly faction models. Steelheads get defensive line when in his command range. This probably wont do much for the foot steelheads outside some blast damage but, it is a nice buff for the heavy cavalry.
Using Sgt. Nick
On the downside Sgt Nic is pretty easy to snipe out.  Be sure to keep him out of lines of fire so your steelheads can stay buffed longer. He works for everybody that the steelheads work for and I would definitely consider including him if you are going to include steelheads.  Cygnar can make the best use of steelheads as they survice longer with arcane shield, deflection, and deceleration.  Protectorate might like them as they have decent buffs and the protectorate ranking office can help these guys with other issues.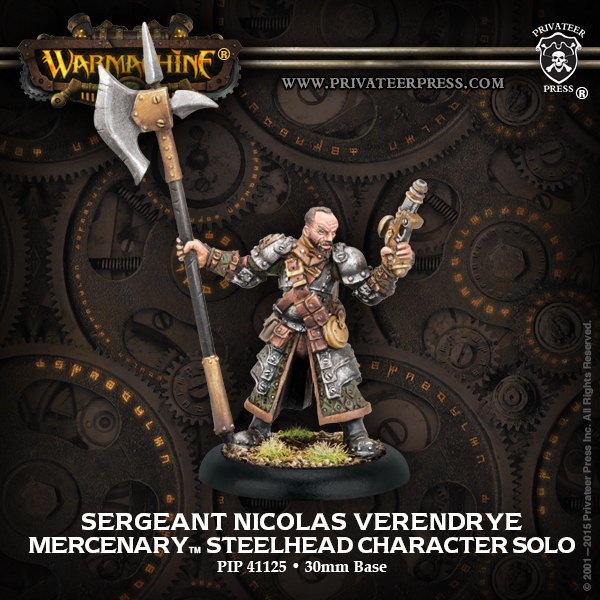 A former physician who has turned his skills to the ceaseless conflicts of western Immoren, Sergeant Nicolas Verendrye is highly esteemed by those under his command. Verendrye has found his place in the bloody press of melee, employing his medical expertise to keep his men standing and using his keen battlefield acumen to lead them to victory.
~What do you think of the new solo BoLS?  Will this merc make it into your list?  Please share with your comments below.
Subscribe to our newsletter!
Get Tabletop, RPG & Pop Culture news delivered directly to your inbox.