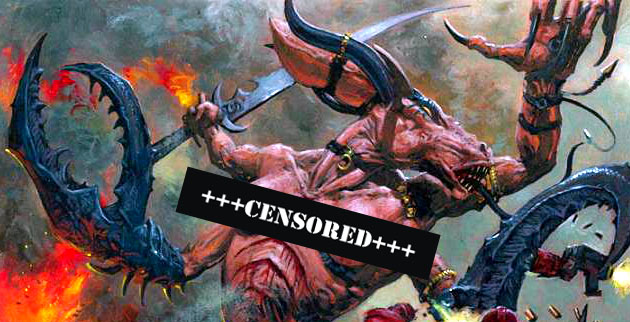 Take a look at the massive upcoming Chaos Faction book and the latest on the Prince of Pleasure. You can't resist mortal!
The upcoming Chaos Faction Battletome is the talk of the tubes today.  Here's the latest images of the book and even more about what it contains beyond the simple warscrolls.  The followers of Slaanesh are running wild without their master!
images via Spikeybits forum's Scanner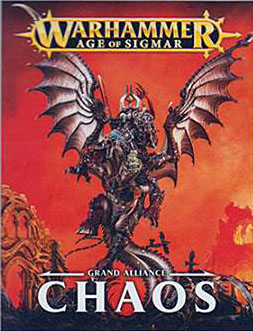 The Cover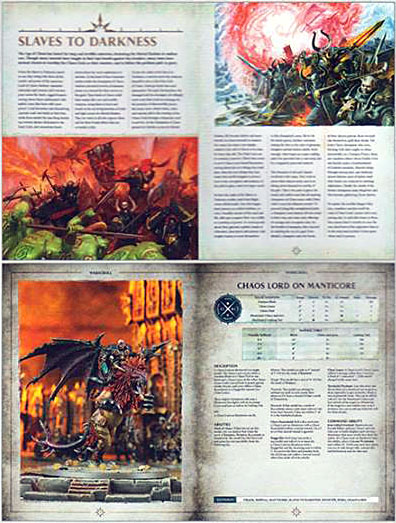 Sample Spreads (above) & Description (below)

via Warseer's Archibald_TK
"So there is definitely fluff in the book. I which quantity I can't tell but apparently each faction will get at least one or two pages of fluff. In addition the book goes deeper when it comes to some of them. For example Slaanesh Hosts have 24 pages for themselves. The surviving followers of Slaanesh are now separated between Pretenders, Seekers and Invaders. Each have their own specific way of either venerating or aiming to replace Slaanesh.

If you wonder if Slaanesh followers are now more PG13, here is an excerpt from a page called "Unbound Revel", at least what I can read without a microscope:
"Counted among the most powerful of the Invaders, the Keeper of Secrets Xia'slae'shesos is dedicated utterly to the expression of his most twisted urges upon mortal flesh. He has surrounded himself with an army of degenerate pleasure seekers, whom he leads in monstrous rampages across the realms"

Still from what I get, you shall not expect vast and deep fluff or side stories."
I really hope to see Age of Sigmar move to the cheaper softcover format to help ease the price of entry for new players.  It's one thing for 30 year old 40K to be the premium game out there. It's quite another for 7-month old Age of Sigmar to think they can charge Ferrari prices right out of the gate.
If you were a betting gamer – do you think Slaanesh is coming back?