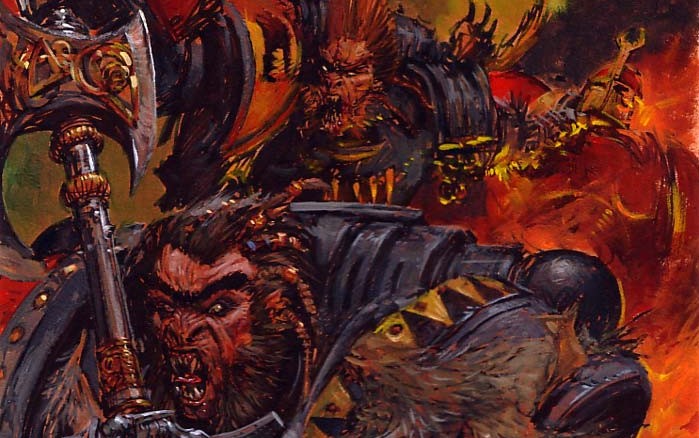 These Wulfen are amazing. I'll never buy another terminator again! Let's dive into the rules!
There seems to be some contention at the time of writing on the STR of these figures based on the latest blurry rules images. Way back in the Eye of Terror campaign they were STR 5 so for the purposes of this article, where relevant, we're going to go with that.
So Many Rules!
Their special rules are what Possessed should aspire to have and rival the Death Company from the Blood Angels.
Rage
ATSKNF (And they shall know no fear)
Curse of the Wulfen
Counterattack
Acute Senses
Feel No Pain
Bulky
Death Frenzy
Leaping Bounds
Huh?!
Death Frenzy allows for these guys to swing in close combat even if they have been killed and allows them to attack AGAIN if they have already swung earlier in the round. Wow.. I can't see a reason to not equip these guys with a Thunder Hammer and Storm Shield for an additional 20 points.
This rounds them out at 50 points a model and this is the reason I'll never buy another terminator again.
Leaping Bounds allows the Wulfen to Run and Charge and allows them to re-roll failed charge rolls. Jeeze oh Pete.. This doesn't make them quite as fast as wolf cav but it certainly puts them in the same category.
The Wulfen Have TWO Wounds
That alone is justification to include them in lists. The models have a slight handicap as they come with a 4+ armor save. I guess there is just too much fur to justify a full 3+ but since you can buy a Storm Shield I barely think this plays at all.
These guys have 3 base attacks and that means they will pretty much always be swinging with 4 due to counterattack.
Every model has the option to upgrade their combat equipment. The juicy stuff isn't reserved for a Vet (see what I did here?) or Pack Leader.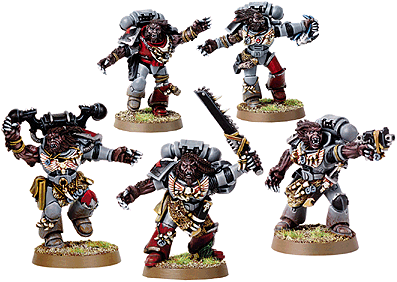 Minimal Downsides
Bulky – who cares? They are expensive so you won't take too many anyway and the fact that they can take a Stormwolf as a transport is great since it has the capacity to carry around all you need. A pod or Rhino or an allied Storm Raven can carry just enough. The fact they swing in death and have two wounds means that you're basically getting 3 dudes for the price of one. I'm not a scientist but that seems like a bargain at twice the price.
4+ armor save – again who cares? These guys are not going to die to small arms fire due to 2 wounds and Feel No Pain. Buy them a Thunder Hammer and Storm Shield for 20 points and move on with your lives, never worrying about the fact they have a lesser save.
These guys are a PERFECT complement to Thunder Wolves and Iron Priests. Space Wolves are going to be able to dish out tons of quality high STR/ low AP attacks.
The models themselves leave a little bit to be desired ( a lot bit) but they will be plastic and easy to convert/kit out with bits you like or whatever. The Space Wolves are blessed with no shortage of bits on their spures.
With a good formation – we know we will get – I can see these guys making it into a ton of lists.
I know the Space Wolf players are loving them. What do you non Wolf players think?
We're going to be talking about this on episode 131 of Forge The Narrative along with our normal hobby banter.