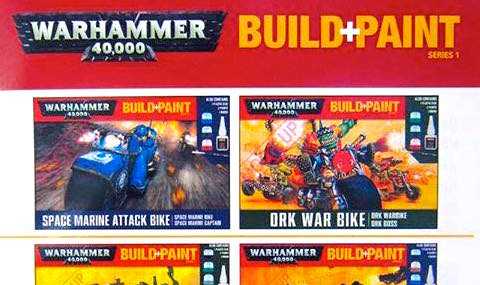 Come see the latest word from GW themselves on their new Q4 2016 GW line of 40K products.
Here's a quick recap of Yesterday's HUGE NEWS:
images via Tiny Plastic Spacemen 1-27-2016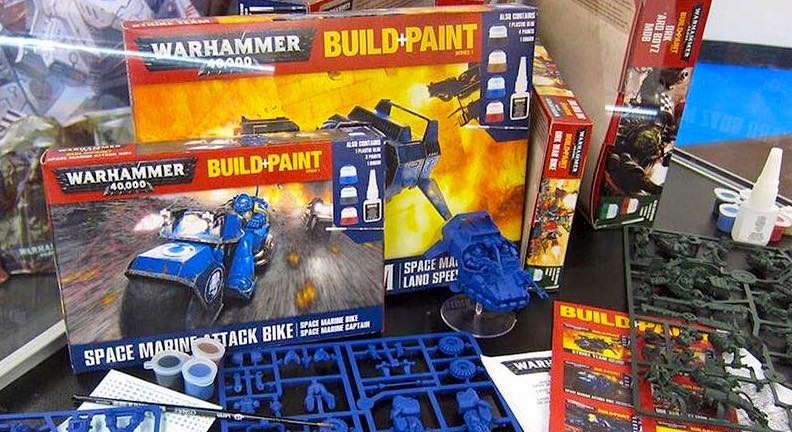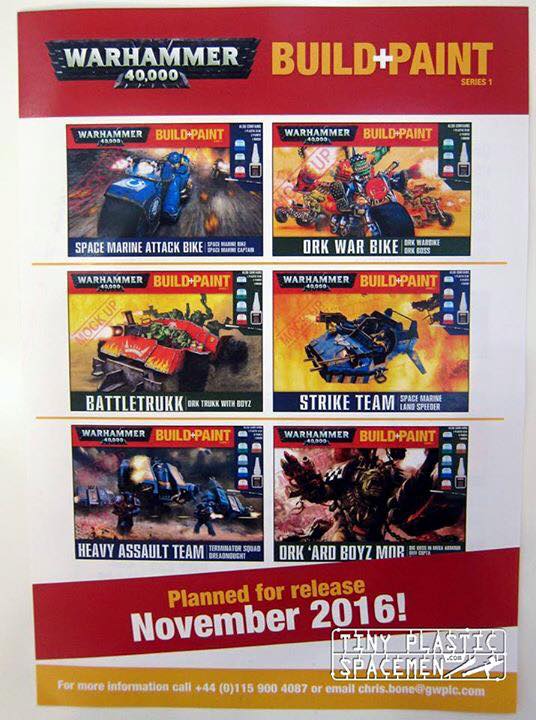 Facebook user Chris Smith got these images at the Nuremberg toy fair.  These pictures show a new line of Games Workshop "Build & Paint" kits that look to be aimed specifically at toy and model shops.
Here's the basics:
Colored plastic, removing the base coating step for some of the kits.
Very small simple GW kits with few parts.
Paints, glue and brushes included.
Good pricepoint for all the hobby gear included.
November 2016 Targeted release.

GW Elaborates On Plans
Today, the guys at Tiny Plastic Spacemen went back to GW's booth and asked them directly what thier plans were for the new range.  Here is what they were told:
"…We've been to talk to the GW guys just now and spoke with the person who is the main contact that is listed on the flyer. GW *are* aiming to get into big-box, high/main street retailers as well as 'normal' model & hobby shops.

Box art is not finalized, neither are the actual contents, so the sprues, sprue colors and paint colors are subject to change. I was even asked if the sprues ought to be colored blue or green (I think they should). They're not aiming these sets at gamers or even 40K players, the guy I talked to reminisced with me about playing with his Airfix models fighting dinosaurs and getting blown up by Action Man howitzers. These are for little kids to spot next to the Airfix sets in hobby and craft stores and potentially bigger retail chains as well.

We asked if AoS/fantasy boxes will come and that will depend on requests and demand. Probably no new molds, they're looking at existing molds only at the moment…."
So just as we thought yesterday, GW IS planning on putting this new line into "big-box, high/main street retailers as well as 'normal' model & hobby shops".  This isn't a product aimed in any way at existing GW customers, but rather a marketing expansion into a new market to both attract new customers and expand the Warhammer 40K (and possibly Age of Sigmar later) brand.
Solid work there from Tiny Plastic Spacemen and you should all head over to their site for even more info.
~What do you think?