The Battle for Faerun was just the beginning – Check out Faerun Under Siege – the next chapter in the Dice Masters saga!
via WizKids
Hillside, NJ — January 11, 2016 – WizKids is pleased to announce the February 2016 release date for the newest product in the Dice Masters line of collectible dice-battling games – Dungeons & Dragons Dice Masters: Faerûn Under Siege. The new Starter Set includes 44 dice to collect and battle with in head-to-head fantasy combat. People who enjoyed the unique feel of Dice Masters: Battle for Faerûn will find more of what they loved in this release.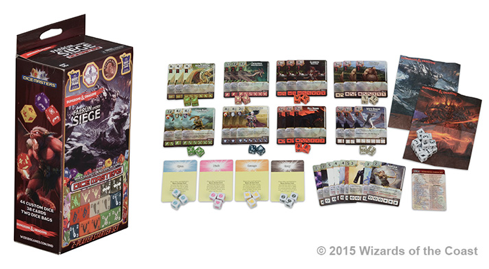 The Faerûn Under Siege collection expands deeper into the Dungeons & Dragons Forgotten Realms with new adventurers, monsters and keywords. Players will be excited to see the addition of well-known Dungeons & Dragons characters such as; the dark elf Drizzt, the legendary dragon Bahamut, the insidious demon-queen of spiders Lolth and the demon lord Orcus.
Each Dungeons & Dragons Dice Masters: Faerûn Under Siege Starter Set includes:
44 Custom Dice

38 Cards

Two Dice Bags

Complete Dice Masters Core Rulebook
Not familiar with Dice Masters? The simplest explination is that it's "a Deck building game, with dice" – Check the game that started it all (Quarriors!) or read up about it from WizKids. It's a super simple and fun cross-brand game that players of all ages can enjoy.
Roll Dice, Recruit Heroes, Score Victory Points and have a blast doing it!