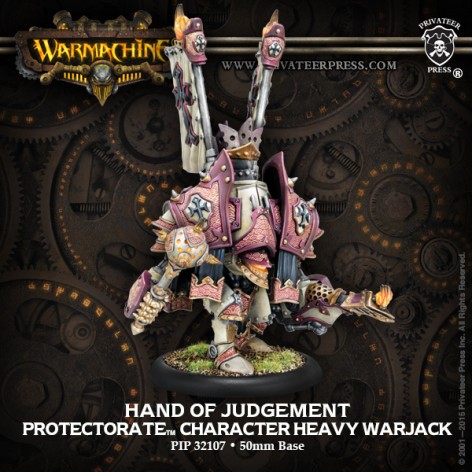 It's time to discuss the newest character warjack for the Protectorate.
Sometimes these articles almost don't seem necessary. I feel like I could sum it all up in two sentences:
This thing rules.
Buy it.
But when one of my favorite factions gets a brand new character warjack, I feel like I have to go into a little more detail.
There are basically two models that frame every conversation about warjacks and the Protectorate: the Vanquisher and the Reckoner. At eight points a pop, these jacks are the ones other factions drool over. When a new jack shows up, no one is going to care if it isn't at least as good as one of these. So at ten points, what makes the Hand of Judgment worth it?
The Protectorate is a faction known for dishing out loads of damage. Even in this context Hand of Judgment is a killing machine of note. This is a SPD 5, MAT 7 Warjack, with a P+S 18 reach weapon. On top of that it can charge anything that's on fire for free, leaving an extra focus to spare for an additional attack. Just on it's own merits this thing can handle most of what your opponent can throw at it. For those it can't, there's the usual stable of Protectorate buffs: Choir, Vassals, and Ignite if you pick the right caster. If your opponent is nice enough to bunch up their models, Hand of Judgment has Flame Burst on its main weapon. Models it boxes will catch other enemy models within an inch on fire. This could be a great answer for Black Dragon IFP in Defensive Line. Especially since models within 5″ of Hand of Judgment suffer Fire Continuous Effect damage rolls at +2 thanks to the Fuel for the Flames special rule.
Hand of Judgment also has a ranged weapon. It's Immolator Cannon is a POW 14 SP8 that, naturally, causes fire on a hit. That's only a little stronger than the Flame Thrower carried by the smaller, cheaper Repenters, but that small difference is important. Lists with lots of Multi-Wounders are quite popular, and the Immolator Cannon's extra POW will mean 2 extra points of damage on everything it hits. If it's in a list with Feora, all ranged attacks will be boosted, so there's almost no risk of missing. Unfortunately getting a Spray weapon into that perfect range to cover all your opponents bases is always tricky. Hand of Judgment's Reach weapon actually makes this even harder. If you accidentally end your move while engaging a model no ranged attacks for you.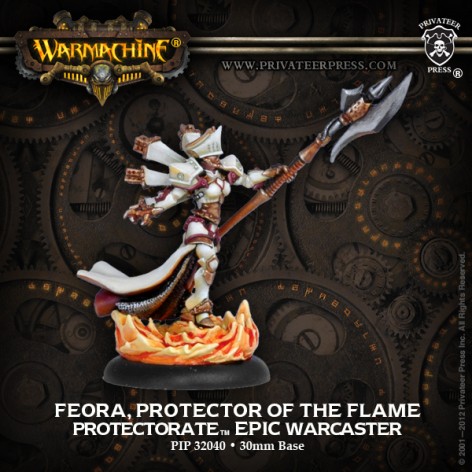 The synergies with Hand of Judgment and eFeora are obvious. My first list with this new warjack had to start with her.
Feora, Protector of the Flame – WJ: +6
– Hand of Judgment – PC: 10
– Vanquisher – PC: 8
– Reckoner – PC: 8
Vassal of Menoth – PC: 2
Vassal Mechanik – PC: 1
Eiryss, Angel of Retribution – PC: 3
Madelyn Corbeau, Ordic Courtesan – PC: 2
Nicia, Tear of Vengeance – PC: 3
Choir of Menoth – Leader & 5 Grunts: 3
Holy Zealots – Leader and 9 Grunts: 6
– Monolith Bearer – Monolith Bearer 2
Temple Flameguard – Leader and 9 Grunts: 6
– Temple Flameguard Officer & Standard – Temple Flameguard Officer & Standard 2
Most of the focus is actually on setting up Feora herself as an assassination piece. Some of the biggest help Hand of Judgement will offer in this list is the ease with which it can catch things on fire. Since setting up the perfect Assassination run is never easy, its nice to have a warjack around that can pound almost anything to paste. One last thing – this list was built to include only currently released models. There could easily be a place for Pyrrhus or a Revelator in there if you swap out some things.
My other two favorite casters for the warjack are Intercessor Kreoss and Anson Durst. Both of these casters have helpful buffs for warjacks, including ways to get Hand of Judgment moving faster, or out of activation.
~Hope you enjoyed the article. Do you Protectorate players think Hand of Judgment is as good as I do?