Spartan Games: Firestorm Taskforce Announced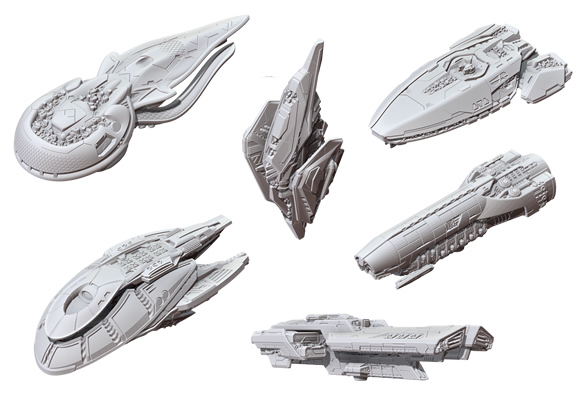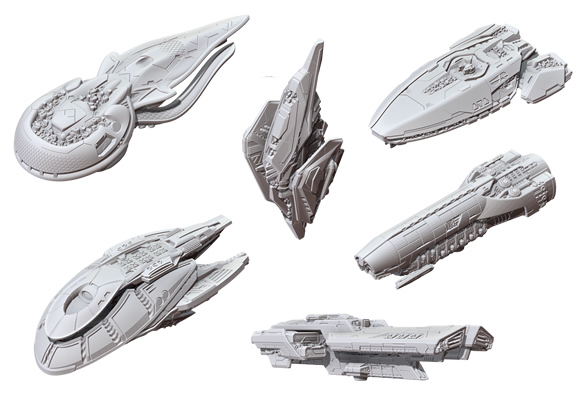 If you want a FAST-paced starship combat game – Spartan Games has something very cool to show you!
It looks like the fine fellows over at Spartan Games have gotten a lot of player feedback on Firestorm Armada. They have cooked up a turbo-speed new space combat, letting you play games at lightning speed!
via Spartan Games
What can you do in 30 minutes? You could order a pizza, get a haircut or… Play Firestorm Taskforce!

We here at Spartan Games are very excited to introduce Firestorm Taskforce, our first fast-action space combat game, set in the war-torn Firestorm Armada Galaxy.

Firestorm Taskforce was born from customer feedback which asked us to:

• Speed up game-play and reduce gaming space
• Lower the cost of play for gamers
• Remain fully compatible with all current Firestorm Armada models
• Work alongside the Firestorm Armada 2.0 Core Rules

"It all started at Gen Con 2015," explains Neil Fawcett, Creative Director of Spartan Games. "We had a fantastic time talking in detail with a large number of our Firestorm Armada fans. We got a clear message that folk wanted us to make it even easier for new gamers to start playing in our sci-fi galaxy. Well we've delivered on that, but we've gone even further!"

Having defined how a fast-play set of rules would work, our designers set about "pulling the stops out" and have come up with some of Firestorm's coolest spaceship designs ever. This is a fantastic opportunity both for current fans and new ones alike to embrace our vision of a war-torn galaxy.

At the heart of this announcement are three new Two Player Box sets, encompassing all of our core six races:

Subscribe to our newsletter!

Get Tabletop, RPG & Pop Culture news delivered directly to your inbox.

• Terran Alliance vs Dindrenzi Federation
• Aquan Prime vs The Directorate
• Sorylian Collective vs The Relthoza

Inside each Two Player Box come the components to play a 30-minutes plus game:

• Two Starter fleets (7 models in each)
• Firestorm Taskforce Rulebook
• D6 Dice
• Punch-Out Token Sheets
• Acrylic Movement Templates

The contents will allow anybody to quickly and easily start playing, whether they are an experienced gamer or a new player looking to start playing space combat.

These new models are also the first to embrace a modular build design, and this is something gamers will see become pervasive across the future Firestorm model ranges.

For existing Firestorm Armada 2.0 players, individual Reinforcement Sets, sold by race, are also available, containing Cruisers and upgrade components, Light Frigates and the necessary Flight stands.

DESIGNING THE GAME

Our model makers have created new designs that maintain the earlier aesthetic of races, paying homage to popular designs, whilst moving forward the physical models both in terms of overall detail and design.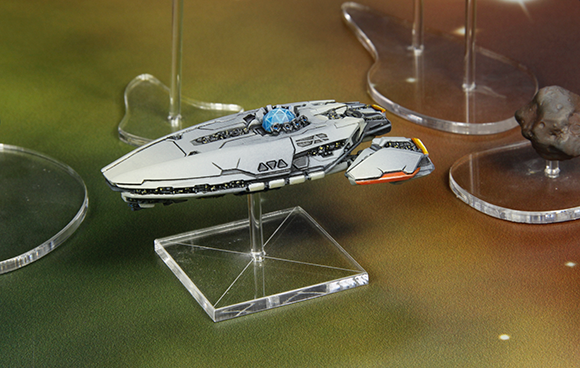 Above: The new Terran Alliance Light Cruiser

"Being allowed to go back to our core races and come up with a set of enhanced designs was pretty exciting," explains Chris Peacey, Firestorm Taskforce lead designer. "From the start we had clear goals behind the models: increase detail, improve overall aesthetic, embrace modularity and repurpose the vision of what future Firestorm fleets will look like."

Sitting at the entry point of Spartan Games' space game family, Firestorm Taskforce is aimed at both existing and new players. As a set of rules, it is intended to service a need for quicker game-play and smaller gaming space, whilst providing a fantastic addition to the rich universe of Firestorm Armada. As game designer Derek Sinclair explains, "Taskforce isn't a replacement for Firestorm Armada 2.0, rather an easy and very affordable introduction to exciting space battles, whilst providing a smooth upgrade route for when they want more from the Firestorm Galaxy."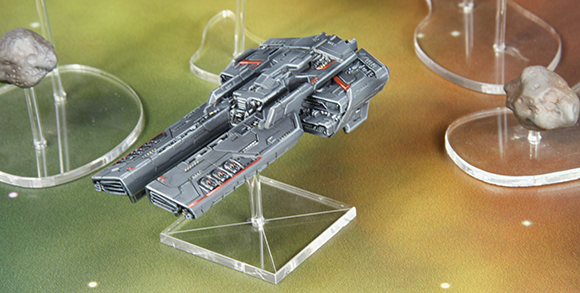 Above: A Dindrenzi Federation Assault Carrier

Whether you want to play in your lunchtime, squeeze two or three games into an evening with your friends, or introduce the game more easily to a newbie, Firestorm Taskforce is a perfect choice for fast-action space combat, with all the richness of a full game, and less of the time constraint!
We will be keeping an eye on this one.  I for one love the idea of making "instant action" versions of some of the more complex lengthy games out there for a more spontaneous play experience.
~What is your take on the '"30-minute game" concept?