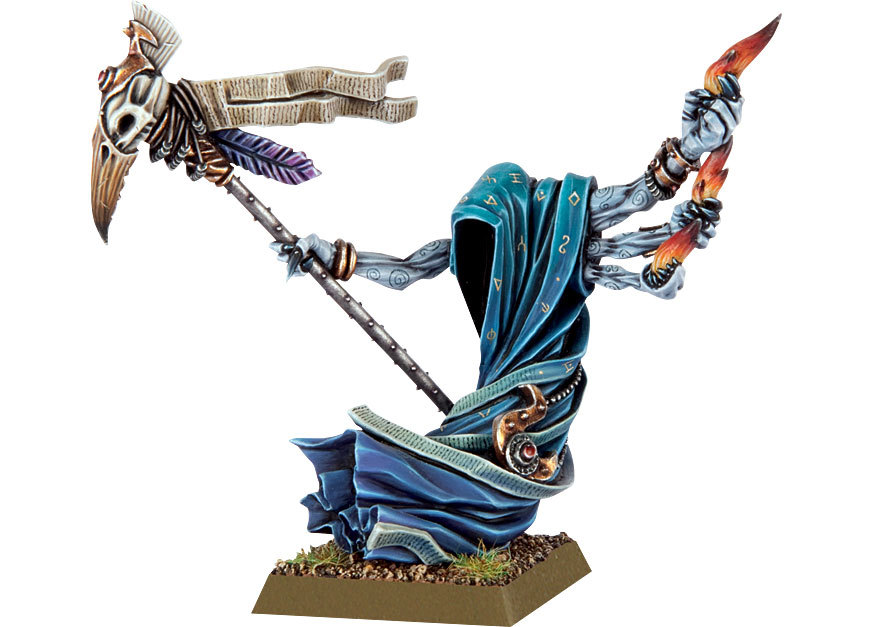 Today we delve deep into the forbidden lore of the Changeling, the Blue Scribes and their lesser brethren, the Horrors of Tzeentch.
The Changeling
The Changeling is a Horror of Tzeentch who has the ability to assume the shape of any creature to use for trickery, to sow mistrust and confusion, and while not in battle to play practical jokes on the unwary. The Changeling has altered so many times that even he has forgotten his original appearance. Only the God Tzeentch remembers it, and keeps it secret as a means of controlling the Changeling.
Roaming the galaxy and Warp alike in search of committing both practical jokes and devastating mayhem, the Changeling has appeared on the battlefield as a mirror-image of a hero, his comrades unable to tell the difference between the two until it was too late. It was the Changeling who in the image of Lord Solar Macharius ordered the retreat on Goranna just as the real Warmaster was about to direct his forces to the front line. As a Grot, the Changeling sabotoged Warboss Gitsmasha's favorite Shoota, blowing the Warlord and his retinue to smithereens as soon as it was fired. On one occasion, the Changeling even took the shape of a Keeper of Secrets and answered the summoning of a traitorous Imperial Governor whose palace was besieged by Dark Angels. There, the Changeling traded the souls of the desperate man's daughters for a "powerful artifact" to turn the tide of the siege, but turned out to be a stolen Ravenwing teleporation beacon.
The Changeling's schemes are not limited to the mortal realm, and he has been known to play tricks on even Gods of Chaos themselves, such as cutting Slaanesh's hair as the Dark Prince slept or putting Nurglings on Khorne's throne, creating a mess the next time the Blood God sat down.

The Blue Scribes
The Blue Scribes, individually known as P'tarix and Xirat'p, are two Blue Horrors of Tzeentch.
There was a time when Tzeentch reigned supreme over all of the Chaos Gods, and held more power than any of them individually. The other Gods became envious, and joined forces to overthrow Tzeentch, thus beginning a conflict that would leave much of the universe devastated. During the final battle, Tzeentch feared that the combined army of the other Gods would defeat him and take his crystal staff, the symbol of his power, and opted for an alternate and more cautious approach. Tzeentch yielded, and broke his own staff as a token of surrender. In a sorcerous explosion, the staff shattered into countless pieces. Each of these fragments took the form of a different spell, and was flung to every corner of space and time, irredeemably lost. This event coincides with the birth of magic, and helped ensure that nobody would ever wield as much power as Tzeentch once did.
After his defeat, Tzeentch created the Blue Scribes, the Blue Horrors P'tarix and Xirat'p, and tasked them with a mission to travel through the many dimensions of reality to find and record every known spell, which would eventually regain every shard of the staff. To aid them, Tzeentch gave the Scribes a Disc of Tzeentch to travel on, and to carry the huge amounts of parchment and ink that they needed. The reason why Tzeentch chose such lowly daemons for this important task was because their limited intelligence and constant bickering posed little threat to him, and thus they could be trusted with handling such a terrible power. If P'tarix and Xirat'p were to ever complete their mission, Tzeentch would regain his supremacy over all of creation.
Since then, the Blue Scribes have been traveling throughout the galaxy, both in the Warp and real space, constantly searching for lost grimoires to transcribe and skilled sorcerers to interrogate. In battle, they invariably end up helping the side Tzeentch wished to win, whilst cataloguing all the incantations used in the conflict by both sides.

Horrors of Tzeentch
Horrors are the writhing Lesser Daemons of Tzeentch, fashioned from raw warpstuff and used as slaves by the Lords of Change. They come in two types, chiefly identified by colouration; Pink Horrors and Blue Horrors.
Arguably the most bizarre of all daemons in appearance, Horrors of Tzeentch manifest as an ever changing mass of shifting, gangly limbs with a central torso that normally sports a cackling or leering face in the centre – though the Horror's face can vanish and randomly reappear elsewhere on their body.
Pink Horrors
Tzeentch creates almost all of them as cheerful, madly babbling Pink Horrors. Apart from their bright colouration, Pink Horrors are also notable for their madly happy demeanour; their constantly emitted noises of almost ecstatic excitement give rise to the two other names by which they are sometimes known; the Squealer or Screamer (although, fittingly enough for such a confusing and hard to understand entity as Tzeentch, a separate Tzeentchian daemon exists that is referred to as a Screamer, which appears completely different to Screaming Horrors). This inherently random noise, especially when Pink Horrors appear in groups, is said to be particularly unnerving, able to drive the weak-minded to insanity. To add to the cacophony of sensory perceptions, Pink Horrors leave trails of pink smoke and light behind them as they move; and they move constantly, running, scampering and caterwauling all over the place.
Just like other Daemons of Tzeentch they are capable of sorcery. Depending on the might of a Horror, this sorcery can range from the common hurling of warp flames or Bolts of Change to more exotic powers, such as the creation of arcane items from their bodies or the manipulation of mortal minds by imitating strange and exotic musical instruments. The most powerful Horrors belong to the ranks of the Daemonic Heralds, some of which ride Burning Chariots of Tzeentch.
Pink Horrors enjoy casting spells and such aggressive acts will only spur them onto to wilder behaviour and greater expressions of manic excitement. Horror Packs rely heavily on their ranged sorcerous attacks but even in melee they are difficult to deal with. Although weaker than most other daemons in close combat, their magical, twisting bodies are hard to destroy; they enjoy a contradictory blessing of Tzentch that makes their highly mutable forms resistant to change inflicted by external forces and can in fact regenerate whole limbs with ease. Upon dying (something else which appears to provide them with unnatural delight), they magically transform into two Blue Horrors with a final whoop of happiness.
Blue Horrors
A Pink Horror splits into two smaller Blue Horrors when its body is destroyed. While these two are just as powerful as their former Pink self, Blue Horrors tend to squabble endlessly among themselves as their cheerful nature is reversed with the splitting, their principle character traits being sadness and incessant whining.
Lexicanum
Knowlegde is POWER!