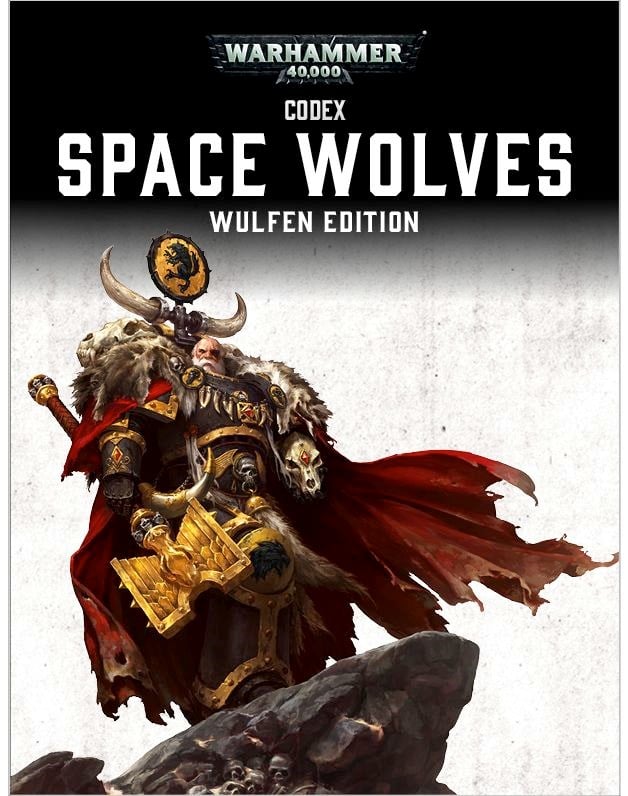 Space Wolf Pups and Long Fangs rejoice: The Space Wolves Wulfen Edition is available to purchase NOW! Check this out!
With the Curse of the Wulfen pre-order up and available on the 13th Games Workshop is making that rumored new Space Wolf Codex after-all. Only this one is all digital…for now.
via Black Library
Codex: Space Wolves – Wulfen Edition combines all the content from Codex: Space Wolves with the brand new rules content from War Zone Fenris: Curse of the Wulfen into one indispensible digital guide to the warrior-sons of Leman Russ.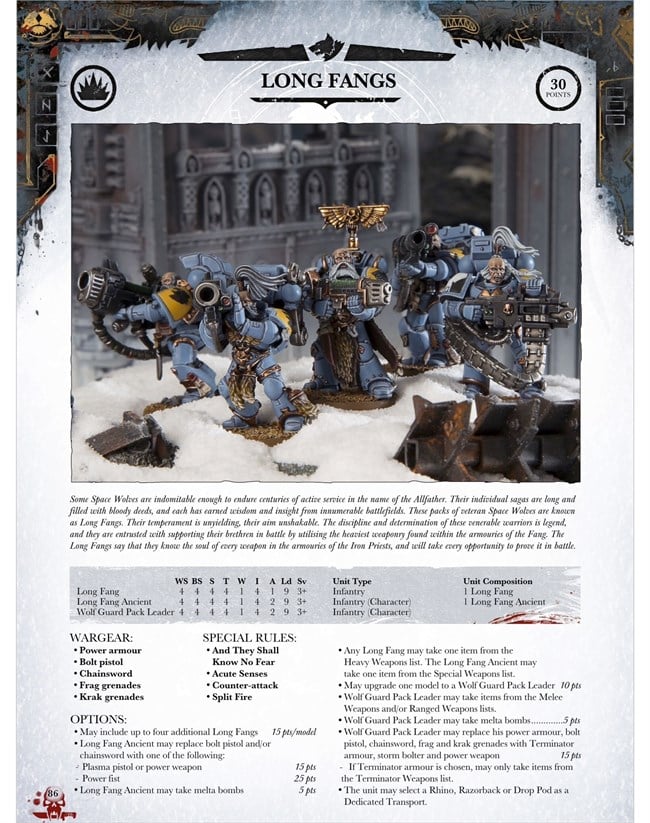 As well as rules for fielding a Space Wolves army in your games of Warhammer 40,000, you will find a stunning showcase depicting the fantastic range of Space Wolves models, as well as the symbols and colours of the twelve glorious Great Companies, and rules for theming your force around several of these Great Companies.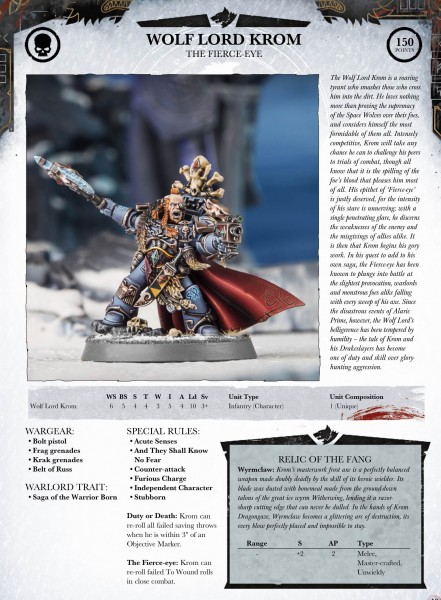 From the frozen world of Fenris, the Space Wolves sail out across the Sea of Stars, seeking enemies to vanquish and worlds to save. Proud and noble savages, the Space Wolves eschew the teachings of the Codex Astartes in favour of the traditions laid down by their Primarch Leman Russ – their armies filled with giant wolves, lone heroes and skyborne longships. For ten millennia it has been so, the Space Wolves valuing honour, courage and skill in battle above all else.


Codex: Space Wolves: Wulfen Edition is your complete guide to the armies of the Space Wolves. Inside you will find the ancient origins and glorious history of this First Founding Chapter, their frozen home world of Fenris, and their unique weapons of war, plus all the additional datasheets, formations, detachments and rules from 'Curse of the Wulfen'.

This codex contains:

42 datasheets covering every model in the Space Wolves range, including the ferocious Wulfen
14 formation datasheets providing you with new ways to organise your models
The Wolf Claw Strike Force detachment, a dynamic and customisable way to turn your collection into an army
All the special rules and wargear rules for the Sons of Fenris
Images via Captain Citadel 2-10-2016
Updates to the Wolf Codex
This seems like the new model for the codexes. Release updates in the form of a campaign supplement for two armies and then roll-out those changes in a consolidated fashion. This time it looks like these consolidated changes are in the form of a new digital codex. But if Games Workshop repeats the same pattern they did with the recent Tau/Kauyon release then we might see physical copy…eventually.
You can pick up a copy of the e-Book Space Wolves Codex offering from Black Library right now – but it goes live on the 13th just like the Curse of the Wulfen book.
Son's of Russ – What say you? Digital or Not to go Digital? That is the question!