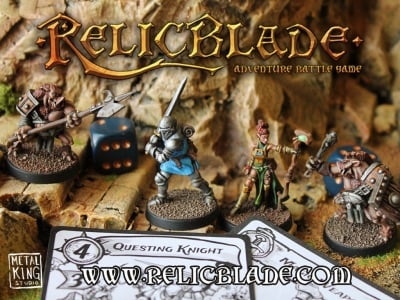 Metal King Studio is looking to fund a new skirmish miniatures game designed for quick battles.
Miniature games can be a time-consuming hobby. Even most skirmish games can take an hour or more to play, not to mention set-up, assembling, and painting all those models. Sean Sutter of Metal King Studio knows this and set out to make a fast-paced skirmish game that uses 3-6 miniatures per side and can be played out in around 30-45 minutes.
Relicblade is a 30mm miniatures game that pits a small party of adventurers against a band of monsters as both sides try to claim a magical relic. Once a model grabs this relic, you draw a card from a deck of magical artifacts and the model gains that item. These relics are extremely powerful equipment cards that can swing the tide of battle in your favor, but if that model is slain your foe can claim it for themselves.
Each player's band of models is very small, keeping the game cheap and fast to play. The current roster of heroes consist of a questing knight, a druid with her bear companion, and a cleric with a summoned holy weapon. Opposing them is a band of six orc-like pig men with assorted weaponry. An additional layer of list-building comes in the form of equipment and item cards that can be purchased before the game, each of which is illustrated with old school black-and-white artwork reminiscent of early versions of D&D. The models themselves retain that old-fashioned metal D&D miniatures look, and aren't as over the top or busy as some other fantasy models on the market.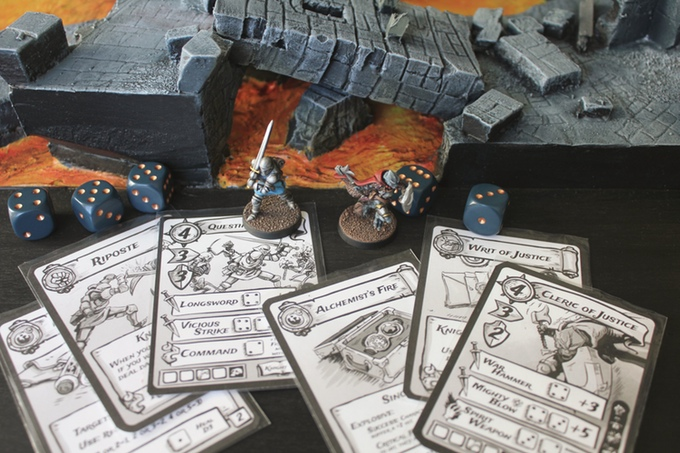 The sweet spot pledge level is the $100 tier, which includes 11 miniatures, equipment cards, a relic deck, the rulebook, and all stretch goals, giving you the entire game thus far in one neat bundle. Relicblade is mostly done at this point, with the Kickstarter being primarily to help with production costs and marketing. There's a few stretch goals to unlock more miniatures too, like a thief hero and the mysterious Dark Wanderer. There's several videos on the Kickstarter page that show the core gameplay and how quickly an average battle can play out.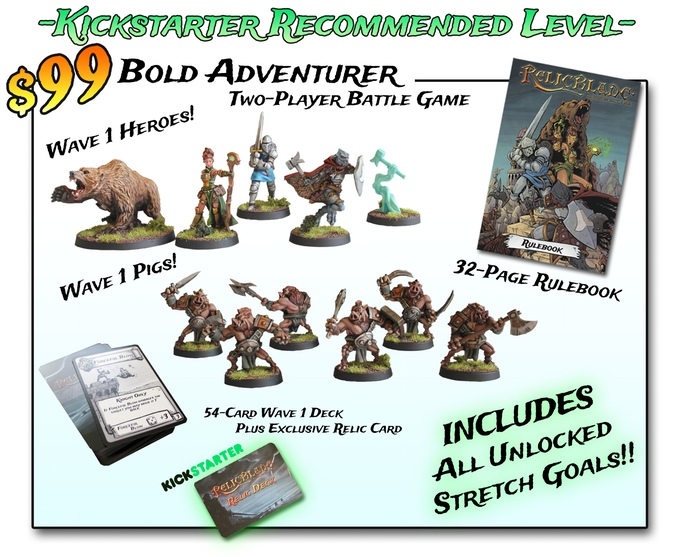 The Kickstarter has already reached it's funding goal – now it's all about those unlocks. If you're looking to get into a new skirmish game check it out!
What do you guys think of Relicblade?