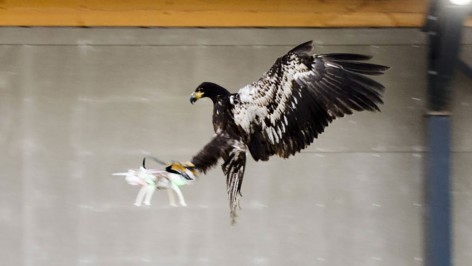 In the Netherlands they're taking on a high tech nuisance – with some of nature's most effective predators!
Drones – love them or hate them – can become dangerous when not operated properly, so law enforcement agencies are having to come up with ways to deal with rogue flying objects. They're using death rays in the UK, and drone hunting drones in Japan…
The Netherlands have taken a different route: they're training eagles to take out flying law breakers. The police are working with a raptor security firm called Guard from Above to train the birds to hunt and retrieve drones.
The eagles' keen site, sharp talons, and tough feet make them a natural fit for the job. And, for those worried for the birds' safety, there are no adverse effects thus far. Eagles are used to taking on struggling prey that fight back with sharp teeth and claws.
Geoff LeBaron of the National Audubon Society told The Guardian that what he finds interesting is "that birds can hit the drone in such a way that they don't get injured by the rotors. They seem to be whacking the drone right in the centre so they don't get hit; they have incredible visual acuity and they can probably actually see the rotors."
At the moment, The biggest stumbling block to the project: replacing the drones the birds destroy. Right now it's looking pretty dang promising. A decision will be made about implementing the program next year.
I think eagles are the ultimate drone killers… what do you think?